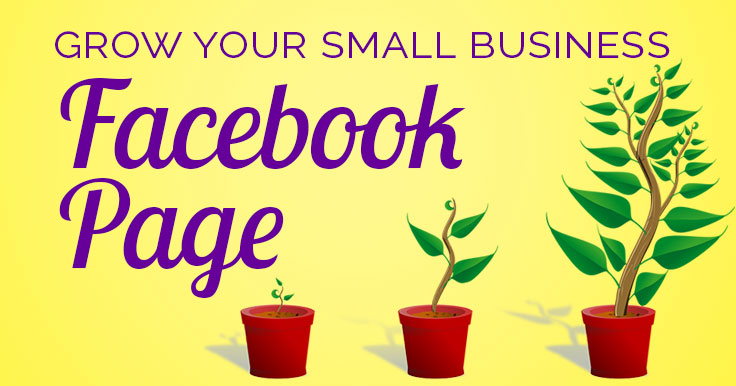 Wondering how to promote your small business on Facebook?
You probably spend a lot of time on Facebook already. Why not take advantage of social media marketing to build your business there?
As a small business owner, you can promote your brand and sell your goods and services directly on Facebook.
Having so many options can be confusing, though.
Not to mention knowing what to post, creating those posts, and actually getting them on Facebook!
Well, fear not, because I've found an awesome tool that's not only going to clear up the confusion, but is also a storehouse of 6,000 social media visuals that you can search, tweak, and schedule to Facebook. Right from your web browser!
It's called PromoRepublic. I've been allowed to test it for free to let you know what I think of it!
You'll learn more about it in the second part of this article. We're going to cover:
Setting up your Facebook Page for Success
Creating Effective Images for Facebook Posts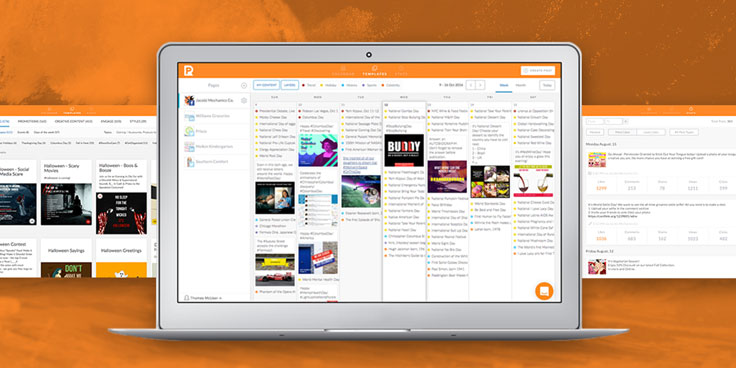 We'll start with an optimized business page and strategy, then move on to what to post!
Both sections include a short video, and my text summary below it.
Let's do it!
How To Set Up your Facebook Page for Success
So you've created a Facebook Page for your business. Now what?
This video will give you the basics of setting up your Facebook Page for success. My text below summarizes the main points.
Why your business should be on social media.
Sell your products and services
Improve your customer relationships
Increase your reach with targeted ads
Expand your professional network
Improve your business's customer support
Manage your brand's reputation
How to organize your Facebook Page.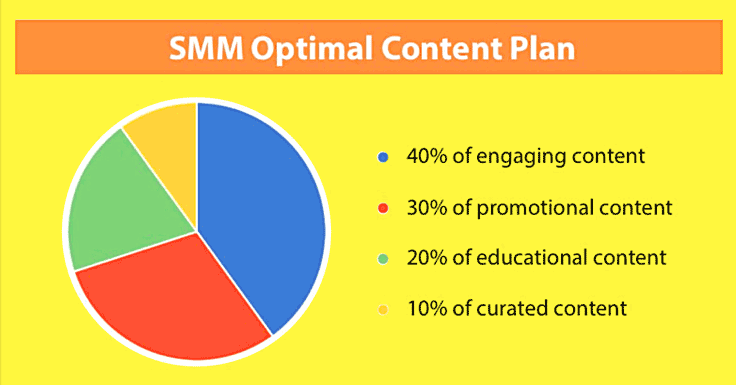 How to set up an optimal content plan.
40% engaging content: quotes, polls, facts, Q&A
30% promotional content: share the faces of your team and clients
20% educational content: what does your audience want to learn?
10% curated content: only share what your audience is  interested in
When you should post on Facebook.
Use your Facebook Insights
You can also see the results of your posts in the PromoRepublic dashboard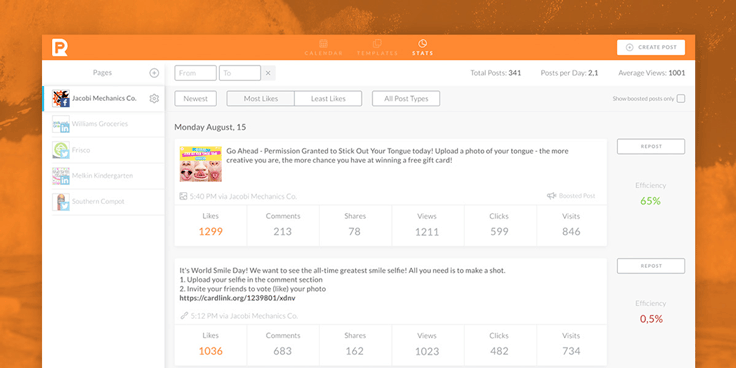 How To Create Effective Images For Facebook Posts
Coming up with Facebook posts consistently can be a challenge! That's why I want to introduce you to PromoRepublic.
This tool will help you find post ideas, customize visuals from pre-made content, and schedule to your Facebook page!
Plus, you can schedule to Twitter, LinkedIn, and Instagram at the same time. Win-win-win-win!
In this video, we'll delve a little deeper into creating effective Facebook images – easily.
If you want to read along, see my summary points below.
Why you need to include visuals:
93% of human communication is nonverbal
90% of information transmitted to the brain is visual
70% of your sensory receptors are in your eyes
40% of people respond better to visuals
Which images get more engagement on social media:
Images that are light receive more likes and shares than dark images
Images with multiple colors attract more attention than images with just one color
Images with less than ten percent of background perform better as visual posts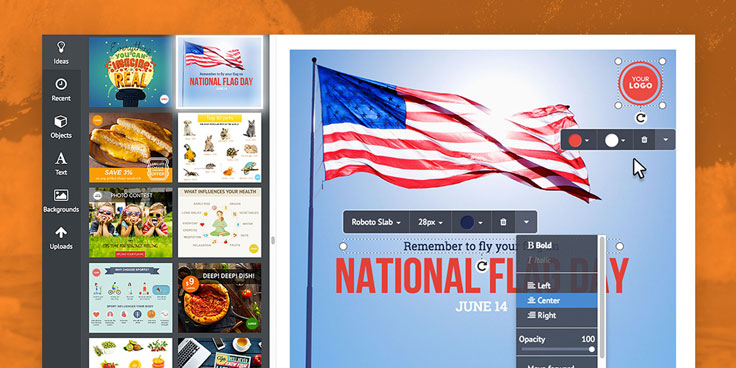 How to use fonts effectively:
Use two or fewer fonts in your graphics
Mix only contrasting fonts – avoid similar styles
Choose a font that evokes the right feelings for your message
Center elements to create a balanced composition
Keep the text in the body smaller than the header text
How to combine colors successfully:
Avoid using bright yellow as your text color
Try not to place text over your subject's face
Pay attention to color combinations
How to use the Golden Ratio:
Multiply the short side by 1.618 to get the complementary length of the long side
How to create engaging posts:
Quotes, tips, greetings, top lists, motivations, interesting facts, contests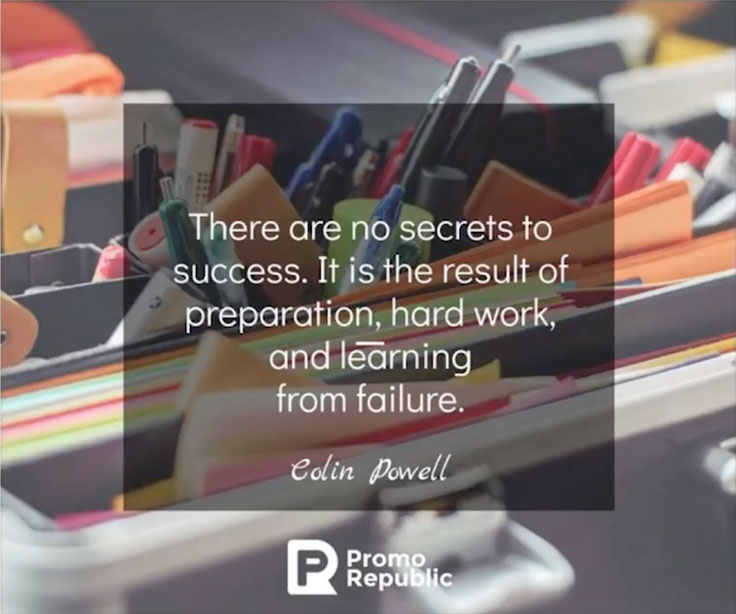 Where to find post ideas:
Made For You section contains your industry-related content
Trends has holiday themed content
Promotions for discounts, special offers, and company news
Creative Content for quotes, tips, and more
Engage section contains contests, polls, puzzles, and charity ideas
You can also search by keyword for relevant content.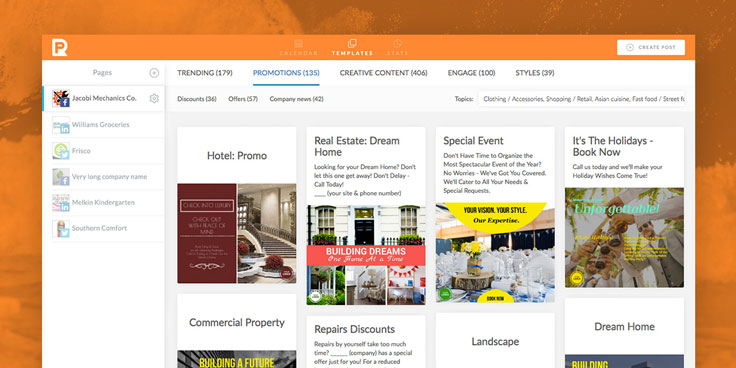 Facebook link shares need to include:
Clear message
Strong visual with a call to action
Logo or branding
Components of a great Facebook ads
Relevant image that people will associate with your business
Limit the text, or Facebook may suppress your ad's reach
Include a call to action in your image and/or caption
Get the latest ad size specs on this infographic
Yes, You Can Market Your Small Business on Facebook!
PromoRepublic's tips above and tools here make your Facebook marketing easy.
There's absolutely no charge to try it out. Access 6,000 post ideas, automatic posting, and more. Register for free and enjoy!
• • • Click here to try PromoRepublic for FREE • • •
I'm a PromoRepublic affiliate, which means I'll get a small referral fee if you sign up.
I'd love to hear what you think about the tool, and how you're doing with your small business Facebook Page. Leave a comment!