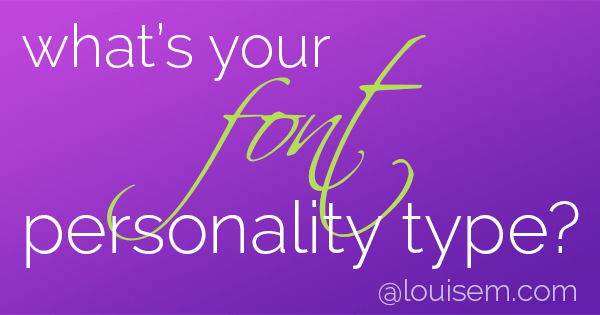 Choosing brand fonts?
Select based on font personality!
A font can convey mood, attitude, and tone with a personality perceived from the font's features.
I'll give you a primer on the personalities of the font categories, and then you can enjoy a clever video that brings fonts to life!
How to Determine Font Personality Type
Fonts are classified by these broad categories: Serif, Slab Serif, Sans Serif, Script, and Display.
Serif typefaces have little feet or wings at each end. Serif fonts are seen as traditional, stable, practical, serious, mature, formal, scholarly, corporate, and business-like.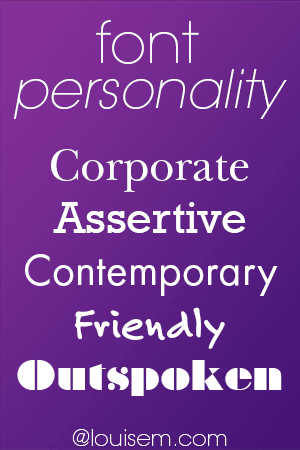 Slab Serif is a certain kind of serif typeface that has thick, squared-off serifs. Slab Serif fonts are more modern, but can also be perceived as bold, harsh, rude, assertive, coarse, or masculine.
Sans Serif fonts are typefaces without feet, which makes them look clean and understated. Their personality is contemporary, and sometimes sleek and elegant.
Script typefaces look like handwriting or calligraphy. They can range from casual to formal. They have soft organic and humanistic qualities that give them a warm personality.
Display typefaces have the most diverse and outspoken personalties. Their character forms often suggest a personality from a specific genre, era, or time period.
Fonts Personified: Popular Fonts Show their (Type)Faces
Over a dozen fonts come to life in this fun video. Helvetica and Arial and their gangs typeface off in this battle of the fonts. Watch out for the strikethrough! 😉
Share with a friend if this post helped you understand font personality.