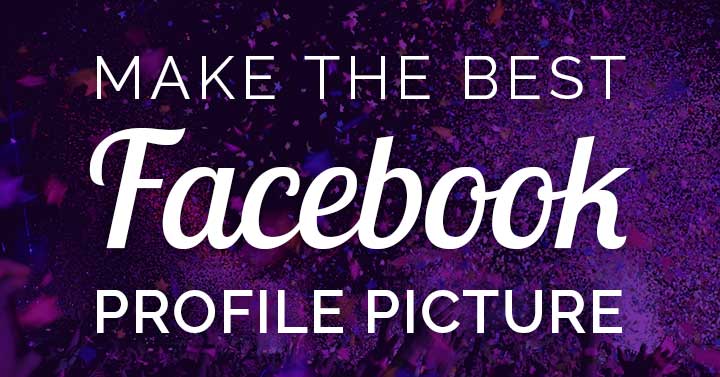 Want to optimize your Facebook profile picture to get more likes, follows, and friends?
Start with the right size, and follow through with great ideas!
As you know, you only get one chance to make a first impression, so make it count.
To quote Inc.com, "People decide whether to work with you within two seconds of meeting you."
Takee control when portraying yourself online! Use these tips to put your best face forward with your Facebook profile picture. 
Why replace your Facebook Profile Picture?
Have you noticed? Posting a new profile pic is a sure-fire way to beat the Facebook news feed algorithm!
Whether you upload a new pic, or just pick one from your own or a friend's existing gallery, you can't seem to beat the engagement you'll get.
So change it up with the seasons, holidays, special events and celebrations, or any other excuse you can come up with to create a new avatar. Then enjoy the Likes, comments, and follows that… follow!
Here's a pic of me that popped up as a FB memory from 9 years ago. So why not, I looked much younger then 😉
You can easily use a friend's photo as your profile pic, as long as they've tagged you.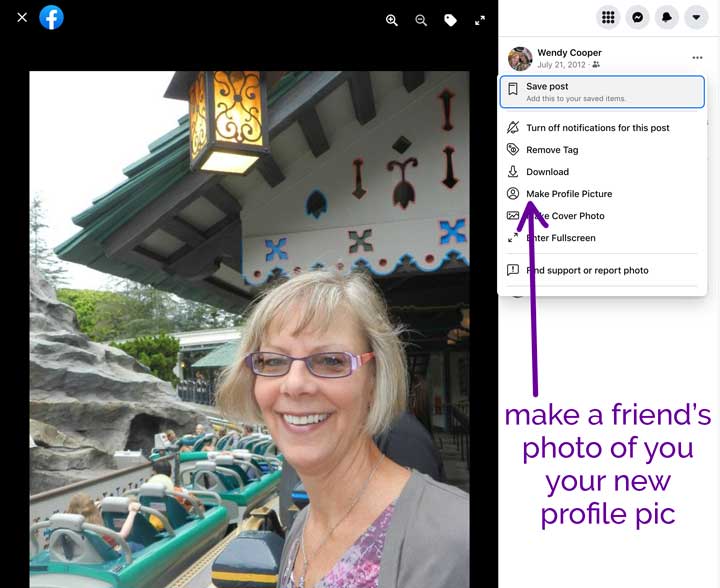 What's the Facebook Profile Picture size 2021?
The FB profile pic displays differently across the app and at Facebook.com. It's a maddening array of sizes from as small as 24 pixels round in comment replies, up to 2400 pixels square when clicked.
Facebook recommends a minimum size of 320 pixels wide and tall, for personal profiles.
Regarding Facebook Page profile pictures, they say:
Displays at 170×170 pixels on your Page on computers, 128×128 pixels on smartphones and 36×36 pixels on most feature phones. source
Since profile pictures show in the feed, on your Timeline, and in the Picture Viewer, I suggest using an image that's at least 600 pixels on the shortest side. A dinky 320 pixel photo will be tough for your Facebook friends and followers to see, much less like and comment on!
For profile pictures with your logo or text on them, you may get a better result by using a PNG file. Learn more about image file types.
There's no specified maximum file size for either profiles or Pages.
Facebook personal profile picture size
Your Timeline displays the full width of the picture you uploaded, but cropped to a circle. The size here is 776 x 776 pixels on desktop retina display, or 388 on old-school display. On my iPhone, it's a 620 pixel circle.
Note, this one doesn't reflect the cropping you applied when uploading. It's the full width of your uploaded photo.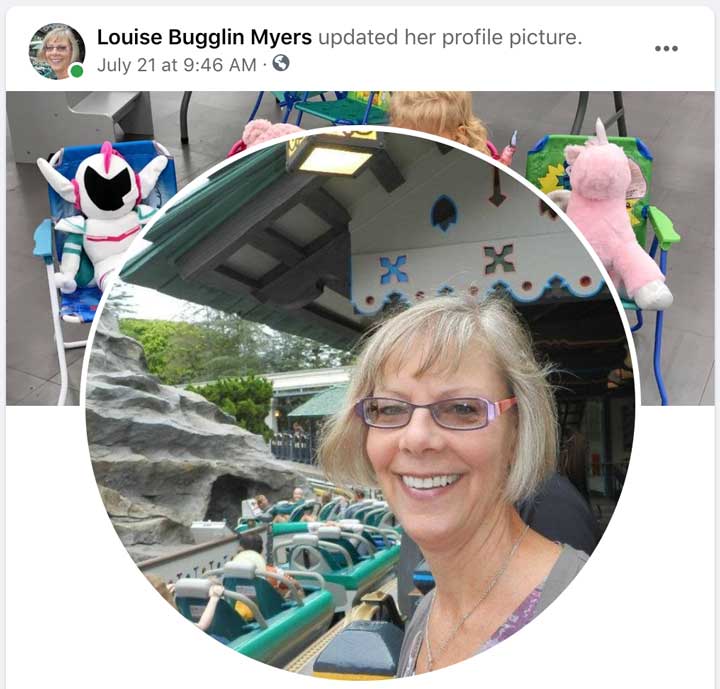 If a viewer clicks that photo, they'll see the full version you uploaded. This can display at up to 2400 pixels x 2400 pixels on desktop, or to the full width of a mobile device.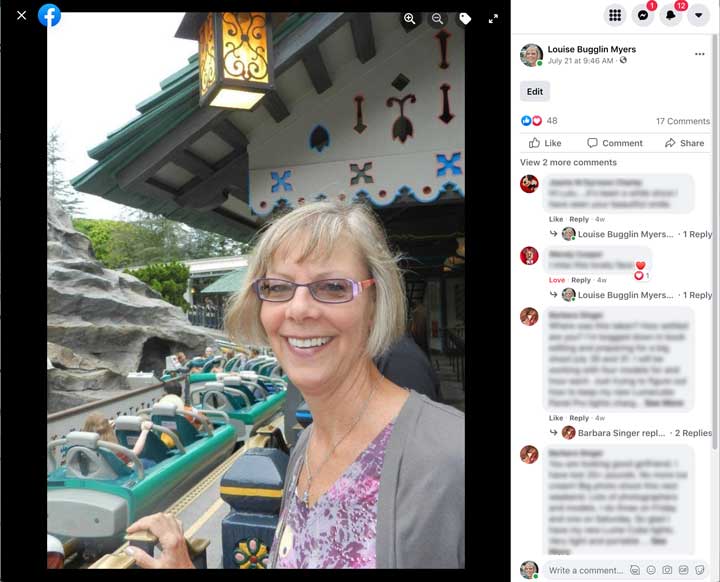 Then of course it shows on your profile under your Facebook profile cover photo. This is a 170 pixel circle, or 340 on retina, and this version will portray the cropping you've set, as explained below.
But it's somewhat smaller on a phone. On my old iPhone it's 332 pixels diameter (retina). Desktop shown.

And it shows very small next to your posts, comments, and comment replies. On retina desktop these dimensions are 80 pixels, 64 pixels, and 48 pixels diameter.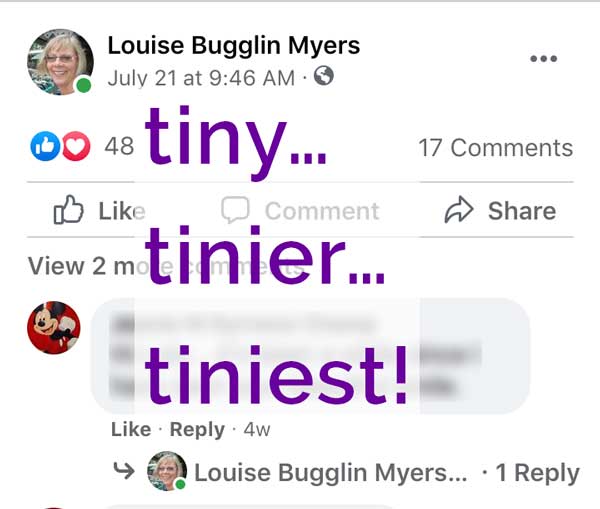 Facebook Page profile picture size
Profile pics for Pages also pushed out into the feed and onto your Timeline, so you have the same opportunity for added engagement.
Same as with personal DPs, Page avatars can be clicked to be seen at full size, and also commented on.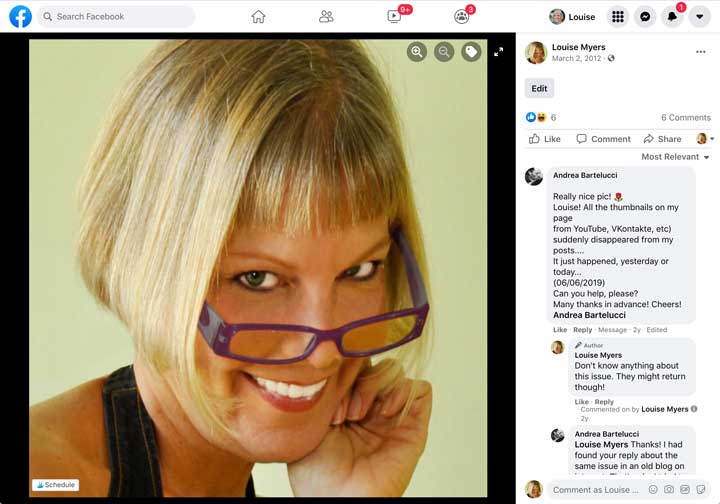 Instead of centered under your Facebook Page cover photo, they appear offset to the left on desktop, and at 240 pixels diameter on retina display.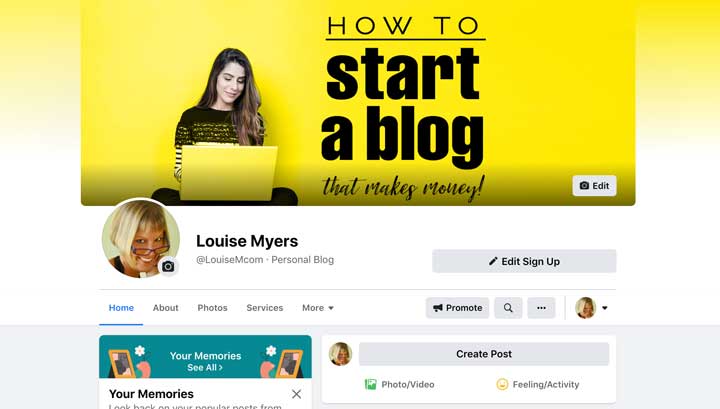 They're also to the left on mobile, but here they don't touch your banner image at all.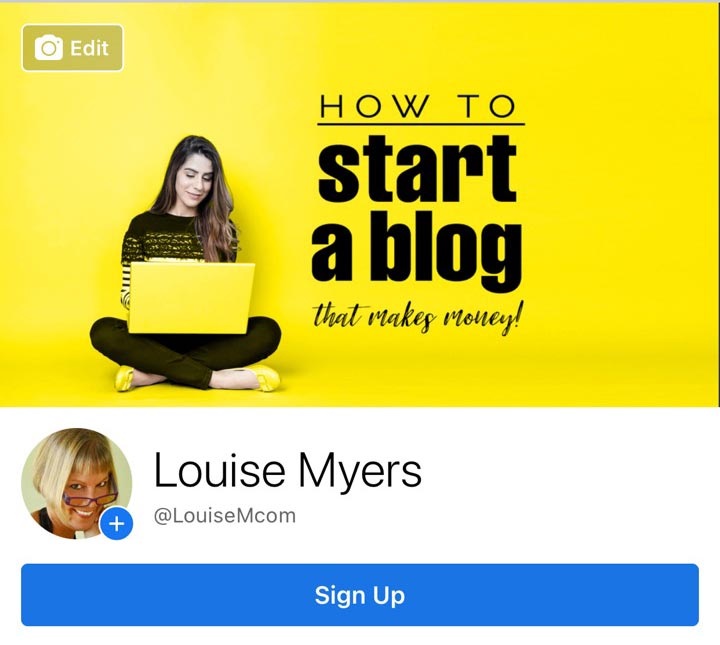 They appear at 74 pixels (retina) with your posts, and even smaller with your comments and comment replies. So small! This is why I recommend keeping it simple – so it's recognizable.

How to add or change a Facebook profile picture [personal]
To add a Facebook profile picture or change your current profile picture:
Click your profile picture in the top right of Facebook to go to your profile.
Click  in the bottom right of your profile picture.
Choose a photo or add a frame.
Click  to crop your photo and then click Save.
When updating your profile picture, you can:
Upload a photo from your computer or phone.
Add a frame to an existing or new picture.
Select a photo you've already uploaded or one you're tagged in.
Note: Your current profile picture is always public.source
If you chose to sync your DP with Instagram, you'll get this confirmation notice.

How to add or change a Facebook Page profile picture
To add or change your Page's profile picture:
From your News Feed, click Pages in the left menu.
Go to your Page.
Click  in the bottom right of your Page's profile picture and select Edit Profile Picture.
Select an option and follow the on-screen instructions.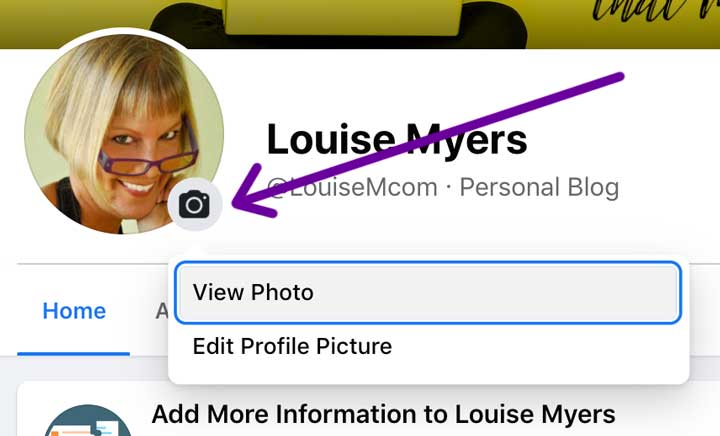 How to crop your Facebook profile picture
The Facebook profile picture almost always displays cropped to a circle, but you can upload any shape image and adjust the cropping on Facebook.
Be sure to add an engaging caption here, because people love to comment on profile pictures!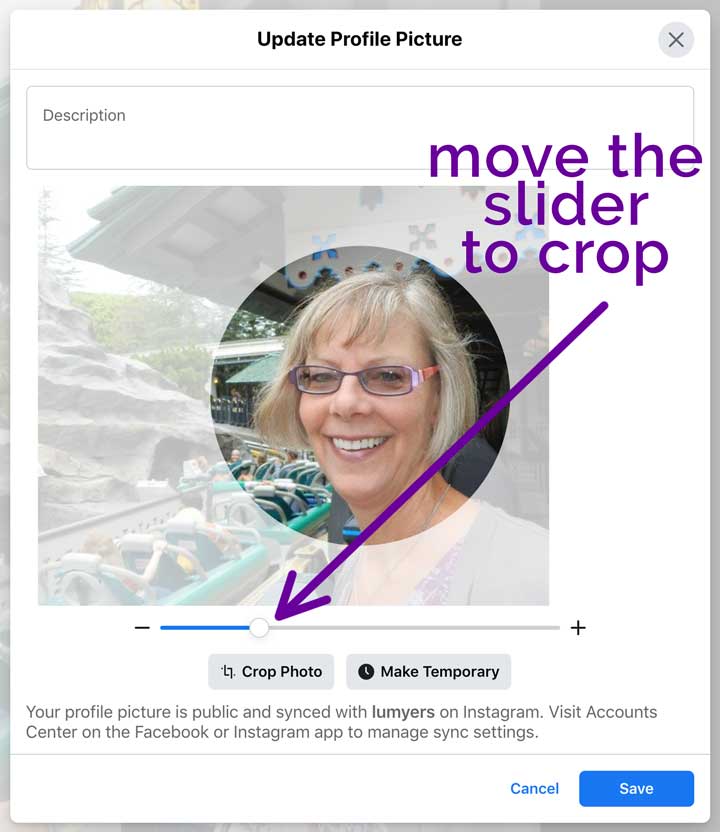 Personal profile pictures do display as square under Friends, and business page profile pictures display as square under Following suggestions.
Using a logo for a Facebook Page profile picture? You'll want to size that before uploading, so it fits in a circle without any odd bits getting chopped off. Add more background as necessary.


You can use this handy template to pre-size your logo for use as your avatar, since you won't be able to add background after you upload to FB.
I made this profile picture template at 600 pixels square, but you can go larger or smaller if you like. Right-click to save on desktop!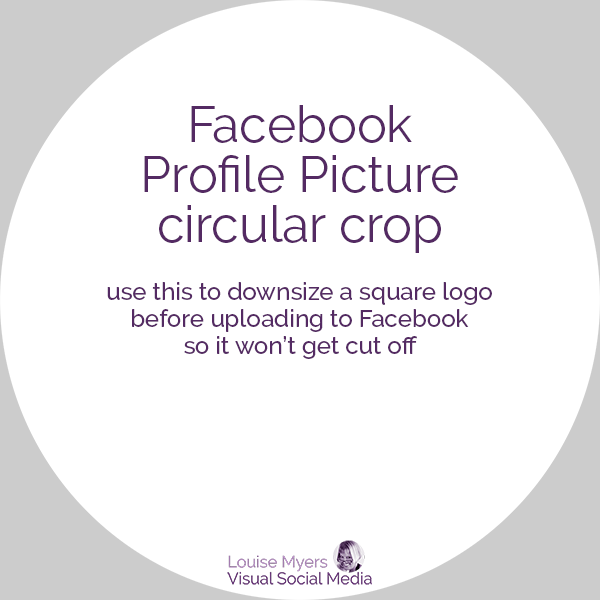 5 Steps to the Best Facebook Page Profile Picture
Now that you've got the size stuff nailed, let's get into some top tips for a perfect profile pic!
1. Show Your Face as Your Profile Picture
Put a personal face on your business – unless you're a known brand, or your business is widely recognized by your logo, use your face as your Profile Photo.
People don't "connect" with a logo – they connect with a face.
I would go so far as to say: people tend to ignore logos – but are hard-wired to pay attention to faces.
2. Use a Professional Photo
For best results, hire a pro to take some great headshots. If that's not in the budget, get a friend with a good camera, a good eye, and a steady hand.
If you want people to take you seriously as a businessperson – DO NOT put up a casual snapshot or webcam photo. Make sure your photo is crisp and clear, and you look professional.
3. Show Some Personality in Your Profile Picture
While you DO want to look businesslike, you DON'T want to look staid and unapproachable. Remember that people do business with people they know, like, and trust.
The first step to being likeable is to smile. Make eye contact! And then show your personality in your pose!
Photo credit: PhotoByBarbara.com
4. Keep It Close
A profile picture mistake I often see is showing too much of the body, which makes the face quite small.
Remember that Facebook profile pictures will be seen at a miniscule 32×32 pixels square with every comment you make. Crop to head and a bit of shoulders.
It's not about your hair and clothing, it's about your face – that's what will draw people in, and help them recognize you as they see you time and again!
5. Use Your Profile Picture Across Social Media Platforms
Now that you've got the best profile picture for Facebook, use it as your Instagram profile picture, on Twitter, LinkedIn, Pinterest, and YouTube, and any other social media platform where you have a presence.
Your photo represents your personal brand, and as with any brand, consistency is key!
Help people come to recognize you and "see you everywhere" by using the same great photo on all platforms, and keeping it until it becomes outdated.
Conclusion
Now you know all about the Facebook profile picture size – for personal profiles and Pages.
You know how to take the right photo, pre-size, and crop it so it looks perfect.
Want more?
Check out ALL the optimal Facebook image dimensions here!