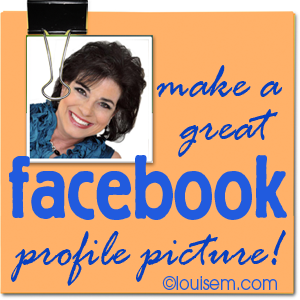 What's the best profile picture for your Facebook Fan Page?
Follow these 5 steps to make your first impression count!
To quote Inc.com, "People decide whether to work with you within two seconds of meeting you."
There are many factors you have control over when portraying yourself online, so take advantage of these tips to put your best face forward with your Facebook Profile Picture. Once you've got that one down, you'll want to use the same image across all the social media platforms! [pinit]
5 Steps to the Best Profile Picture for Facebook
1. Show Your Face as Your Profile Picture
Put a personal face on your business – unless you're a known brand, or your business is widely recognized by your logo, use your face as your Profile Photo. People don't "connect" with a logo – they connect with a face. I would go so far as to say: people tend to ignore logos – but are hard-wired to pay attention to faces.
2. Use a Professional Photo
For best results, hire a pro to take some great headshots. If that's not in the budget, get a friend with a good camera, a good eye, and a steady hand. If you want people to take you seriously as a businessperson – DO NOT put up a casual snapshot or webcam photo. Make sure your photo is crisp and clear, and you look professional.
3. Show Some Personality in Your Profile Picture
While you DO want to look businesslike, you DON'T want to look staid and unapproachable. Remember that people do business with people they know, like, and trust. The first step to being likeable is to smile. Make eye contact! And then show your personality in your pose!
Photo credit: PhotoByBarbara.com
4. Keep It Close
A profile picture mistake I often see is showing too much of the body, which makes the face quite small. Remember that Facebook profile pictures will be seen at a miniscule 32×32 pixels square with every comment you make (see below). Crop to head and a bit of shoulders. It's not about your hair and clothing, it's about your face – that's what will draw people in, and help them recognize you as they see you time and again!
5. How to Size your Facebook Profile Picture
Your profile picture will appear on Facebook at 160 pixels square, but the minimum size for uploading is 180 pixels square. I suggest you crop your photo to a square, then size it down to 360 pixels square (double the minimum size) and save at the highest file size jpeg. If you don't have photo editing software, you can do this online at pixlr.com.

For a time, Facebook was cropping into your profile photo, but that doesn't seem to be the case right now. The tiny thumbnail that appears with your comments will be slightly cropped, however, and you do have an opportunity to adjust the cropping, or choose to have it scaled down to fit. I like it cropped a bit so my facial features don't practically disappear, but you can play with it to see what looks best with your photo.
6. Use Your Profile Picture Across Social Media Platforms
Bonus tip! Now that you've got the best profile picture for Facebook, be sure to use the same photo on Twitter, LinkedIn, Google+, YouTube, and any other social media platform where you have a presence. Your photo represents your personal brand, and as with any brand, consistency is key! Help people come to recognize you and "see you everywhere" by using the same great photo on all platforms, and keeping it until it becomes outdated.
Can You Make the Best Profile Picture?
Have these tips helped you? If you have any questions, please leave them in the comments! And if you use these tips, let us see your results – share a link to the best profile picture on Facebook!