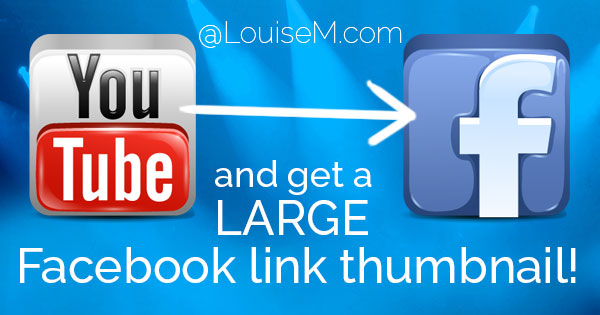 Wondering how to post YouTube videos on Facebook – and get a LARGE link?
Facebook seems to have an adversarial relationship with YouTube, which is owned by Google.
If you share a video, you just get a small thumbnail instead of those great BIG clickable thumbnails that really drive traffic.
This new service will allow you to upload your own image with the video link – and the image will also link to the video!
Sorry, this service has changed and now has a hidden fee. We can no longer recommend it.
How to Post YouTube Videos on Facebook: Step by Step
It's quite simple:
Copy the YouTube link.
Head to (no longer a free service so we removed the name and link).
Paste link.
Edit Title and Description.
Upload your image.*
Click Get my Link and copy it, or share directly to Facebook.
That's it! Check out the video below for a walkthrough of the process.
Facebook Link Images for Your Video
*NOTE ON IMAGES: Only use images you have rights to use. Using frames from someone else's video may be copyright infringement.
I suggest you create or crop your image to the 1.91:1 proportion that will be seen in the video before uploading. Note how the second image shown in the video has the penguins' heads cut off! I recommend a minimum of 600 x 315 pixels, up to 1200 x 628 pixels.
NOTE: If you OWN the video, you can upload it directly to Facebook and have it play right in the news feed. I don't recommend you download videos to post on Facebook, as that's a breach of Google's terms of service (see section 5:1).
Please share this post with others who'd like to know how to post YouTube videos on Facebook!