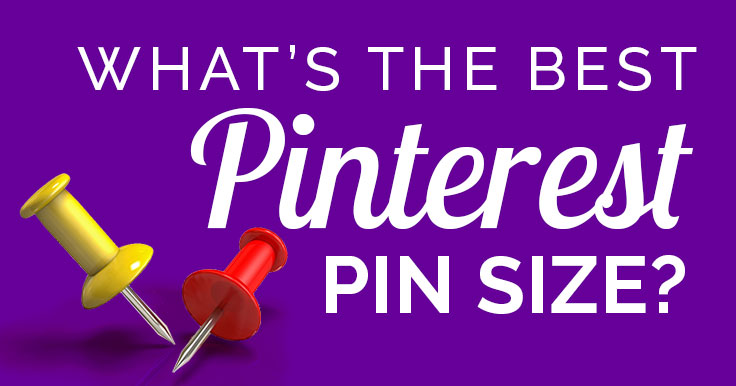 Wondering what's the best Pinterest Pin size?
You're in good company. Pinterest is changing things up, and Pinners are confused.
What's a Pinner to do? Well, let's see what Pinterest says.
UPDATED with info from Pinterest in Spring 2018 to February 2019.
I keep my "finger on the pulse" of this important visual marketing concern, and promise that I have the latest info for you.
What does Pinterest say about Pin sizes?
Pinterest has been saying for years that the optimal Pin size is a 2:3 proportion.
For quite some time, that topped out at 736 x 1104 pixels, but they've scaled down the size of the Pin when clicked. Now a 2:3 Pin will never appear larger than 564 x 846.
Pinterest says 600 x 900 pixels is optimal – or any 2:3 aspect ratio.
When you pick images for Pinterest, think vertical. Most of our formats are vertical, and taller than they are wide. We recommend that you use a 2:3 aspect ratio for all of your Pins.

"Aspect ratio" may sound complicated, but it's just a way to talk about an image's width, compared to its height. A 2:3 aspect ratio means that your image's width is ⅔ its height.

For example, your Pin could be 1,000 pixels wide, by 1,500 pixels tall. If your image falls outside this ratio, it could get truncated in people's feeds and they won't get to see your full Pin. source
All these image dimensions represent a 2:3 aspect ratio.
Which Pinterest Pin size should I use now?
Any 2:3 size is recommended by Pinterest (see more options below).
Some of my readers have suggested that the 564 width x 846 height actually looks best after uploading to the Pinterest platform.
Pinterest has never recommended smaller than 600 x 900 though. In fact, in a conference they said they prefer larger, higher resolution images, and specified 1000 x 1500.
I haven't seen any evidence that the platform actually favors larger images.
I would caution you against placing any images wider than your blog's content area on your website, as these will slow down your site. Google hates slow sites.
Some people will place a small image on their site but post a large on on Pinterest. You could try this if you're a stickler for high-resolution images.
I tend to use 720 (my blog's content width) x 1080, or sometimes 600 x 900.
Or taller! Read on…
Can I Pin square images to Pinterest?
In the same August 2017 webinar where they dropped a bomb about Pinterest hashtags, they also mentioned square images! For years they'd been saying 2:3 or taller, and now they were saying square up to 2:3 (1 1/2 times as tall as wide). This was new!
I haven't found square images to be the best performers, but if you already have them, give them a go. Follow up with the stats to see if they're working.
They're no longer talking about square Pins in 2019, so I wouldn't create that shape for Pinterest specifically.
What size is a Pinterest long Pin?
I've never found 2:3 Pins to be my best performers, either. In fact, my top blog posts for Pinterest traffic have tall infographics. This "infographics rule" stat extends to my top 12 of 18 posts for Pinterest traffic.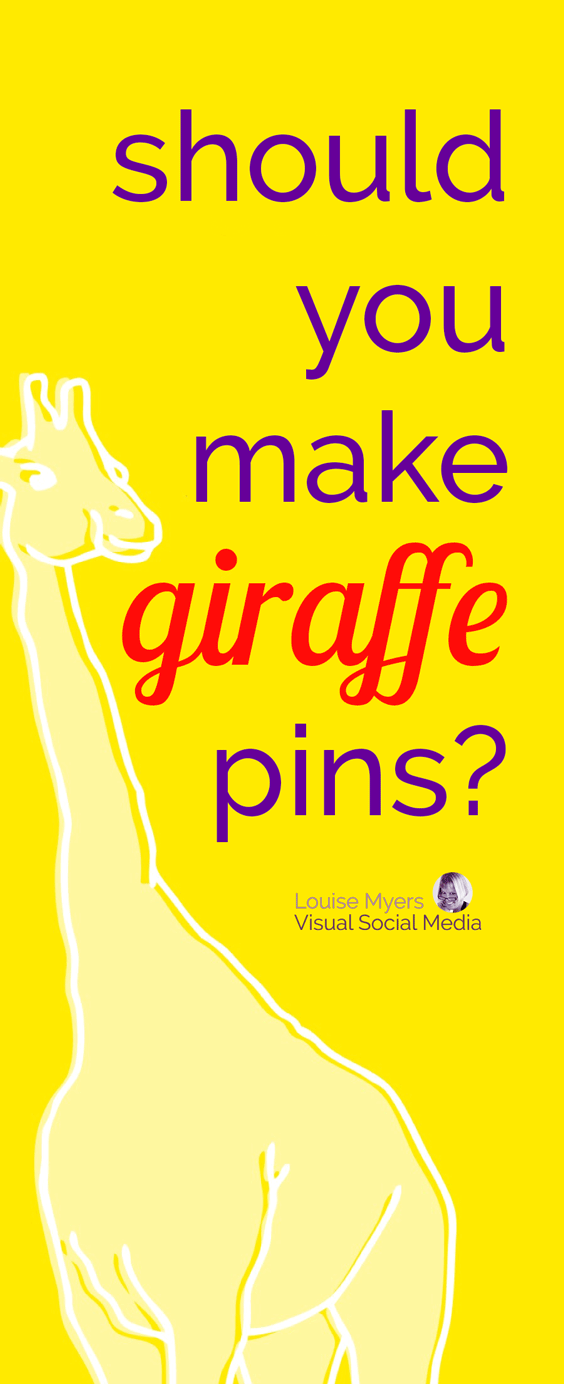 I had even started making my "regular" Pins taller than 2:3, because others have raved about how well tall Pins perform.
But now? Maybe not. Know what Pinterest called those feed-hogging, extra-tall Pins during that August 2018 webinar?
Giraffe Pins. And I don't think they meant it in a cute way.
I think Pinterest is out to quash those space-hogging Pins.
As always, check your stats to see which Pins are working best for you.
PIN SIZE UPDATE 2019
In March 2018, Pinterest confirmed that Pins longer than a 1:2.1 proportion will be cropped. You should take this into consideration for your designs going forward.
In June 2018, Pinterest said their algorithm will favor Pins that are approximately 2:3 proportion. Deviate much from that "golden ratio," and you may struggle to get traction.
Pins longer than 2:3 will have to earn their right to be seen. If you take twice up as much height as a 2:3 Pin, you'll need twice as much engagement to get into the Smart Feed as often.
As an example of the tall proportion that avoids being cropped in the feed, Pinterest had said 600 x 1260 pixels. Longer Pins will still be seen in full when tapped.
In 2019, Pinterest ONLY recommends 2:3 ratio:
Use high-quality, vertical images that will stand out in people's feeds. We recommend a 2:3 aspect ratio (ex: 1000 x 1500 pixels). Other ratios may cause your Pin to truncate, or may negatively impact performance. source
In 2019, bloggers are still saying long Pin sizes work best for them!
OK, so what size should I make my Pins already?
There's not ONE specific size you must follow.
I still believe in infographics! They outperform all others for me. NINE of my top Pinterest-traffic images are infographics.
Pins taller than 2:3 proportion must provide additional value. DO NOT stretch out a boring, text-based Pin to make a space-hogging "Giraffe Pin."
Infographics and helpful multi-photo Pins (especially step-by-step "instructographics") should continue to perform well.
I usually make my Pins the width of my blog's content area, so I'll continue to use 720 width. For an "optimal" 2:3 Pin image, that means 720 x 1080 for me.
I will still make and post infographics.
For this article, I tested my old, taller Pin size against one that's twice as tall as wide – AND a new "infographic" in a 2:3 shape!
Result: I honestly saw little difference between the shapes in 2018.
I do post square quote images that I've already created, but I don't make that shape specifically for Pinterest.
Determine your best Pin size
I recommend making Pins no smaller than 564 x 846 (2:3 ratio) up to 564 x 1,184 (to not get cropped).
To make it simple, you can go with Pinterest's 600 x 900 (2:3 ratio) and 600 x 1260 (to not get cropped).
For higher resolution, use 1000 x 1500 up to 1000 x 2100 (to not get cropped).
Or go with your blog width and do some simple math: 1.5 x blog width.
Anything larger than 564 will be scaled down proportionally, so use the width that looks good on your blog.
Easiest: Best Pin sizes are one and one-half to twice as tall as wide.
More about infographics in the next section, so keep reading.
Pin Sizes
Pixel Dimensions
(choose any)
1:1 Square pins
 564 x 564 px
600 x 600 px
1000 x 1000 px
2:3 Optimal pins
564 x 846 px
600 x 900 px
1000 x 1500 px
1:2.1 Long pins
564 x 1184 px
600 x 1260 px
1000 x 2100 px
What about collage Pins and infographics?
I'm sticking with infographics, where appropriate to my blog post. I do not expect their popularity to die down! Everyone loves a useful infographic – and when clicked, Pinners can still see the whole thing.
Even though long ones can be seen in their entirety once clicked, people get tired of scrolling. So, don't make them 10+ times taller than wide.
I recommend approximately a 1:3 ratio for infographics. 1:4 should work as well. Avoid 8, 10, or more times tall than wide.
I've had great success with splitting a tall infographic into several shorter ones. This gives you lots more Pins to share, multiplying your virality!
Multi-infographics examples:
Facebook Insights infographics
How to Design with the Force infographics
Best Times to Post on Social Media infographics
If you make collage Pins with several products, or the steps to create a project, I suggest you test 2:3 Pins as well. See which Pins get more Saves and drive more traffic.
I would not continue making needlessly tall, "Giraffe Pins." If you're really tied to them, again I suggest you split test.
Some Pinners are reporting that Giraffe Pins are no longer performing as well as 2:3 shape.
Plus, space-hogging Pins are just obnoxious and many people won't share them.
Valuable, info-packed graphics are still saved and repinned widely.
Which file types does Pinterest accept?
For organic, unpaid Pins, you can save or upload either flat images or videos.
You need to set up an advertising account to upload videos, but you don't actually need to buy an ad. The option to upload a video will appear for you.
To upload an image or video, just click the red plus sign on desktop. Be sure to fill out all the fields. More about that after the image specs.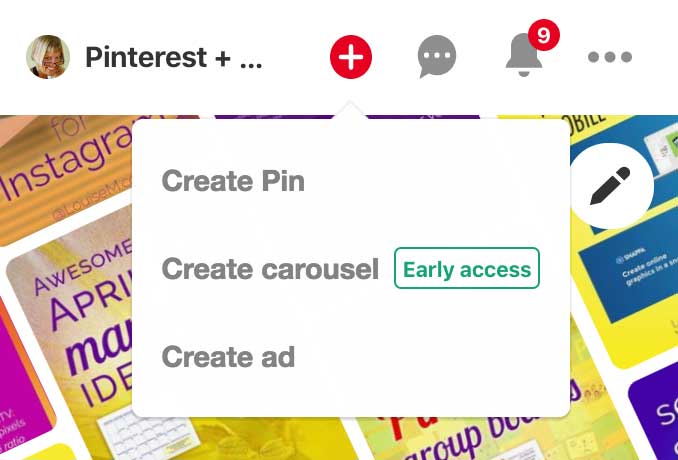 File types for static images are PNG or JPG. The image specs below apply to both standard organic Pins and standard Promoted Pins.
Pin Image specs
File type: PNG or JPEG
Max file size: 10 MB
Aspect ratio: We recommend using a 2:3 aspect ratio, or 1000 x 1500 pixels. Pins with an aspect ratio that's greater than 2:3 might get cut off in people's feeds.
Also, multi-image carousels are rolling out. You might have this option already!
Carousel Image specs
Image count: 2-5 images per Carousel
File type: PNG or JPEG
Max file size: 10 MB per image
Aspect ratio: 1:1 or 2:3
I'm not sure which video specs apply to organic Pins as I don't use them – I suspect standard width. I tested one video Pin and it went nowhere. If you try them, know your goals and keep an eye on your stats.
Promoted Videos at standard width
File type: .mp4 or .mov
Encoding: H.264
Max file size: Up to 2GB
Video length: Minimum 4 seconds, maximum 15 minutes
Aspect ratio: Shorter than 1:2 (width:height), taller than 1.91:1. We recommend making your videos square (1:1) or vertical (2:3, 9:16).
Promoted Videos at max width
File type: .mp4 or .mov
Encoding: H.264
Max file size: 2GB or less
Video length: Minimum 4 seconds, maximum 15 minutes
Aspect ratio: Square (1:1) or widescreen (16:9). Note that max. width videos can't exceed the height of a 1:1 aspect ratio.
Make sure to use images that are visually compelling and will stand out in people's feeds. Your Pin images should clearly highlight your brand or service, and give people context about what it is you offer.
Stay away from abstract imagery or stock photography that doesn't help tell a story about your specific brand.
How to write a good Pinterest Pin description
Don't forget to include a keyword-optimized Pin description!
Don't keyword-stuff. Write an intriguing, conversational 2 or 3 sentences with a compelling call-to-action to let Pinners know what they should do next.
You can include Pinterest hashtags at the end of your description.
Don't forget to include the URL the Pin goes with (not your home page, but where to purchase or learn more).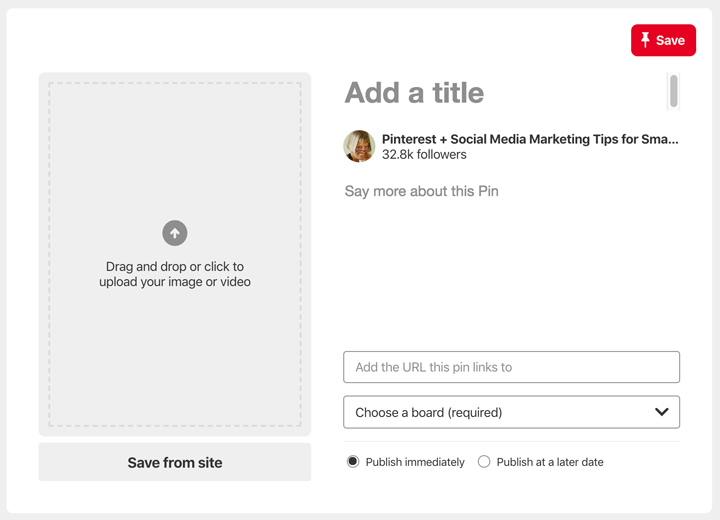 Here are the details, direct from Pinterest:
Make sure to fill in all the text components that go with your Pin. This info gives people helpful context about your Pin, and what to expect if they click on it. The text also helps us understand more about your content so we can show it to the right people.

Optimize your landing pages
When someone clicks on your Pin, they want to learn more about it. You can link Pins to your site, blog or any other website. Make sure to pick a landing page that feels like a natural progression from the Pin, to your site. For example, Pins that feature a product should link to a page where people can buy that product. If your Pin features a DIY, it should link to the article on your site with full instructions.

Write a full description
Descriptions add context and reinforce your branding. If you're sharing a recipe, you could mention the main ingredients or prep methods. If you're creating a travel Pin, you could add ideas for activities at that destination.

Use real sentences, and make sure to include a call to action. You should work relevant keywords into your descriptions, but stay away from keyword stuffing. It's unnecessary, and makes your Pins less useful for the people reading them.

Use hashtags to improve search results
Add a few relevant hashtags to help people find your content. On Pinterest, hashtags function as search terms, and people use them to find trending topics. Unlike on other platforms, Pinterest hashtags aren't used for jokes, memes or commentary. So for a fashion brand, something like #springfashion would work well—but #ilookterribleinhats wouldn't. If you're not sure which hashtags to use, try searching for your topic on Pinterest, and use the autocomplete suggestions as guidance.

People often ask if they should go back and add hashtags to older Pins. You can, but it won't help your content show up at the top of hashtag feeds. Newer Pins with that hashtag will appear first.
Also NEW is that you can schedule your uploaded Pin for FREE right inside Pinterest! At this time, you can only go 2 weeks into the future.
Pin description character counts
Title: Up to 100 characters. If you don't fill out a title, people will see your Pin description instead.
Description: Up to 500 characters. The first 50-60 characters are most likely to show up in people's feeds, so put your most important info first.
Optimize your Pinterest account for success!
In my free e-course, you'll learn how to:
Help your target audience discover your account
Connect with influencers
Get repins and followers
Make eye-catching images
Easily, and for free!
Get ONE simple action step each day. Join now!
• • • CLICK to get your FREE Pinterest Basics e-course! • • •
Conclusion: Pinterest Pin sizes
If you make squares or portrait shape image on Instagram, these can be cross-posted on Pinterest.
Note that the type of content that resonates with IGers isn't always the same stuff that Pinners like! Quotes work well on both. But selfies are for Instagram and not Pinterest.
My top recommendation: 2:3 or 1:2.1 for Pins.
1:3 to 1:4 for infographics. Make them simple, valuable, and enticing.
I recommend against posting anything shorter than a square or taller than 4x width, unless it's already proven content.
What Pin sizes perform for you?
I'll keep testing and reporting back. In the meantime, I'd love to hear what you're finding to be the best Pinterest Pin size!