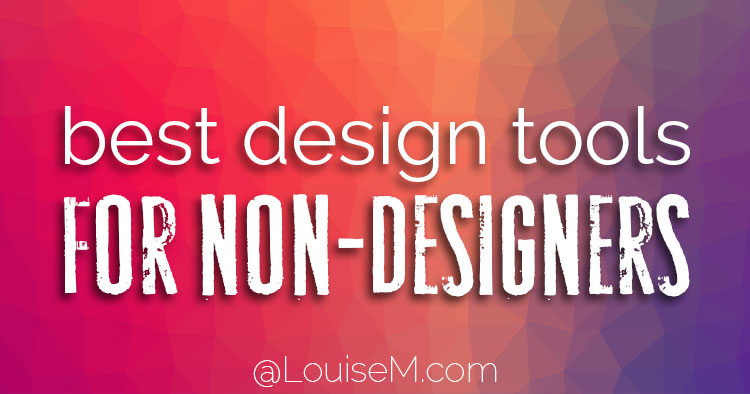 Who needs design tools for non-designers?
Savvy bloggers and business owners, that's who!
Sound like you? Except maybe you don't know where to begin with creating images.
You're looking for the easiest graphic design tool.
You want the best graphic design software for beginners.
And it has to have free graphic design templates!
Then you're in the right place – I'll share and compare several popular graphic design tools – as well as some you haven't even heard of yet.
You can do free graphic design online! All of these tools offer a free trial, and most have a free-forever version.
Pay a little more (currently from $8-29 paid monthly) and you'll get some really great added features. I've been allowed to test some for free to bring you this in-depth report!
Disclosure: I'm an affiliate for some of these products, which means I may get a commission if you purchase. You won't pay a cent more!

I've grouped these graphics creators by easiest, easy, and a quick overview of the pro tools.
Topics we'll cover (click links to jump to that point in article):
Why are images critical in your marketing? (just below)
EASIEST Graphic Design Tools Click to jump to this section
Stencil Online Design Tool Click to jump
Snappa Online Design Tool Click to jump
Over App for mobile Click to jump
EASY Graphic Design Tools Click to jump to this section
Canva Graphic Design Tool Click to jump
PicMonkey Online Photo Editor Click to jump
PromoRepublic Social Media Content Builder & Scheduler Click to jump
Pro Level Design Tools Click to jump to this section
Plus a wrap-up at the end.
No time to read it all? Download your FREE comparison chart!
• • • CLICK to Download your FREE Design Tools Comparison Chart! • • •
This post was originally published in January 2015, and completely rewritten in July 2017. Prices and features updated January 2018 and March 2019.
Why are images critical for marketing?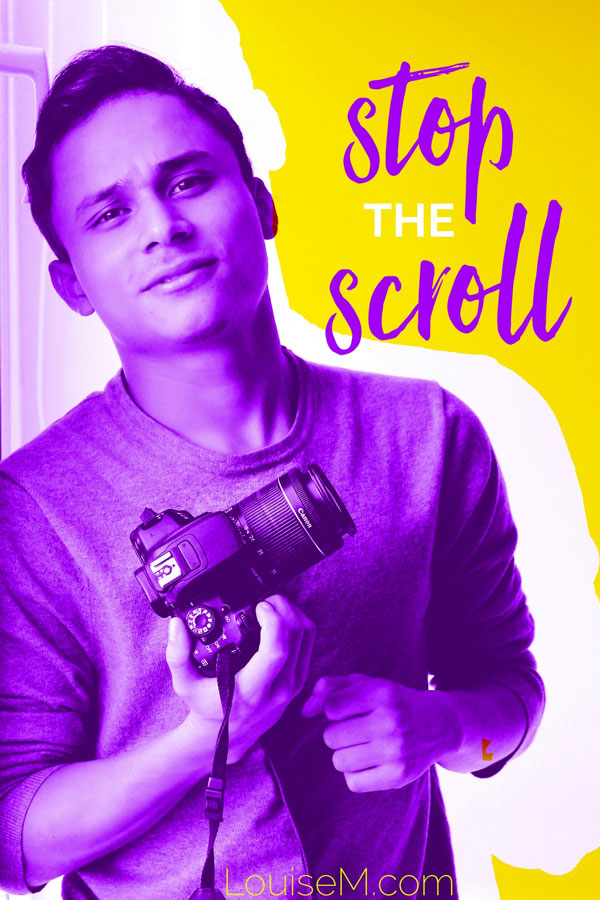 Humans are visual creatures! You need images to:
Draw attention to your business.
Stop the scroll on social media.
Give people something to share from your blog.
Create a positive feeling about your business.
Visuals are memorable and effective, because they help people process, understand, and retain more information more quickly.
Here are a few stats:
The brain processes images 60,000 times faster than any other information.
90% of the information transmitted to the brain is visual.
40% of people respond better to visual information than text.
When people hear information, they're likely to remember only 10% of that information three days later, but if a relevant image is paired with that same information, people retained 65% of the information three days later. (source)
Blog articles with images get 94% more views. (source)
Tweets with images receive 18% more click throughs, 89% more likes, and 150% more retweets.
Convinced yet? Get ready to try some design apps!

What's the EASIEST graphic design software to use?
I've tried a lot, and these 3 are all super easy.
They're perfect whether you've never designed anything in your life – or are a pro like me! The results are that good.
We'll review Stencil, Snappa, and Over. The first two are browser-based tools, while Over is a mobile app.
The benefits to these 3 are:
They're as fast as it gets.
No learning curve or tutorials needed.
Design templates by pros – no design experience needed.
Photos included at no extra charge.
Resize your graphics for multiple platforms with a few clicks.
Each of these easiest design tools includes:
Free searchable images with CC0 rights.
Design templates included.
Save your design to rework later.
Organize your designs into collections / folders / circles.
Fonts included.
Upload your own logo and fonts.
Dozens of social media sizes, ready to use.
Note: Some features may only be part of the paid plans.
Stencil Online Design Tool
The fastest way to double your social engagement is with this ridiculously simple image creation for social media marketers, bloggers and small businesses. Use it on your web browser.
Watch this video for an overview, or read the details below.
Stencil features:
2,200,000+ background photos, hundreds added weekly. Or upload your own.
760+ design templates, ready for you to edit.
Upload and store every logo you need to create visuals for different brands.
Make inspiring quote images in seconds by searching a collection of 100,000+ quotes, right in Stencil.
Find the perfect font for your image by using any of Google's thousands of web fonts!
Or, match your brand perfectly by uploading your own fonts directly to Stencil
Font styling includes shadow, outline, background color, and clone (duplicate).
Vector icons are right at your fingertips, royalty-free and safe to use however you want.
34+ pre-loaded sizes for social networks, ads, blog posts and more. Or create your own!
Magic resize to optimize for different platforms.
Undo / redo and history, so you can change your mind as you design.
Easy-to-use Chrome and Firefox extensions to create images on the fly.
Live preview before you post to your social networks – or schedule via Buffer.
The free version of Stencil includes 10 images per month, limited backgrounds and icons.
Upgrade to Pro and create 50 images for $12 per month paid annually, or $20 billed monthly. Or pay a little more and upgrade to Unlimited!
With either paid plan, you can save your designs in Collections.
• • • Click here to try Stencil for FREE • • •
Snappa Online Design Tool
Another easy browser-based tool, Snappa saves you time every step of the way. Watch this video for an overview, or read the details below.
Snappa features:
Create highly engaging images in minutes with drag-and-drop.
60,000+ photos and graphics – royalty-free and licensed for commercial use.
Or upload your own photos into Snappa, and they're available for you to use.
In addition to the 200+ fonts pre-loaded in Snappa, you can import your own custom fonts to keep your branding intact.
Choose from hundreds of pre-made templates, available in multiple sizes and suitable for a wide range of niches.
Image dimensions for social media, display ads, blogs, emails, and infographics are available as clickable presets.
In two clicks, you can magically resize your graphics into any other size. Turn your Twitter header into a Facebook cover, your Instagram post into a Pinterest pin, or a Facebook ad into a billboard ad.
Brand your images by uploading your own company logos and graphics.
Save all your custom designs and organize them into folders. Edit a previous design in seconds.
If you get stuck, you have unlimited access to video tutorials, help docs, answers to FAQs, and in-house email support.
Snappa makes it easy to collaborate with your team. Share designs, folders, fonts, and other brand assets with ease. (Team plan only).
Share your graphics to the popular social media platforms without leaving Snappa – or connect your Buffer account to schedule your posts.
Play with photo effects until your graphic is perfect – no design experience required. Effects include color overlay, darken, blur, saturation, hue, brightness, and contrast.
A free Snappa account includes 5 downloads per month so you can try it out.
Pro gives you unlimited downloads, templates, and social accounts for $10/month billed annually, or $15 monthly. Includes saved designs and folders. Plus there's a Team account for up to 5 people at twice the Pro price.
• • • Click here to try Snappa for FREE • • •
Stencil vs. Snappa
Both are browser-based tools, and offer a free-forever version.
They're quite similar in the way they work. Which to choose? Well, you can try both for free, and decide from there. But here's a rundown of the main differences I see:
Love quote images? Stencil has a searchable database of over 100,000 quotes. Learn more about using Stencil for quote images.
Want to make infographics? Snappa has several options. Stencil has none.
Highlight text on any web page and it appears in Stencil with the Chrome or Firefox extension.
Want to organize your designs into folders? Both now offer this feature! They're called "Collections" in Stencil (and Over has "Circles").

Over mobile app
But you want to create on mobile? There's certainly no lack of graphics apps for that. It's hard to even know where to start!
I've tried a lot of them, and have found them to be pretty limited. Many only create square images, which isn't going to help you if you need a cover photo or blog post image.
Over is different, though! It includes 27 preset sizes for most all your graphics needs.
Designed with mobile creatives in mind, Over features standard and custom-made fonts and well-crafted artwork overlays, combined with a sleek design, easy-to-use functionality, and immediate sharing ability.
This app lets you type in any text you like, and change the font style, size, alignment, and more. It even lets you change the color with a clever color picker to match text to an existing color in the image, or specify your brand color by hex number.
You can rotate the text, and nudge it until you get your text exactly where you want it.
Over isolates each design element on separate layers, giving you complete design control.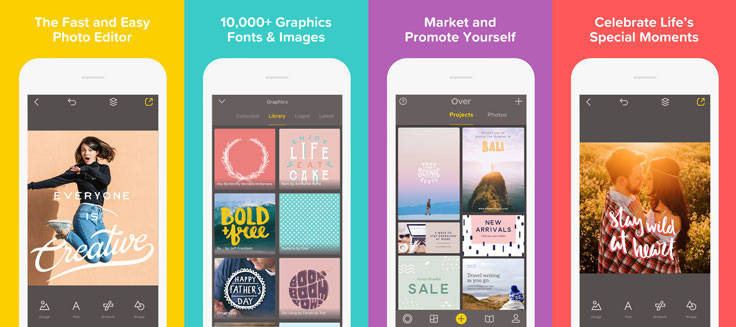 There are design templates in the Pro version – several new ones daily. See one you like?
Open it and work on it so it saves to your Projects. Edit it again later!
Tap the + sign and save the template to your personal Circle. Access and edit it any time.
NEW! Search for a template by keyword (at the top of the templates feed).
Easily import the photos from your camera roll, or search Unsplash right in the app. Once you have a project open, you can also search Pixabay or Google (beware: using images found on Google is usually illegal).
There are some filters and photo editing options, as well as some very creative Photoshop-worthy blending modes.
Or just tweak one of their templates and post!
Free to download, with a number of paid upgrades. For full functionality, you'll want the Pro subscription at $14.99 monthly or 99.99 per year (in the US) on iOS. Be aware that this is an auto-renewing subscription.
For the more limited Over Android app, the cost is $29.99 US.
If you only want to design on mobile, this may be all you need.
Download the Over mobile app for iOS here.
Download the Over mobile app for Android here.
• • • Click here to try Over app for iOS • • •

EASY Graphic Design Tools provide more options
The tools in this section have a lot more features and options than the ones above, but they're still easy to use.
They also have big differences between them. Once you know what those are, it should be easy to pick the one that will work best for you.
Each of these easy tools includes:
Design templates by pros – no design experience needed.
Save your design to rework later.
Fonts included.
Upload your own logo.
Note: Some features may only be part of the paid plans.
Canva Graphic Design Tool
No roundup of design tools would be complete without mentioning Canva. It's seemed to dominate the market by having a pretty generous always-free version. Be aware though, many photos, templates, and design elements will cost you $1 per use.
Many people just love Canva. If you've tried it and don't, no worries. There are many other options for you!
I find it a little complex, and feel that it requires a bit of a learning curve. But as I said, many people swear by it, so it could be the perfect fit for you too.
This video will give you a great overview of Canva basics.
There's also Canva for iPad and iPhone!
You can design almost anything with Canva, including multi-page documents to export as PDF. They also have a great variety of infographics templates.
Another plus is saving your designs, even in the free version. You can reuse the ones you like as templates to create a series of images.
Its photo editing options are very limited (you'll want PicMonkey for that), but are probably all most people will need. They include 14 filters, brightness, contrast, saturation, crop / resize, and rotate / flip.
There's an upgraded version called Canva for Work. Try the free version out, if you like it but want more features, then upgrade.
Canva for Work is 9.95/month paid annually, or 12.95/month (per user).
FREE Canva includes:
Two folders to organize designs
Up to 10 team members for free
1GB storage for photos and assets
Access to over 8,000 templates
Upload your own images
Access millions of photos for $1 each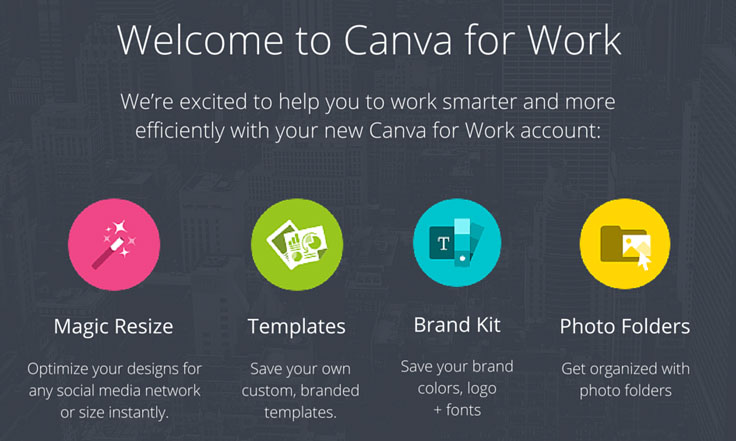 Canva for Work includes:
Unlimited folders for your designs
Invite up to 30 team members
Unlimited storage for photos and assets
Exclusive access to 300,000 free photos, illustrations, and templates
Upload your own images
Access millions of photos for $1 each
Magically resize your designs
Upload custom fonts for your brand
Set color palettes for your brand
Save templates for you and your team
Organize your photos with folders
Easily find your designs with search
Priority support
• • • Click here to try Canva • • •
PicMonkey Online Photo Editor
PicMonkey is hands-down the best and easiest online photo editor.
But don't leave just yet if you're only looking for a design tool. PicMonkey has some pretty fun features there, too. Including some new ones you may not be aware of!
For instance – design templates! And a storage feature called Hub. Learn more on this video:
You can also make cool collages, like this:
PicMonkey only includes a few sample photos, but you can quickly upload photos from your computer, Dropbox, OneDrive, Facebook, or Flickr.
They do include a nice selection of what they call "Textures." These are simple photo backgrounds that are free to use, and perfect to add text to.
Can I use PicMonkey for free?
New users may try out all features, but you'll need to start a 7-day free trial to save your designs to Hub, create custom effects, and share and export your work.
After your trial, you have a choice of the two reasonably-priced plans.
A Basic membership gives you storage for 1GB of your designs, so you can edit and reuse them. Access them both on your computer and on your iPhone.
Here's what you get in Basic:
Hub storage for 1GB of your graphics
Sort Hub images
Save, Export, Share
Advanced touch up tools
Primo effects, overlays, fonts
Re-editable images, in Hub
Pro designed templates
That's only $7.99 monthly, or 71.88 for a whole year (which works out to $5.99 per month).
Upgrade to Pro at $12.99 monthly or $119.88 for the year, and get all of the features included in Basic plus unlimited Hub storage and PDF export.
The PicMonkey mobile app offers a completely free way to edit photos and create designs on the go. It's available for Android and iOS mobile devices, as well as iPad.
Try PicMonkey online for free here.
• • • Click here to try PicMonkey for FREE • • •
PromoRepublic Social Media Content Builder & Scheduler
Have you heard of PromoRepublic? It's rather unique.
It's all about a holistic social media plan, one part of which is making graphics.
You can create stunning posts in seconds with 100,000+ designer templates, ideas and visuals.
When you make those graphics and schedule them to your Facebook, Twitter, LinkedIn and Instagram, you'll see them laid out in a calendar format. Now you can see where you might have some gaps to fill in!
Not only do you create graphics in PromoRepublic, you also get hundreds of pre-made post ideas, in various categories like engaging, educational, and promotional.
It's similar to the concept behind my Social Media Content Planner. PromoRepublic might be a good option for you if you don't like printing out the planner. This is all online!
This video will give you an overview:
How it works:
Find customizable professional templates that fit your needs.
Publish with one click, or schedule to be published on 4 social networks.
Sell more through engagement with your existing audience, and new customers.
It's very business-minded. You'll be served up ideas pertinent to the industries you set up in your profile. Plus all the holiday content, and ability to search for any ideas you want.
Your work is saved after you schedule or post it, so you can easily edit it to crank out more content! You can literally make a month's worth of content in a couple hours.
You can try it for free with no credit card required. After the trial, the cost is $9/month for a basic version that doesn't include scheduling posts.
There's also a Pro plan that offers a lot of features! It's $29 paid monthly, or $23.20/month when paid a year in advance.
50 downloads each month.
15 social profiles.
100,000 pre-designed post templates.
Automated posting to Facebook, Twitter, and LinkedIn.
Schedule Instagram posts (get a notification on your phone).
Free stock photos included.
If you need unlimited downloads, more social profiles, and a team member, there's a Superior plan at $49 per month. Plus, you'll get performance stats. This package is great for social media managers.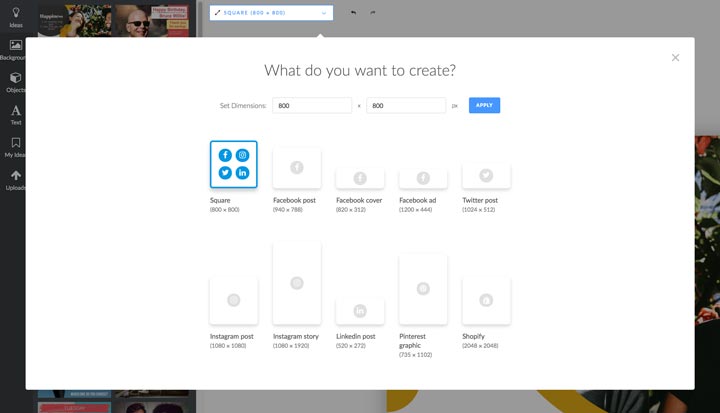 PromoRepublic includes hundreds of templates and ideas in 10 sizes of graphics, which are optimized for Facebook, Twitter, LinkedIn, Pinterest, and Instagram posts and Stories.
Resizing your graphics for different uses? Horizontal to square works well, but you may want to tweak if you convert to a vertical Pin or Story.
If you love the idea of a pushbutton content plan, give this one a try!
Try PromoRepublic for free here.
• • • Click here to try PromoRepublic for FREE • • •

Pro Level Design Tools
I'm just going to give these a mention. If you want full photo editing functionality and don't need pre-designed templates, these are your top options.
Pixlr Editor
Pixlr is a robust browser photo editor, for all your editing needs. With Pixlr Editor you have full control over your images, including layers and effects.
It's browser based and works similarly to Photoshop – with limited features. And, it's free! You'll find it here.
GIMP: GNU Image Manipulation Program
GIMP is a cross-platform image editor available for GNU/Linux, OS X, Windows and more operating systems.
Also similar to Photoshop, this one you download and run on your computer. It's available to download here.
Adobe Photoshop
If you're ready for the real deal, Photoshop is it.
And it's probably not as expensive as you think! You get Photoshop CC plus Lightroom CC for $9.99/month with 20GB of cloud storage.
Want Adobe Illustrator to create vector graphics, and/or Adobe InDesign for page design and layout? Get one for $20.99/month, or the complete collection of creative apps for $52.99/mo.
Choose your Adobe creative tools here.
By the way, Photoshop and InDesign are my fave design tools – but when I want some quick inspiration, I grab one of the easy-peasys 😉

Design Tools Wrap-Up
There are hundreds of graphic design tools, apps, and software available now. Many are free! But their functionality is limited.
I've given you an overview here of 6 easy design tools (click to try):
Stencil online graphic design tool
Snappa online graphic design tool
PicMonkey online photo editor and design tool
PromoRepublic visual content creator and scheduler
I find these to be not only easy, but provide the best features for the money.
Which one or ones sound like a fit for you? Try a couple! All are free to try.
Not sure yet? Download your FREE comparison chart!
• • • CLICK to Download your FREE Design Tools Comparison Chart! • • •
Consider upgrading your favorite, though. What's your time worth? Certainly the time-saving features of the upgraded versions are worth a few dollars a month.
I'd love to hear what you'll choose after learning about these design tools for non-designers!