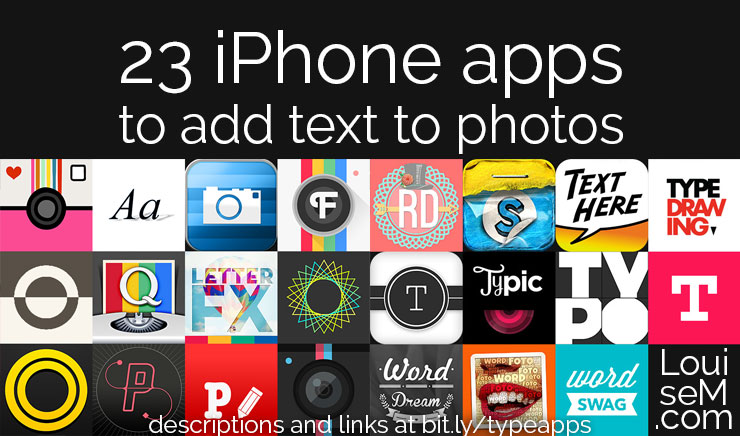 Looking for iPhone apps to add text to photos?
Photos with text are the hottest thing in visual content!
Images are 93% more likely to be shared on social media than any other type of content.
If you can't take a good photo to save your life, images with text are your answer!
They not only improve and explain your own photos, but many of these apps provide backgrounds, so you don't even need to supply a photo.
I've searched out 23 typography apps for iPhone. Some of these may be available for Android also, but my links will take you to the Apple App Store.
(If you have a favorite Android type app, please let me know in a comment, and I'll compile a list for Android users too!)
I've put the ones I'm familiar with at the top of the list – but YOU can vote up your favorites! Also leave comments right in the list on what you like and don't.
And – if you sign up for a free Listly membership, you can embed this list on your own blog.
Most of the apps cost a few bucks. I suggest you try a few – none can do everything.
NOTE: If you wish to use apps for your business, be sure to check their Terms of Use to ensure it's allowed. Read more.
Below is a brief synopsis of the apps I've used and liked. Updated August 31, 2017.
If you want to go straight to the list, scroll down to the end of this post.

WordSwag and Typorama
WordSwag and Typorama are similar in that they're built on a type engine that generates a complete typography design for you at a tap. Tap again and again until you find a design you like.
They also offer image search right in the app – free, public domain photos from Pixabay. Plus, each app provides unique backgrounds of their own, the ability to choose an image from your camera roll, and quotes to choose from in the app.
WordSwag is the original, and it's great, but Typorama has added a number of requested features like overlays, type glow or shadow, 3D effect, and watermark. These are so useful that I can't imagine why WordSwag hasn't added them.
Both include different social media sizes, including ones suitable for Pinterest (use 2:3 in Typorama).
WordSwag costs $4.99, plus another $1.99 for additional features. Typorama costs $5.99 to unlock all features. You have to pay $4.99 to get rid of their watermark, so go ahead and pay a buck more for full access.
I had all 3 shown – using 3 different ones gave me variety. If you like the way this type engine works, I'd go with Typorama. It can be frustrating if you see a design you like and can't find it again, though.
Word Dream hasn't been updated in a while, so I no longer recommend it.
I haven't been able to find anything remotely similar for Android users. Sorry!
Over
This is now my preferred iOS design tool. Over app comes with designed templates and text overlays. A few are included in the free version, but you'll get the best choices if you upgrade to Pro.
This is as easy as you can get. You don't even have to think of words! There are also fonts included to use your own text instead of a pre-made greeting.
Choose an image to use as a background from your camera roll, or search Unsplash for free CC0 photos right in the app.
You can search Google for images right in the app, but beware – anything you find may be subject to copyright (unlike the search functions in the apps above).
There are loads of image editing options, text editing options, social media sizes – pretty much everything you need.
Over is also available for Android, but I believe it's not as full-featured.
PhotoMarks for watermarking
If you simply need to watermark your photos, PhotoMarks may be your tool.
You can import your logo and adjust the size, transparency, and shadow. Or you can add a line of text and choose font, size, color, transparency, shadow, and stroke (outline).
The stroke feature isn't available in any other app that I'm aware of, and it's a great feature to fine-tune a text watermark.
If you want more design features, the watermarking capabilities in Over and Typorama may be adequate for your needs.
Rhonna Designs
This app needs a special mention.
While the Rhonna Designs app creates lovely, rather feminine designs, I must warn you that the designer stipulates, in capital letters, that this app is for personal use only.
If you're looking for graphics to promote your business, you'll need to contact the designer and purchase a commercial license. 'Nuff said!
The apps mentioned above were checked August 31, 2017.
There are so many more in the list. Check them out! Ensure that they're up-to-date before purchasing.
For about the price of a coffee, you can have a fun new app!
Pin this post so you can come back when you're ready to try more iPhone apps to add text to photos. Enjoy!