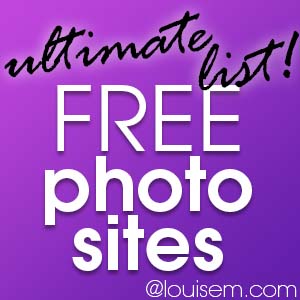 Looking for free photo sites?
Here's the ultimate list! All the best places to find images for blogs and social media.
When you're looking for free pictures on these sites, be sure to check any licensing restrictions. Many sites will allow you to use search filters so your results will return only public domain, Creative Commons, or photos allowed for commercial use.
Whatever your search parameters, understand that you are responsible for ensuring the results are free to use in the manner you wish. Be sure you understand the photo's license and comply.
If you wish to use images licensed with Creative Commons, you must credit the creator in the manner they specify. Since many artists don't specify, check this article for how to attribute.
For more of my commentary on some of the listed sites here, check my blog posts
If all this sounds like too much hassle, you can try my two favorite sources for low cost photos: Fotolia and Dreamstime. You buy a pack of credits (currently under $25 at either) and apply them towards your photo purchases. The sites offer robust search tools, and no worries about attribution.
With any of these sites, free or paid, you may not resell the images, or use them as the primary value on something for sale, like a T-shirt. Always check!
Like the list? Embed it on your own blog if your readers would find it useful. Add to the list (FREE sites ONLY), vote for your favorites – and help make this the ultimate list of free photo sites!