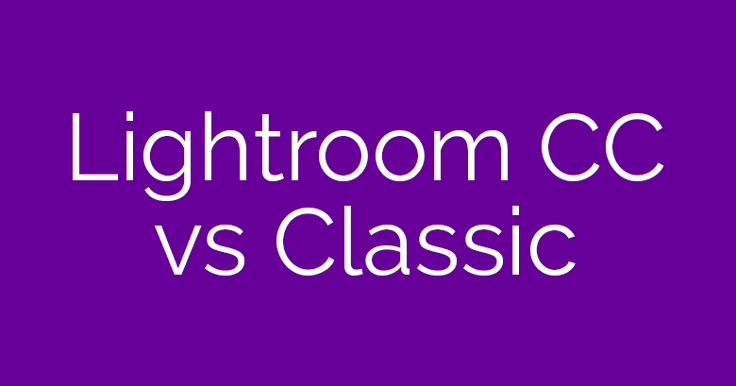 Have you heard about the NEW Lightroom CC?
Maybe you're wondering the difference between that and the newly-named "Lightroom Classic CC."
It's a bit confusing! Since my readers have shown a lot of interest in Lightroom, I wanted to help clarify this for you.
Here are a couple videos: one from Adobe, and one from a photography guru.
Watch and decide which version of Lightroom works for you.
Lightroom CC vs Lightroom Classic: What's the Difference?
Here's the scoop on Lightroom CC: It might sound like the old Lightroom, but it definitely has a lot more to offer. The product previously known as Lightroom has been rebranded "Lightroom Classic CC".
The Lightroom CC ecosystem is a cloud-based service with three device-based apps: desktop, mobile and web.
Lightroom CC is designed and built around 3 guiding principles:
Powerful Yet Simple: Lightroom CC will offer the powerful image editing that you want, while being simple and intuitive to use. Our goal is that it will have everything you need and nothing you don't.
Seamless experience across all your devices: Lightroom CC will work the same across desktop, mobile, and web. This allows you to move across your devices without needing to relearn or figure things out. Your photos and edits are all where you'd expect them to be.
Cloud Based: Everything you do in Lightroom CC is synced to the cloud. This means that you can access and work with your photos from any device (including multiple computers), and can easily share photos with others. All of your photos and all of the work that you do with them will be automatically backed up all the time.
Note: I'll earn a referral fee if you choose to purchase an Adobe plan via this page.
Key Lightroom CC capabilities
Powerful image editing technology: Built on the same imaging technology that powers Photoshop and Lightroom, Lightroom CC offers a new streamlined interface with easy-to-use sliders, presets, and quick adjustment tools.
Edit anywhere: Lightroom CC allows you to edit full-resolution photos anywhere – on mobile devices, desktop or the web. Edits made on one device are automatically synced across devices for anywhere access.
Worry free back-up, cloud storage: Lightroom CC has scalable storage options for safe and secure back up of full-resolution photos – including raw files.
Powered by Adobe Sensei: Adobe Sensei's machine learning technology automatically applies searchable keywords to objects in photographs – making organization in Lightroom CC effortless.
Built-in sharing tools: Lightroom CC makes it easy to share photos directly via social media and to create custom Lightroom web galleries that can be shared via link. Photographers can also share their work through new Adobe Portfolio integration with Lightroom CC.
Updated award-winning mobile and web experiences:

Lightroom CC for mobile on iOS: Built-in search functionality powered by Adobe Sensei, keyword support, hierarchical album support, an enhanced iPad app layout and iOS 11 files support.
Lightroom CC for mobile on Android: Tablet support and a local adjustments brush, along with the same built-in search functionality, keyword support and hierarchical album support as seen in the iOS app.
Lightroom CC for web: Ability to create and manage a public gallery page, as well as enhanced integration with Adobe Portfolio, which enables subscribers to easily import collections and publish their best shots to a customized Portfolio website in just a few clicks.
Updates to Adobe Photoshop Lightroom Classic CC
Major updates to Lightroom Classic CC, previously known as Lightroom CC, include an enhanced Embedded Preview workflow that enables users to scroll through large sets of photos to select a subset of images significantly faster than before.
Lightroom Classic CC also features new editing capabilities, including a new Color Range and Luminance Masking functionality that enables users to apply precise edits.
As contrasted with the cloud-centric, anywhere workflows of Lightroom CC, the new Lightroom Classic CC continues to focus on a more traditional desktop-first workflow with local storage and file and folder control.
What does Adobe Lightroom cost?
You have three options for Adobe photo editing, depending on whether you want Photoshop and/or cloud storage. The bottom line on cost:
Photography plan includes the all-new Lightroom CC, 20GB of cloud storage, Lightroom Classic CC, and Photoshop CC, for US$9.99/mo.
Lightroom CC plan includes the all-new Lightroom CC and 1TB of cloud storage for US$9.99/mo (no Photoshop).
The Photography plan with 1TB cloud storage includes the all-new Lightroom CC, 1TB of cloud storage, Lightroom Classic CC, and Photoshop CC.
Click "Choose a plan" under "Photography" on the far left.

Of course, you could select all Adobe applications for $49.99/mo, which is what I have.
I hope to bring you more training videos as they become available. Pin this post and check back!
What do you think of Lightroom CC vs Lightroom Classic CC? Which version works for you?