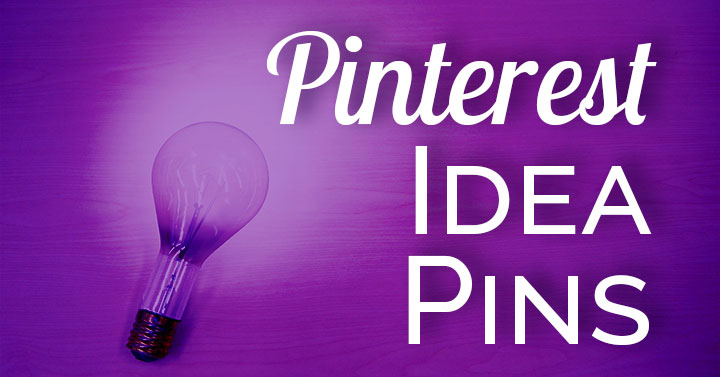 Have you heard the latest from Pinterest?
And wondering what Idea Pins are?
Pinterest Idea Pins are sort of new.
And sort of not.
Pinterest says they're an evolution of Story Pins.
If you hang out with other Pinterest marketers, you've probably heard the fuss over whether those Pinterest Story Pins are helpful for us, or just for Pinterest.
And whether they're just a lousy, ill-conceived ripoff of Instagram Stories.
Let's dig in and explore.
What Are Pinterest Idea Pins?
Pinterest Idea Pins are multi-page video Pins. As long as you have a Pinterest business account, you can use Idea Pins to create inspiring content and build more engaged communities directly on Pinterest.
And, you do make them right on Pinterest.
They are not ephemeral like Stories on other platforms. They last. And Pinners can Save (repin) them to their own accounts.
What Pinners can't do is click to your site. Idea Pins don't have a way to include a live link. And that's intentional on Pinterest's part.
The goal of Idea Pins is to keep Pinners ON Pinterest.
What is Pinterest engagement?
Don't panic about creating engagement on Pinterest. I know it's been called "the social media for introverts," and we like posting our images and just waiting for people to just visit our websites.
For the most part, we don't hope for "likes" and hurry to respond to comments, like we might with Facebook Pages for business.
Engagement on standard Pinterest Pins typically means Saves (or repins), taps to open the Pin, and those beloved clicks to your site.
What does engagement on Idea Pins mean to Pinterest? Pinners engaging with your ideas!
Pinners love discovering new things:
Ways to decorate their homes.
New fashion trends.
DIY crafts and projects.
Latest styles in hair and makeup.
Places to visit.
And so on…
The point of Idea Pins is to inspire Pinners right on Pinterest. They can't, and in a way they shouldn't need to, click to a website for more info.
As far as comments though, Idea Pins do get more of them. In fact, Pinterest says they see 9x the average comment rate on Idea Pins compared to standard Pins.
How Are Idea Pins different from Stories?
Pinterest decided they need a Story-type product that's different from the social platforms like Instagram and Facebook.
And they're absolutely right!
Here are a few ways they differ from Stories on FB and IG:
Idea Pins last. They don't disappear in 24 hours.
Idea Pins can be Saved by Pinners for their future inspiration.
Idea Pins focus on inspiring rather than connecting, live chatting, etc.
Idea Pin differences from Pinterest's own former Story Pins:
Idea Pins are an evolution of Story Pins, with a fresh name to better match the uniqueness of a product that empowers creators to share long-lasting ideas and not ephemeral stories.

Creators will have a suite of new publishing tools including, video-first features, fresh editing tools and updates to make creating Idea Pins easier and more creative. source
The new Idea Pin features include:
Video recording and editing for up to 20 pages of content.
Voice-over recording so that creators can add their own personal voice.
Music selection by Epidemic Sound.
Ghost-mode transition tools (perfect for those before-and-afters!).
Detail pages for instructions or ingredients.
Interactive elements such as people tagging and stickers.
Multi-draft save so that Creators can publish more ideas.
Export options to share content beyond Pinterest.
Topic tagging – a publishing feature that helps connect content to relevant interests.
The Creator Code content policy designed to keep Pinterest a positive and inspiring place.
Per Pinterest:
These updates are meant to give anyone who has something to teach, share, or say the ability to share it with a community of Pinners who are looking for their ideas.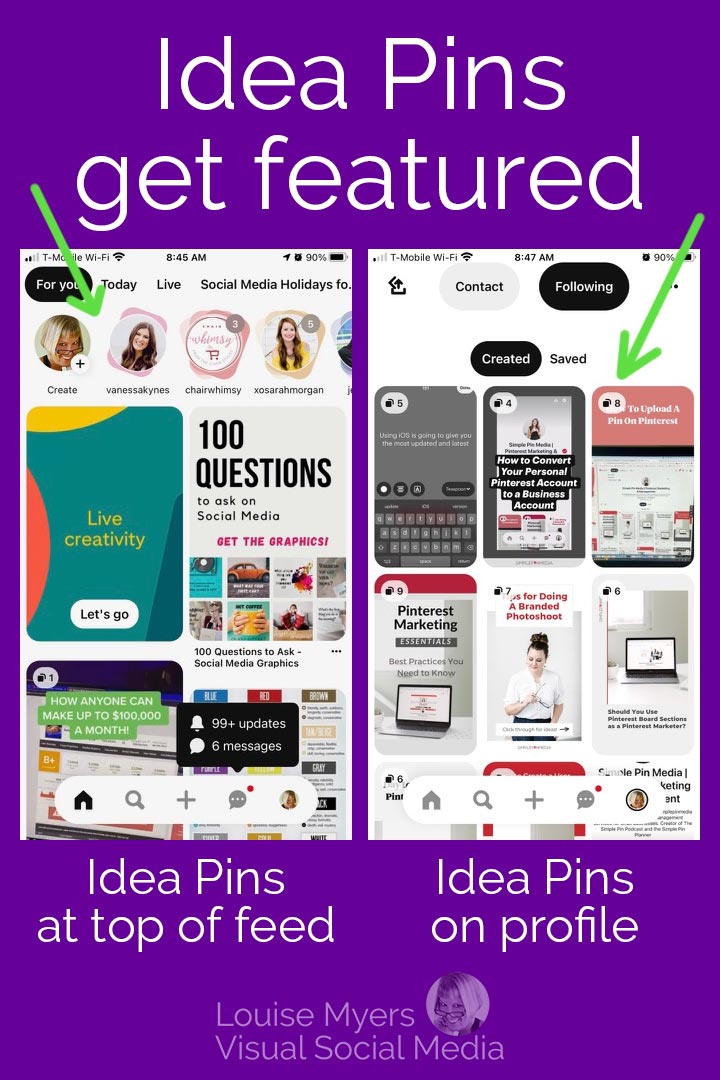 Why would I use Idea Pins on Pinterest?
Are you hating them so far? No worries – Idea Pins do have advantages. Because Pinterest loves Idea Pins!
8 Advantages of Idea Pins
1 | Idea Pins get more exposure on Pinterest.
Pinners who follow you will see your Idea Pins at the top of their home feeds.
Even Pinners who don't follow you will see your Idea Pins featured at the top of your Pinterest profile.
They'll also surface in search and on the Today Tab.
2 | They can be made right in Pinterest, without requiring any special video tools.
3 | Idea Pins are displayed in a special full-screen stream view, designed to engage and inspire Pinners.
4 | Idea Pins are a great way to grow your Pinterest followers, since Pinterest prompts viewers to follow the Pin creator at the end
5 | Idea Pins are easy to make with tools right inside Pinterest.
6 | They can be downloaded for reuse on your other platforms, if desired. These will carry a Pinterest watermark and your account name, à la downloaded TikTok videos.
7 | Idea Pins might help your regular Pins get more exposure. This is debatable – some Pinners say they've helped their other Pins, while some say they hurt their other Pins (and thus the clicks to their site).
8 | You get more feedback from viewers of Idea Pins (9x the average comment rate on Idea Pins vs standard Pins)*, which can help you improve your tutorials and other content.
*Pinterest internal data, global, April 2021.
4 Disadvantages of Idea Pins
What about the flip side?
1 | Idea Pins don't send traffic to your site. In the previous iteration of Story Pins, Pinterest even said that if you put a visible, non-clickable text link in your image to suggest viewers visit your site, they'll throttle your Pin's reach.
2 | Idea Pins take up valuable real estate in the home feed, thus limiting the number of normal Pins with clickable links.
3 | Some Pinners get upset at Idea Pins because they're used to clicking to a website. Some creators have said they get irate comments from Pinners who want that live link.
4 | Idea Pins only keep Pinners on Pinterest, thus ruining your entire reason for using Pinterest for business.
Does the good outweigh the bad? That's for you to test and decide!
How Do I Make an Idea Pin on Pinterest?
You can make Idea Pins with previously taken photos and pre-recorded videos – or you can record new videos right in the Pinterest mobile app.
They can be created on desktop or mobile, but you can only record a new video via mobile at this time.
Just open the Pinterest app or Pinterest.com.
On mobile, tap the plus sign at center bottom, or your profile picture at top left on the home feed.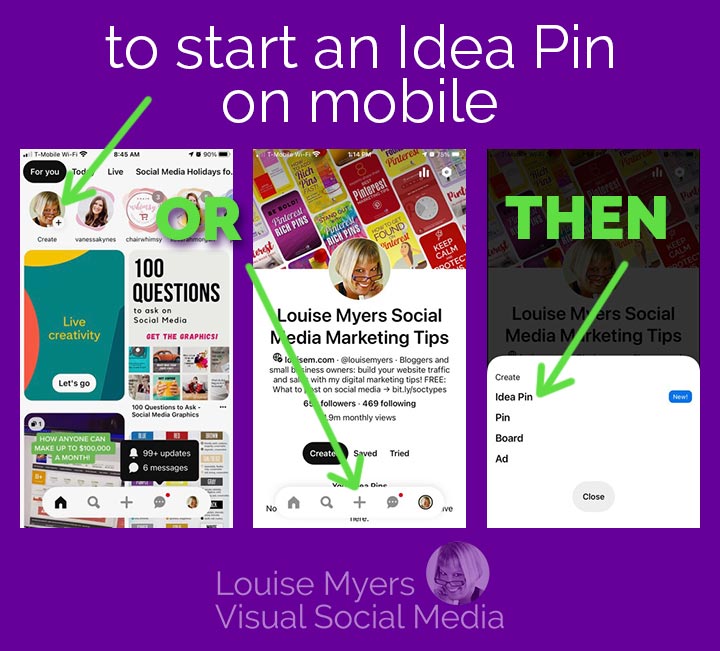 Or click "Create" at top left on desktop.

As long as you're logged into your business account in the US, UK, Australia, Canada, France, Germany, Austria, or Switzerland, you should see an option to "Create Idea Pin." Click or tap that.
On your first time, you'll have to agree to Pinterest's Creator Code.
Once you've agreed, your next step is to add up to 20 images or videos. Each one becomes a "page" of your Idea Pin.
As mentioned earlier, on mobile you can also film new videos. These can be up to 60 seconds each.
You can add voiceover to each page, as well as:
Music
Text
Stickers
People tagging
Topic tagging
Transitions
Lots of options, and you can do it all on Pinterest if you prefer!
Check out some of the features below. Image credits: Pinterest.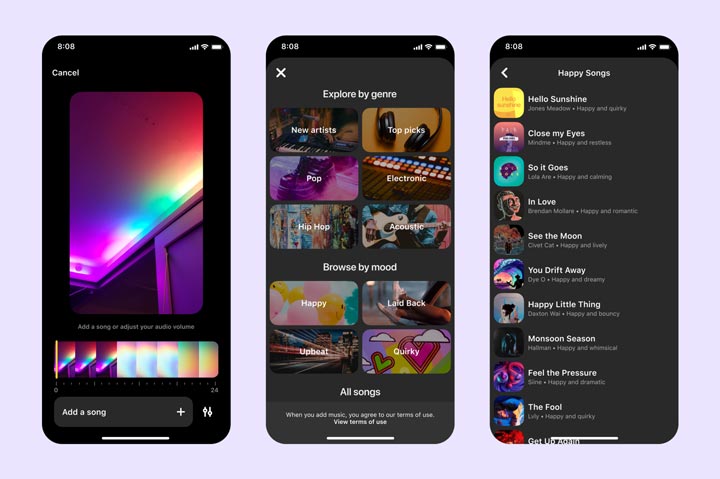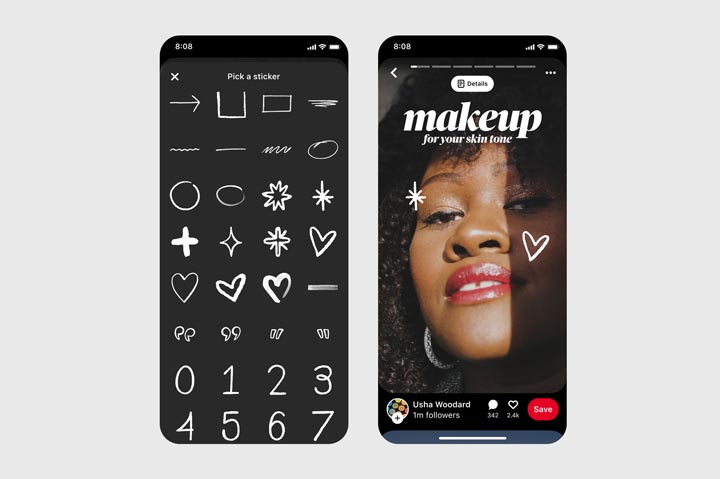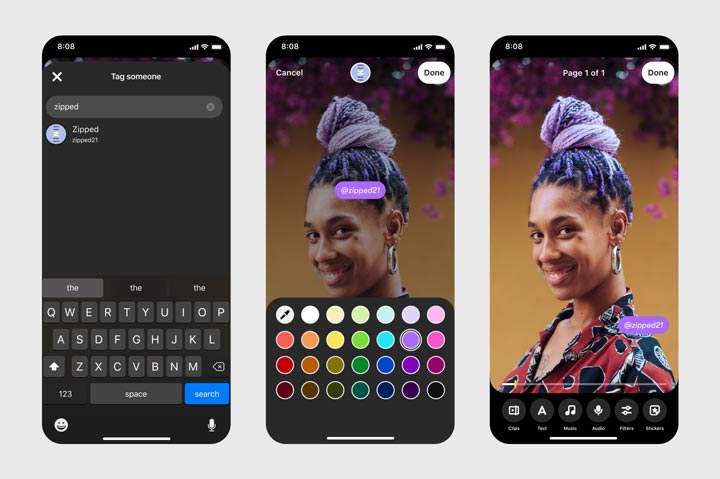 What Do YOU Think?
Will you try the new Idea Pins?
Have you used the former Pinterest Story Pins and loved – or hated – them?
Share your thoughts on Pinterest Idea Pins in a comment!