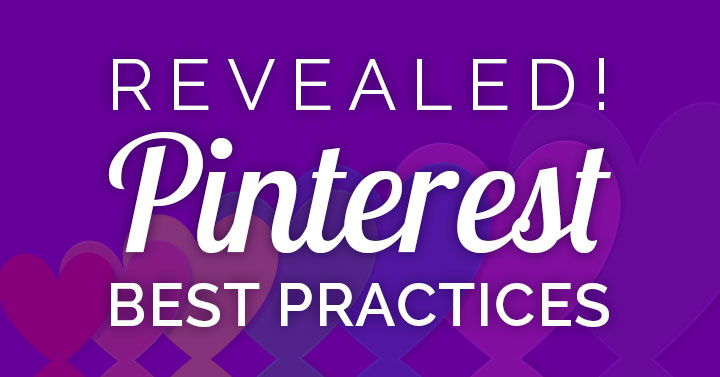 Know what's new in Pinterest marketing?
There's a LOT! So much has changed in the past 8 months.
And it's still evolving!
But the good news is: Pinterest is revealing ALL about 2018's best marketing practices.
Alisa Meredith of Tailwind interviewed Sarah Hoople Shere, Product Marketing Manager at Pinterest. Neither one missed a beat. They gave us an incredible roundup of:
What's changed.
What's working now.
And what to expect going forward.
This 1 1/2 hour video is a must-watch for those with an intermediate or better understanding of Pinterest.
UPDATED! June 28, 2018. Originally posted May 2, 2018.
If you're barely a beginner, I think you'll find most of it over your head. Start with my Pinterest basics FREE e-course. Or read What is Pinterest for Business? – a super duper roundup post.
• • • CLICK to get your FREE Pinterest Basics e-course! • • •
I've also summarized the interview's main points for easy reading.
Disclosure: This post contains affiliate links to my favorite, indispensable Pinterest tool. If you purchase via my links, I may make a referral fee – at no cost to you. Thanks for supporting my free content!
How do I get my content found on Pinterest?
1. Does it matter when I Pin?
Time of day doesn't matter, but do think about the first several Pins that you're saving each day.
Because of the new following feed, we may start to see a trend towards specific time of day that people interact with your Pins.
In the following tab, your content is distributed in real time to those following you. Pinterest does not give preference to those who Pin at a certain time of day. Instead, it depends on when your target audience is online and interacting with your Pins that matters.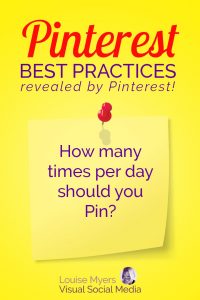 2. How many times a day should I pin? Is there such a thing as too many Pins per day?
There's definitely no such thing as Pinning too much. But we prefer consistency to volume.
It's better to Pin a similar number of times per day than to Pin a ton at once, and then nothing. Try to spread out your Pinning on daily basis.
The easiest way to accomplish this is with Tailwind. With Tailwind, you can schedule your Pins for the week (or longer), and they'll be posted for you automatically.
• • • Click here to try Tailwind for Pinterest FREE• • •
Don't inundate your followers with your own Pins. If they use the new following tab, your Pins will be seen in the order that you save them. If you add lots of duplicate content in succession, your followers may well take this as a cue to unfollow you.
3. The first 5 Pins – what's that about?
NOTE: Pinterest took out this ridiculously confusing practice! Skip to point 4 🙂
At Pinterest's In the Making conference, Enid said "yeah, we took that out" as it wasn't helping and was just distracting.
In the following feed, Pinterest shows the first five Pins added by accounts that you follow. These "first five" are those Pinned after midnight UTC.
Click here to discover what time this is in your time zone.
EDT = 8pm
CDT = 7pm
MDT = 6pm
PDT = 5pm
The first five Pins are not the only Pins of yours that will be seen by your followers throughout the day. More will be shown after your followers have seen other people's Pins.
Best practice is to make sure those "first five" are your own content, saved to your own boards.
4. In the Smartfeed, are photos and comments left a factor in search?
We've made the comments universal across all instances of a given Pin image. Pinterest is working to unify Pins to ensure that all comments show up on all instances of that Pin.
Pinterest believes that comments and "Tried it"s do increase engagement. The "tries" now require a photo, which gives the response credibility. I'm hoping this ends the plethora of automated comments!
5. How do I get Pins to show up in Smartfeed?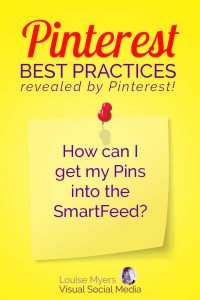 When you save a Pin on Pinterest, we distribute it to your followers first. Distributing to followers first allows Pinterest to gauge your followers' interaction and decide which Pins will be popular.
The following tab allows us to get our content in front of our audience much sooner than before. This helps Pinterest rank our Pins for future distribution.
So, ironically, the first step to SEO (search engine optimization) on Pinterest is to make sure your content will resonate with your followers, because they'll see it first. Make sure it's engaging.
The next factor is using appropriate keywords so the Pin can be identified as relevant to others who would be interested in it.
6. What happens to those who change their Pinning habits? For example, they originally started with one type of content but now they are Pinning something else?
Lean into the content that's really resonating with your audience. As long as it's still in line with your business, it'll ultimately lead to the right kind of followers.
Check your Pinterest analytics to discover your best content and best performing boards. This is the type of content that your audience wants to see more of.
It is not necessary or desirable to start a new Pinterest profile from scratch just because you started by Pinning one type of content and now will Pin a new type of content. Pinterest helps with content distribution to the right Pinners. In time, your content will get in front of the right audience.
7. Should we delete underperforming Pins to increase our profile's overall engagement rate?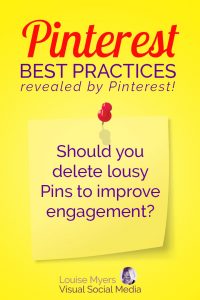 No, we don't recommend deleting Pins.
Pins that aren't performing well, or not receiving as much engagement, will not hurt the performance of your other Pins. One dud Pin might have a hard time itself, but it's not going to bring the rest of your Pins down.
Keep in mind that underperforming Pins could potentially become popular in the future, so deleting them also deletes the chance of this happening. It's more important to spend your time reviewing your account's analytics to discover what type of Pins are working well for your audience.
I personally do not recommend ever deleting your own Pins – but I find taking the time to go back and assess Pin performance is time well spent. I also delete my saves of others' Pins at this time. I won't do this going forward though.
8. Do backlinks to boards or Pins matter?
They do not. Pinterest looks at the content of the Pin itself, where the Pin links to, what it looks like, and how rich the description is. We use that to gauge the value of your Pin. Outside backlinks to your Pins do not matter.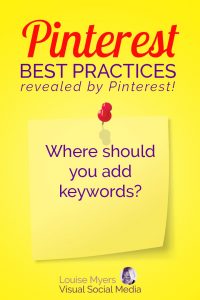 9. Where should we use our keywords?
The most important place to add keywords first and foremost is in your Pin descriptions.
Think about keywords from the Pinner's mindset when they're looking for your type of content. Use keywords about the items in the Pin itself plus themes it goes with. For example, "grilled asparagus" and "weeknight dinner recipe".
10. Do the keywords in our profile and board descriptions help the individual Pins perform better?
They do. They give more information about all the Pins on the board. Always save a new Pin first to the most relevant board. That data travels with your Pins across Pinterest. Give your Pin all the advantages you can!
The description of the first board your Pin a new Pin to helps categorize your Pin on all of Pinterest.
Also, Pinterest has warned that saving your Pin to irrelevant boards may hurt its distribution.
11. Does it matter what you name your image that's on the site that you're going to Pin?
It does not. But your Pin description should include the same keywords as your landing page.
Pinterest is working to ensure that the content of the Pin matches the content of its landing page. Keyword matching is crucial for Pin performance.
I personally still recommend saving images with keywords as it helps with Google search. There's more out there than Pinterest traffic!
12. Why should we be adding our content when it's fresh?
We know that Pinners love fresh content. This is the concept behind our adding hashtags.
Hashtags filter content by most recent. Pinterest is testing and finding that Pinners love to see new, fresh content in this area. The following tab also allows us to quickly get our content in front of our readers.
13. What is "fresh"? Is it fresh because I just saved the Pin, created the blog post, or it's a new image I've made for an old blog post?
Our favorite type of fresh content is brand new content in the world… so it's a blog post that you just wrote. But those other categories count as well.
14. Make sure your Pin image is on the landing page it links to – why?
It doesn't have to be the exact image. The Pin doesn't need to be a mirror image of anything on your landing page.
It's less about the image itself – it's about the relevance and content of the image. The most important thing to remember is that the Pin description matches the title or content of the page it links to. The keywords should match.
15. Is there a Smartfeed advantage to pinning "live" exclusively, or even just a little, during the week versus using an approved scheduler?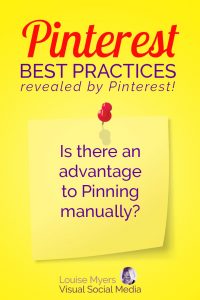 No. We don't penalize Pinners who Pin via scheduler or any approved third party tool.
But we recommend logging into your account periodically to keep up-to-date with your audience and with new Pinterest features. There is NO distribution priority given to Pins that are saved natively in Pinterest versus through a third party tool.
To be eligible to be recommended by Pinterest as someone to follow, you need to be a consistent Pinner, have a business account, and claim your website. You're considered active if you're saving content regularly.
Finally, the debate of manual vs. scheduled Pinning has been settled! Make your life easier – schedule content with Tailwind so you can keep active when you're busy doing other stuff.
• • • Click here to try Tailwind for Pinterest FREE• • •
16. Is there any advantage, as the original Pinner, to repinning rather than Pinning a new Pin?
As the content creator, it's best for you to save a fresh version of your Pin instead of repining it. Be the first Pinner. Pinterest prioritizes Pins that have been created by the owner of the website that the Pin links to.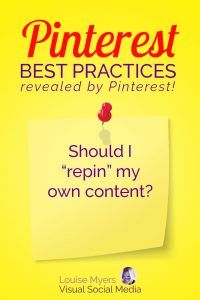 When you Pin fresh content from your own website, Pinterest gives distribution priority to that Pin. Pinterest understands that you are the creator and will give it the most relevant Pin description and hashtags. Don't forget to save it to your most relevant board, too!
Does this mean we should never repin our own saves of our content? Correct. You should either go back to the web page to save, or upload the Pin image. Both count as "fresh" content. A repin does not.
And guess what? Every Pin scheduled in Tailwind is posted as a new, fresh Pin – not a repin.
As far as saves from your audience, both original Pins and repins are valuable. Both tell Pinterest that the content is valuable.
17. Is it OK to Pin the same image to the same board, say after a month?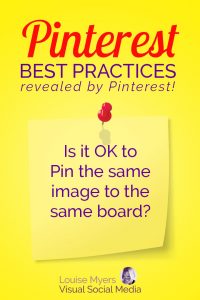 Sure. Make sure each Pin has a unique description. Why is this relevant once again?
Keep in mind the Pinner's experience. If they see both Pins at once, will it make sense?
"Looping" for its own sake isn't recommended, but as it's seasonally appropriate.
There's no SEO value to repeating the same content (this won't help it surface in search). Seasonal content makes sense to resurface.
18. Do followers matter? How can we get more engaged followers?
Followers still represent a small portion of the people you reach on Pinterest. We now feature the total number you're reaching every month on the new profile. The vast majority of distribution is still going to happen beyond your followers. This is why SEO is important.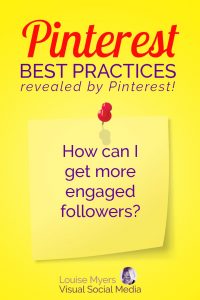 Now there's a dedicated space to find content from accounts you follow. Quality is more important than quantity. Better to have a small, engaged audience than a large unengaged one.
Pinterest recommends you if you're a consistent Pinner, have a business account, and claim your website.
Next step is to add the Follow button to your website.
Make sure your followers on other channels know you're on Pinterest.
Encourage your readers to use the "tried it" feature on your Pins. Embed the Pin on the blog and suggest they try it out and leave a comment. The natural step for them would be to follow you if they're not already.
19. How much engagement takes place on our profile?
The majority of engagement takes place in the discovery areas of Pinterest.
Board covers are nice, but spend more attention on optimizing your Pins.
20. Is there any data on how much the use of hashtags improves the reach of a Pin?
Hashtagged Pins do get significantly more distribution the first day they're saved. You can add up to 20, but quality over quantity. Focus on somatic tags.
Pinners are both clicking and searching hashtags.
21. Can a local business succeed on Pinterest?
No matter where you are, you can find your local audience on Pinterest. Optimze your content to how Pinners in your area will find it. Use hashtags and keywords that include your geographical area in Pin descriptions. Also in your profile description and even name.
For more clarification on many of these points, watch this ? 1-hour FB Live with Alisa from Tailwind, Kate Ahl of Simple Pin Media, and Kristie Hill of Blog Ambitions. Notes from original interview continue below.
Effective Pin Images and Descriptions
22. What's the best Pinterest Pin size?
Optimal aspect ratio is 2:3. Taller may give less distribution and be cut off in certain parts of the app. Stick with 2:3 or lower. The restrictions differ across the app and mobile platforms. Squares work but 2:3 is best.
23. Do Pins without faces perform better?
Depends on the content category. See what works best for your brand or business.
24. What about "lifestyle" Pins?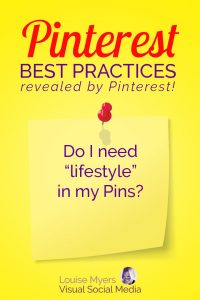 Lifestyle images, tasteful branding, and (limited) helpful text on image are still suggested.
People need help envisioning the item in context. Tell them how they'd use it or style it. If you only have a product shot, add context in a creative description.
Tasteful branding doesn't hurt performance and helps develop trust with an audience and carry your brand association down the line of repins.
25. Why avoid logo placement in the corners of the Pin?
Lens visual search icon will appear in a corner. We recommend top center or bottom center.
26. What kind of text is good on an image?
Text is helpful when it explains or contextualizes the image. The image may not tell the whole story of the content. The text can help set the expectation. Product images may benefit from added resonance and lifestyle relevance.
27. What's happening with Pin descriptions?
Now descriptions should show in the feed for all users. Amount may vary as it's being tested but full description will show when Pin is clicked. Longer, more helpful descriptions improve performance. Include a strong call to action to drive traffic. Tell them what more lies beyond.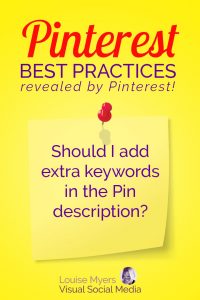 28. Is it helpful to add a blast of keywords in the Pin description?
No. The description does double duty. The keywords help Pins surface in search. They also encourage Pinners to click through when they discover the Pin.
Don't make them expect to be greeted by mumbo jumbo on the blog. Make it sound natural, human, editorialized while containing the relevant keywords.
Other Pinterest questions
29. Should I Pin others' content?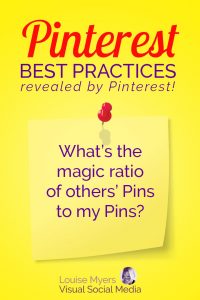 Start with your own original, fresh content every day to prioritize for distribution. Consistent pinning benefits you, so fill in the gaps with other content that will resonate with your followers. There's no magic ratio of others' content to yours. You only need to pin others' content if you're out of content to pin!
This is another one that I've been saying for ages. Those newer to Pinterest need to Pin a LOT of others' content. I have a ton of my own content, and rarely curate others'. Probably even less after hearing this!
30. How can an online store owner use Pinterest effectively if they're not blogging?
Use lifestyle images. If you just have straight product shots, optimize Pin dimensions, text on Pin, description, call to action.
31. How can businesses take advantage of Lens if they're not in fashion or home décor?
Pin codes linked to specific boards that relate to your product. Click on the 3 dots at the top of the board to get the Pin code.
What's going on with stolen Pins?
Pinterest is verifying that landing pages live up to the Pin content.
On your own Pins, file a DMCA. Can also report through Pinterest help channel. Include the Pin URL.
On others' Pins, report that This Pin isn't useful, the Pin doesn't appear on the page. You can alert the content owner so they can file a DMCA.Don't flag it as spam because that could hurt the Pin creator.
Report specific domains that are stealing content through the help channel.
Audience questions
32. What about Pins for products that are no longer available?
Update the Pin link or redirect the page on your site with similar products. Pins with broken links will eventually be penalized and taken out of circulation.
33. Should we edit the keywords of underperforming Pins?
Create a new Pin with a better description.
34. Should I add hashtags to old Pins?
No, because hashtags surface fresh content. And are only useful on brand new Pins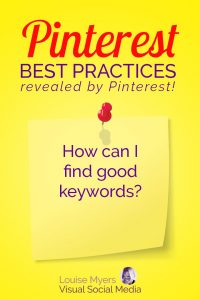 35. How do you find keywords?
Use Guided Search. Start with your general term like "asparagus" or "asparagus recipe." The related words are based on what people are already searching for.
36. Distribution of content is prioritized to followers of all your boards. Group boards aren't a hack to follower growth. Followers of the group board should see your content though.
37. Adding boards that are off your niche are fine if there's some tangential relationship and stylistic unity. A board of a totally different category would require a strategy to grow its following – maybe embed the board in a relevant blog post.
38. Audience sharing from your site does send a signal that it's good content.
39. Monthly viewers are all people who see your Pin. Engaged viewers are those who closeup, save, or click. The sum of all unique users who take one of those actions.
40. How long does it take a Pin to "rank" for a keyword?
Hashtags and the following tab can jumpstart your distribution.
41. Does it matter where we put hashtags?
Hashtags can be incorporated in the description or placed at the end.
2018 Pinterest Marketing Practices conclusion
Incredible, right? A boatload of information. How can you incorporate it all?
Well, you probably can't. You certainly can't change everything at once.
I suggest starting with the big "aha's" or what you expect will make the biggest difference to your account.
I personally recommend, and had already incorporated:
Pin at the best time for your audience so your Pins get engagement right away.
Save to the most relevant board first.
Be sure your board names and descriptions are keyword-optimized.
Write strong, keyworded Pin descriptions.
Spread out your Pinning throughout the day.
Pin consistently!
In addition, I'll be concentrating on saving "fresh" Pins and not repinning.
Guess what helps me with almost all of these? Tailwind!
Creates a fresh Pin every time you Pin.
Pin at the best time for your audience.
Spread out your Pinning without being on Pinterest all day.
Pin consistently!
I'm all about minimizing my time on social media for maximum results. Tailwind helps me do just that! Try it free and see if it helps you too.
• • • Click here to try Tailwind for Pinterest FREE• • •
I'm sure it will help you put these Pinterest best practices into effect.