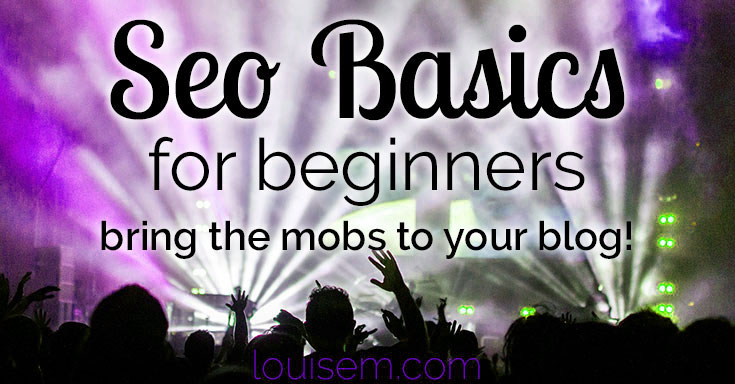 Got a blog waiting for readers?
You could use some SEO basics!
I love Google – they send me a ton of traffic (currently about 3,000 visits each weekday).
But I didn't always! I had to learn how to please the Google gods. I'm not an SEO expert, but these easy SEO tips have really exploded my traffic.
Here are some simple SEO basics you can implement for your own blog.
WordPress is SEO Friendly!
Make it easy from the start – a WordPress website is easy for search engines to crawl, and easy for you to update, providing the fresh content Google loves to see. Go WordPress!
Choose Keywords Carefully
When you write for your website, you want to be sure the keywords you're using are the same search terms your potential visitors are using. They're not looking for "athletic footwear" but perhaps "Nike running shoes." Use the Google AdWord tool to see what people are really searching for. Or ask your audience!
Note: when people say "keyword," they really mean keyword phrase. I could try to rank for "SEO," but that could take me a lifetime. The longer phrases will be easier to rank for, especially as you're getting started. With 9,990 searches a month, "SEO basics" is comfortable for my established blog. If you're just starting, you might try for phrases well under 1,000 searches a month.
Use Keyword in Title and URL
The most powerful SEO comes from using your keyword phrase in the title and URL of your post – it's a must! And having it near the beginning provides the most impact. You might use some descriptors in the title and/or heading that you can edit out of the URL – check this post's URL, for example.
Note that by default, WordPress will give you numbers for your post's URL. Be sure to change this under Settings –> Permalinks. I use the custom structure "/%post_id%/%postname%". Whatever you use, you'll want to be sure it will use your keyword phrase instead of meaningless numbers.
Use Keyword in Headings, Text, & Meta Description
Sometimes bloggers have a great title, then write a chatty sort of article that doesn't use the keyword once. Now Google might not be really sure what your article's about!
I like to use the keyword phrase near the beginning, as well as in the conclusion of the article. I'll use it in a heading too, if it makes sense. It's very important to have a readable article, though. If you use the keyword TOO much, Google will penalize you for keyword stuffing. Think quality of article over quantity of keywords.
And don't forget to use your keyword in the meta description, which you can add via a plugin like All In One SEO or Yoast SEO.
Naming & Using Alt Tags on Images
I gotta say, I think this one has helped me a lot. Some of my posts have a lot of images, and I name them each with keywords separated by hyphens (example: basic-seo-beginners).
Also make use of the Alt tag, which is read by the search engines, even though they can't "see" the image. You can easily add this in WordPress when you upload your image, under Alternate Text.

Interlink Your Pages
When you have relevant information in another page or post on your site, link to it, using keywords appropriate to the linked article as the anchor text of the link. An easy way to do this is with the WordPress plug-in, Yet Another Related Posts Plugin.
What About Social Media for Traffic?
Social media is essential, but a topic unto itself. Read this for how social media supports SEO.
 SEO Your Site!
This is just the tip of the iceberg, to get you off and running. If you found these tips helpful, please share! And let me know in the comments if you have more ideas on SEO basics for beginners. Thanks!