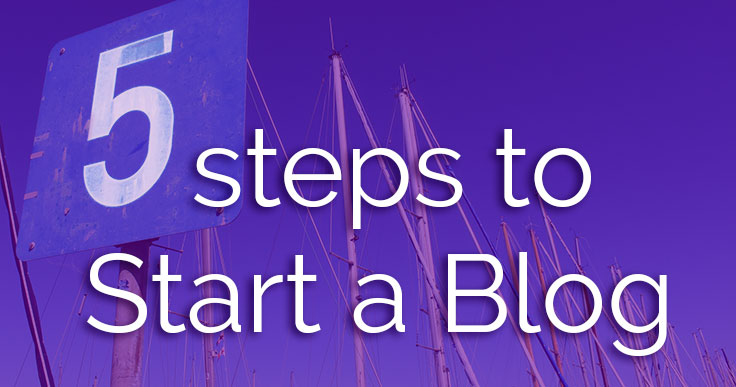 Are you wondering how to start a blog?
Have you been thinking about blogging for a while, but haven't begun yet?
Maybe you're afraid it's too complicated, too expensive, or too time consuming.
I'm here to show you the fast and easy way to start a blog!
Don't worry, it's uber affordable, too! I love bargains 🙂

How to Start a Blog in 5 Steps
Here are the 5 steps we will cover in this article:
Choose Your Blog Topic
Choose a Free or Paid Blog
Choose a Domain Name
Choose Your Website Host
Install WordPress
Step 1: How to Choose Your Blog Topic
If you already have a desire to blog, you might also know what you want to blog about. And that's awesome!
But it's also cool if you don't have a clue. Because I'm going to help!
Your first task is to think about the things you love: your passions.
It's important to enjoy the topic of your blog! It might take a while before the dollars start rolling in. You might need to work on your blog when you'd rather be chilling with Netflix. It'll be best if you have a passion for your blog topic right off the bat.
Next, are you good at that topic? Or know how you can easily get that way?
It's OK to start as a beginner at something, as long as there are people less experienced than you. They'll be able to relate to your journey and successes as you guide them along, one step ahead of them on the road to mastering your topic.
Third, you need to determine if there's a demand.
Are people are willing to pay for products or information in your chosen topic? If you're determined to make money from your blog, this is critical.
As an added bonus, it helps if you're already a member of a community around this topic. But if it's something you're passionate about, you should have no trouble creating your own community!
If you're having problems with choosing your niche, let me know and I'll provide more assistance.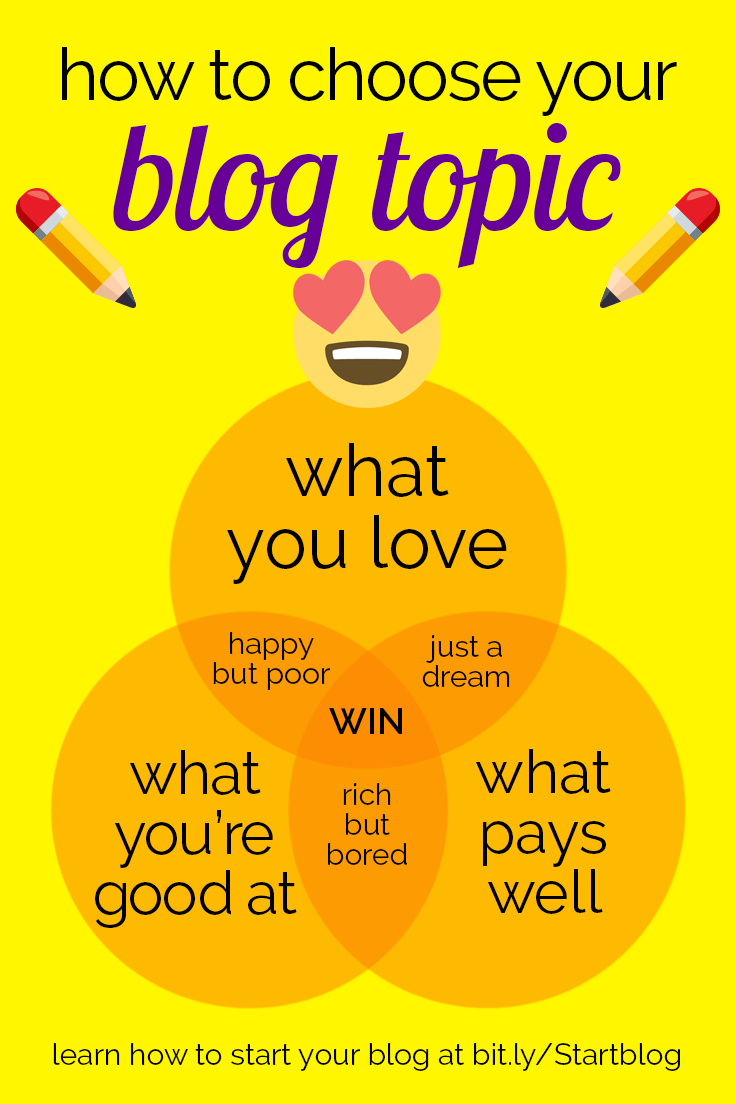 Step 2: Choosing a Free or Paid Blog
If you're setting up a blog to make an income, it'll be worth your while to get a paid blog. All this actually means is that you'll be purchasing your own domain name and opening up a hosting account. Don't worry, I'm guiding you!
If you just want a personal blog, you can opt for a free method by using a service such as blogger.com. The downside to this is that you run the potential of waking up one morning and your blog has been shut down. This does happen – word of warning.
Additionally, free blogs usually run ads on your site. This is going to distract your readers away from your own offerings (which is the reason I still don't accept paid ads on my site). And many have a load of restrictions on what you can and can't do on "your" site (which isn't really yours).
Since our goal is to make money, we will follow the paid method and create a blog with Wordpress.
Why WordPress? The stats speak for themselves! 
WordPress powers 26.4% of the Web, and it's on the rise.
It's by far the most used CMS (content management system), with 59.4% market share.
500 sites are created daily on WordPress.
I've been using WordPress for 6 years, and I've never been tempted to change. It works!
Plus, did I mention the software itself is FREE? Yes, you can buy upgraded themes and plugins, but it's absolutely not necessary. Start with the free stuff, which you can get right in your HostGator dashboard. (Read on).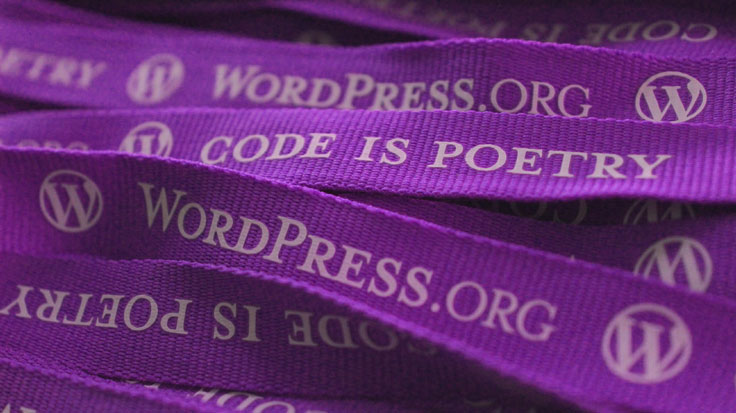 Step 3: How to Choose a Domain Name
You will need to purchase a domain name for your new blog. This is also known as your URL or web address. It's what goes here: www.YOURSITE.com.
This could be your name at dot com, or something to describe your business.
If you're not completely sure on your blog topic (mine has evolved!), don't lock it in with your domain name.
On the other hand, if you are sure, using your topic keywords in your domain is great for SEO.
Plus, if your business is local, including your location in the domain name is a plus.
More tips on choosing wisely:
Make it as short as you can, so it's easier for people to remember and type.
Go with .com if possible – but there are dozens of extensions now that can help you find a name you like.
Don't use hyphens in your domain name. It looks spammy and is hard to type on mobile.
Numbers in your domain name will make it difficult to explain verbally, and to type.
Don't include a brand name, like WordPress or Insta, in your name. They'll make you change it! This will be a royal pain.
If available, I recommend registering YOURNAME.com, at least to prevent anyone else from grabbing it.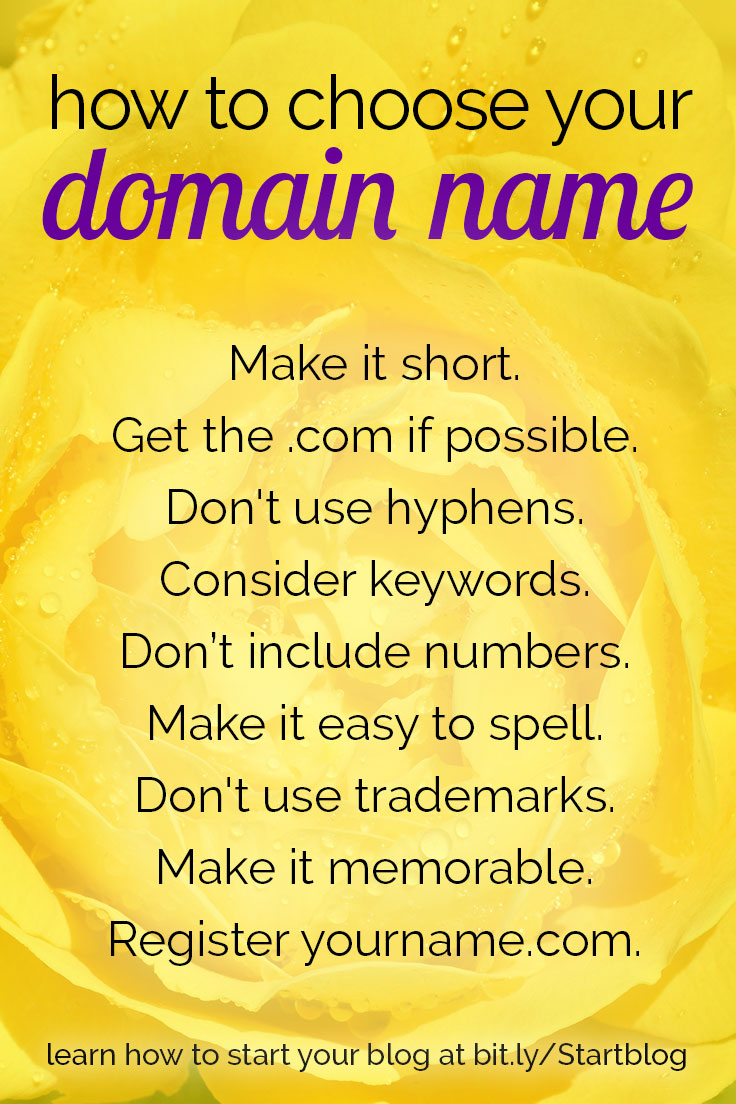 A domain name will run you around $10–15 per year, depending on the extension. Some cost more, some less.
You can check to see what domains are available using HostGator's Domain Registration tool.
To keep things as simple as possible, I recommend buying your domain name from your website host. So read on! You can do this all in the next step.

Step 4: Choose Your Website Host
There are various hosting accounts that you can use. While this site (LouiseM.com) is currently running on an expensive, hosted, WordPress-based membership platform, originally it was on HostGator. And I host all my friends', family members', and clients' sites on HostGator!
I prefer to use HostGator as they allow you to pay a monthly fee. Some hosting companies may offer cheaper rates, but only if you pay for one year in advance.
Right now you can get a HostGator account for as low as $2.78 a month! To save this kind of money, pay for a longer term. Buy a 3 YEAR Hatchling plan for only $100.08! Be sure to use my HostGator promo code LOUISEM60.
• • • Click here to get your website hosting now • • •
With HostGator, you can choose which payment plan is affordable for you. You will save even more with my promo code.
I am a HostGator affiliate, which means I'll make a commission if you purchase hosting through my link. You'll also save money! I'd call that a win-win. 🙂
To pick from the most affordable website hosting plans, once on the HostGator site, click the big yellow "Get Started Now!" button at the TOP of the page.

If you think you might launch more websites at a later date, I recommend the Baby Plan. It allows unlimited domains!
This gives you the flexibility to support multiple brands, or change the name of your site later on. It's the one I've had for years, and the most popular plan.
Of course, if you only need one site, the Hatchling Plan is even cheaper.
Once you select a plan, click the bright yellow "Sign Up Now!" button to add the hosting package to your cart.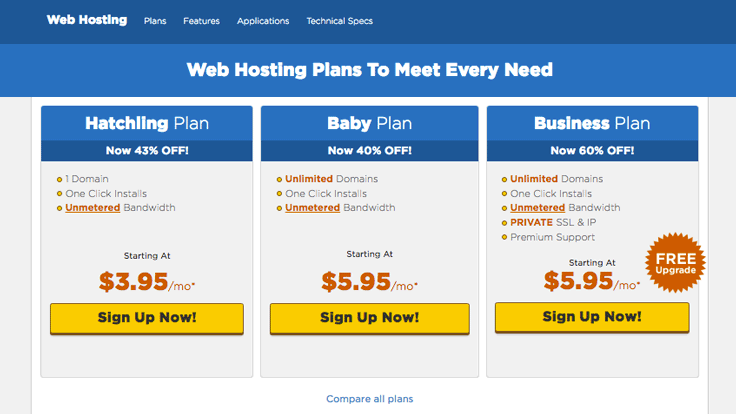 Next, you'll be prompted to enter your domain name. Be sure to check the button as to whether you need to register a new domain, or have already registered the domain elsewhere.
If you're registering a new URL, the first couple you try might already be taken. Don't get discouraged! There are still great domain names available.
Upon entering an available domain, you will see that it is available. It will be automatically added to your cart.
You will then be given the option to add the .net and .org versions of your domain. I only buy the .com domain. There are so many extensions now, you could go broke trying to buy all the variations!

You'll also see a checkbox for "Domain Privacy Protection." It's $10/year, but it prevents your registration information from being public information. This keeps your email address, phone number, and street address private. Instead, people will see HostGator's company information.
If you don't have a P.O. box and a second phone line like I do, you might want to take advantage of this small investment in your safety.
Scroll down to step 2. Here you'll need to enter a user name and password that you'll use to manage your hosting account with HostGator.
Enter your billing information in step 3.
Choose any additional add-on services you'd like to purchase in step 4.
When you reach step 5, make sure to enter coupon code "LOUISEM60".
If you go to HostGator by clicking my affiliate link below, you'll receive an extra savings. Yay!
Finally, click that you agree to the Terms and Conditions, then the big yellow Checkout Now! button.
Congratulations! You're now the proud owner of your very own website.
• • • Click here to get your website hosting now • • •
Step 5: Installing WordPress
The next step is installing WordPress, the world's most popular blogging platform, so you can get to work writing.
When you completed your purchase, you should have received an email from HostGator with your cPanel username and password. cPanel is the portal you'll use to manage your web hosting. The cPanel link is unique to you, so be sure to bookmark it for future reference.
Log into cPanel and click on the WordPress 1-Click Installation icon. It's right at the top!

Select your domain for installation.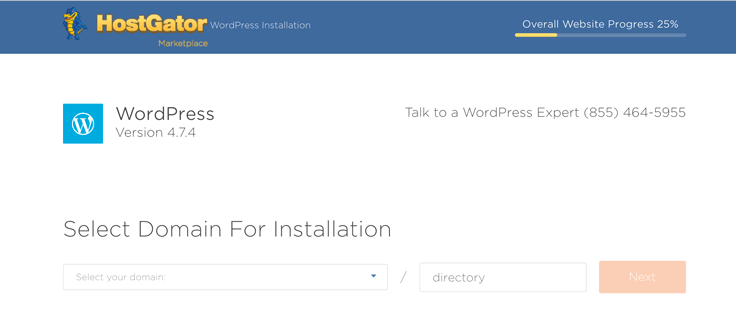 Enter your blog title, Admin username, name, and email.
For Blog Title, enter the name of the website. This is what will appear in the header as the name of your site. Don't worry, you can edit this later!
For Admin Username, enter your preferred user name.
Your first name.
Your last name.
For Admin Email, enter an email address where you want the admin password emailed. Make sure this is a working email address.
Be sure to check the Terms of Service, then click "Install"!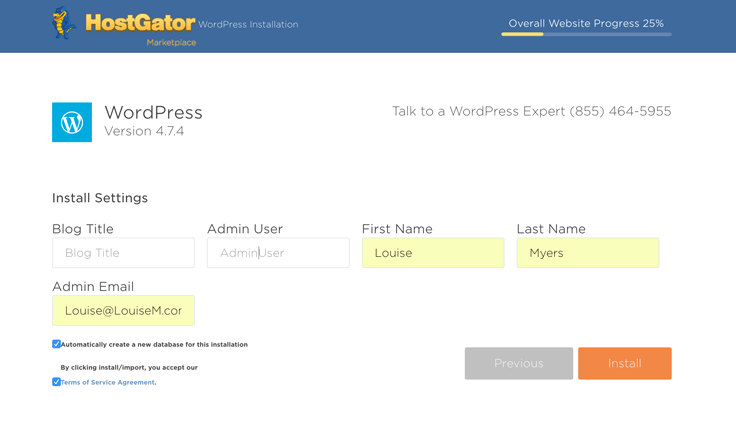 It will likely just be a minute or three before you get an "Installation Complete" message.
And now you're ready for content! You can start working on your WordPress site.
Conclusion
But for now, celebrate! 🎉 🎉 🎉
The 5 steps we covered in this article were:
Choose Your Blog Topic
Choose a Free or Paid Blog
Choose a Domain Name
Choose Your Website Host
Install WordPress
I explained to you why I recommend HostGator for your blog.
Buy your domain name right there.
Choice of payment plans.
Special savings with my HostGator promo code LOUISEM60.
One-click WordPress install.
Plus, great 24/7 tech support.
I trust you'll love them as much as I do!
• • • Click here to get your website hosting now • • •
Any questions? Leave a comment. I can help with strategy. For tech support, contact HostGator directly. Their support team is awesome!
In the next installment, I show you how to set up your WordPress blog. Read it or bookmark for later: How to Install WordPress and Blog to Success.
I hope this helped you learn how to start a blog – one that has profit potential! Now get to it 🙂