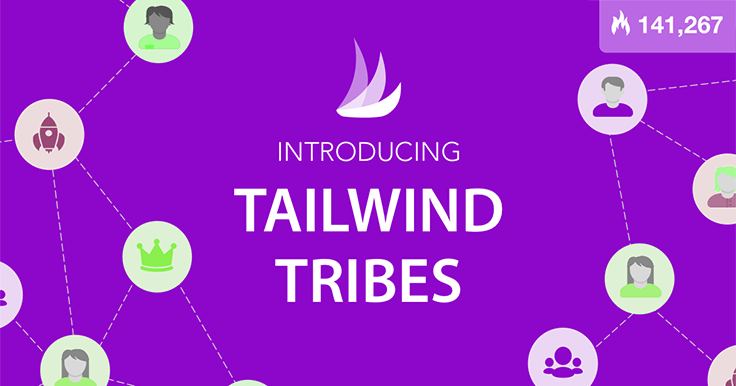 Would you like to grow your Pinterest reach – by leaps and bounds?
It's no secret: Pinterest group boards aren't doing much to help you, these days.
Tailwind Tribes to the rescue! Here's how.
What are Tailwind Tribes?
Tribes is a tool that enables you to grow your Pinterest reach and traffic.
Tribes will help you with two key problems that social marketers face everyday:
Having a steady supply of high-quality content to share
Getting your posts seen by the right people
You'll be able to add your content to a Tribe and have others share it to their audiences. This is so helpful because it's not all on you anymore. You're leveraging the collective audiences of your peers!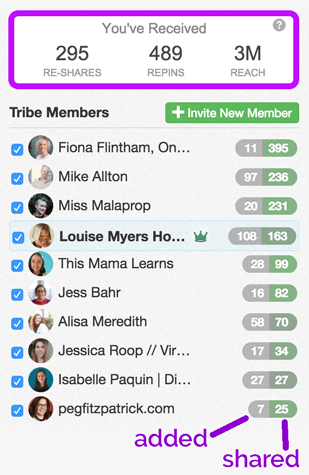 Tribes work in a way that Pinterest group boards can't, because there's accountability built in.
Over the past year, many of the world's best-known bloggers and influencers have been working together in Tailwind Tribes to curate quality content from across the web. Including me!
Until today, Tribes has been available by invitation only, but now, with the public launch of Tailwind Tribes, anyone can use it. And that means YOU!
Tribes are formed by groups of trusted peers, generally with a focus on aggregating content in a specific topic or niche of interest to them.
As Tribemates add great content to their Tribe, a feed is created for easy review and sharing. By collaborating in this way, everyone in the Tribe has a continuous stream of hand-curated content from people they trust, saving them time and improving their content quality.
And, when someone shares their content from the Tribe, they also get exposure to a highly-relevant audience. It's a win-win.
As one blogger put it, "Tailwind Tribes are one of the best things to happen to bloggers in a long time."
Watch Tailwind members explain Tribes in 1 minute:
The Tailwind Tribes community started about a year ago with just one Tribe and nineteen Tribemates. Today, there are thousands of Tribes spanning a wide variety of niches.
Chances are, if you're blogging about a topic, there's a Tribe for it.
How do I find and join Tailwind Tribes?
Along with making Tribes publicly available, Tailwind is also launching a new Find a Tribe feature that lets you search for Tailwind Tribes to join by keyword or by category.
Before you join, you'll be able to preview a Tribe's content to see if it's a good fit. You'll also see how many Tribemates it contains and how active the Tribe is.
Find a Tribe is a potential game changer, especially for new marketers or bloggers who need help kickstarting their networking efforts.
Joining open public Tribes is easy, and now anyone can find and request to join private Tribes too. And of course, you can also create your own brand-new Tribe for others to join.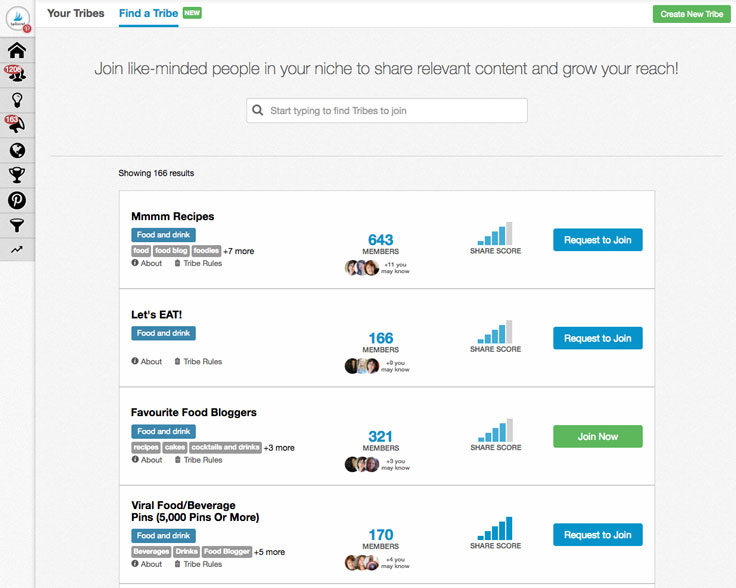 Do Tailwind Tribes really work?
I asked Jen Koellmann of Hairs Out of Place if I could share her story. She said:
I definitely think Tribes is a great option for newer blogs in particular, because it honestly enabled me to get instant traffic that I couldn't get on my own.

I get tons of traffic from my Tribes – and the days I don't have time to use them, my traffic drops. I love Tribes!

It's my 2nd month blogging. I've been using Tribes heavily while I try to join quality group boards and increase engagement on my own boards.

My Google Analytics report on Tribes traffic for the past 30 days: blog sessions from Tribes is 33% and rising. My blog pageviews for the past 30 days are 24.1K.
How'd you like to have that kind of traffic for the second month of your blog! Pretty impressive.
Jen is spending a lot of time in Tribes, and her results aren't typical. Jen was able to join 60 Tribes by purchasing the Ultimate Plan! You don't have to do that, but you can see the potential, particularly for a new or low-traffic blog.
I personally have been submitting about 1 Pin per week to 5 Tribes – which you could do on the free Tribes plan. That brings me 200+ website visits per month. You can probably beat my figures by sharing more of your Tribemates' content. They get an email each week showing their top sharers, which suggests they return the favor. Great idea!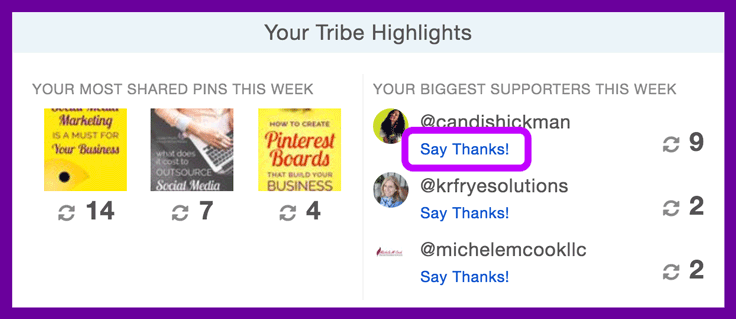 You can check out Jen's Pinterest account here.
How much does Tailwind Tribes cost?
Tailwind Tribes is free to get started, and offers a generous free plan.
The free plan of Tailwind Tribes allows access to 5 Tribes and the submission of 30 pieces of content a month. This is enough for most users!
Plus plan members* who want more Tribes and submissions can add Tribes PowerUps starting at just $5 per month.
To date there is no Enterprise version of Tailwind Tribes for large brands. Access is restricted to influencers, makers, bloggers and marketers within startups or small businesses. Just like us!
If you don't currently use Tailwind to schedule your Pins, you can try it free!
If you decide to upgrade, the cost for the *Plus plan that I use is $120 per year, or $15 billed monthly. I'll receive a referral fee if you use my link.
• • • Click here to try Tailwind Tribes FREE • • •
Once you've decided to give Tribes a try, be sure to watch this video for more details! And my own top Tribes tips are directly below it.
How can I make best use of Tailwind Tribes?
Join (or create) niche-specific Tribes.
Familiarize yourself with other members' content.
Share lots of great content from the Tribe, to quality boards.
Add your own quality Pins for other members to share.
Stay on-topic and follow all Tribe rules.
Check your Tribes stats to know which are working best for you.
Check your Google Analytics under Campaigns to see how they drive traffic.
Don't join a lot of Tribes at once. Be active in a few, then evaluate.
Join more if appropriate. Leave those where you're not getting shares, reach, or traffic.
I recommend not adding or sharing Pins that link directly to affiliate products or sales pages, unless members know each other well. Can you vouch for the content? Then it's fine to share it.
Additionally, I haven't found the "share numbers" that appear in Tailwind to be a good indicator of quality. Pins with high numbers are often affiliate links to sales pages. I personally am not inclined to share a link to a product I'm unfamiliar with (or may be an affiliate for myself). YMMV.
In addition, many websites have recently switched to HTTPS, which will reduce the share numbers seen in Tailwind. So don't rely on share counts – click through and check the content.
Also note that successful Tailwind Tribes comes in all sizes.
Some of the most successful Tribes are massive with hundreds of members. However, small Tribes with just a handful of powerful influencers can be equally as effective – especially if the influencers are strong in the same niche.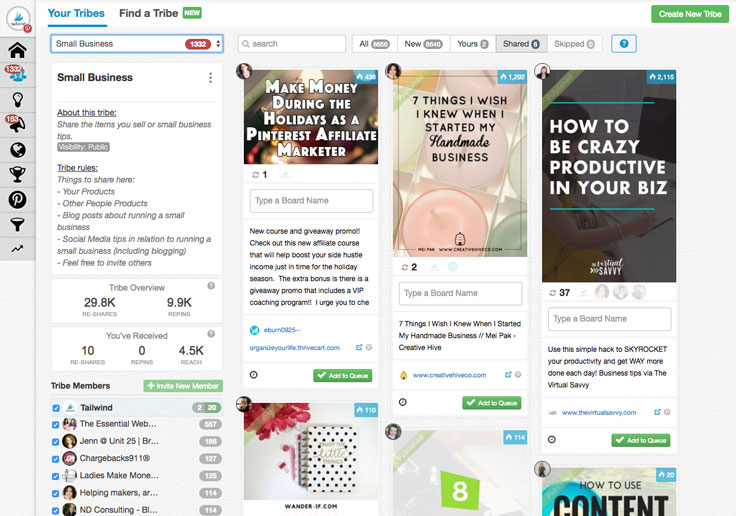 What makes Tailwind Tribes work?
Collaborative marketing is central to Tailwind Tribes. By working together, Tribemates can curate useful feeds of content in various niches, while also helping their own content be seen by influencers who reach audiences that are relevant for them.
Critically, Tailwind Tribes has useful features that enable collaboration. Alternative share groups (like Pinterest group boards) lack these features, such as clear rules and transparent activity scores so that Tribe admins can see who is contributing to the Tribe.
Tribes also includes a native chat interface that enables better communication and collaboration among Tribemates. (Doncha just hate trying to message group board members on Pinterest?!)
How to participate in Tribes for FREE after your free trial
It's very generous of Tailwind to allow free members to use the Tribes feature.
When you sign up for Tailwind, your free trial will continue until you've scheduled and posted 100 Pins. Depending on how much you use it, this could last you a good long while.
And after those 100 Pins, you can still use Tribes! But there's a small catch.
You must schedule Tribemates' Pins in Tailwind to get credit in the Tribe – to be allowed to add your own content for other Tribemates to share.
But after 100 Pins, those scheduled Pins will never post! 🙁 Here's the solution:
Schedule Pins from the Tribe as usual.
Once in your queue, click the "Pin Now" option on the scheduled pins page.
This WILL add to your share count, so no worries about not following sharing rules.
Problem solved!
Find your Tribe today, and grow your Pinterest reach!
Tailwind is an indispensable tool in my marketing arsenal. Sign up for a free trial of Tailwind and get sharing! If you decide to upgrade to a paid plan, I'll receive a referral fee.
• • • Click here to try Tailwind Tribes FREE • • •
Tailwind is an approved Pinterest partner. Try it out, and see how it grows your Pinterest reach!