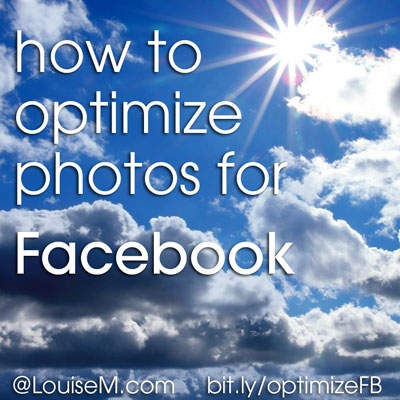 Want to learn how to optimize photos for Facebook?
Are you getting fuzzy text or clunky gradients in your Facebook images?
Here's the scoop on the photo file types and compression to use when uploading photos to your Facebook Page.
Use these tips to get clear photos and sharp text on Facebook images!
How to Optimize Photos for Facebook
Facebook accepts uploads of .jpg, .gif, and .png file types. JPG is generally used for images with blended tones, like photos, and GIF and PNG are better for images of flat tones, like logos, text, and graphics.
Save photos for Facebook as sRGB JPGs at the least compression, or maximum file size. Facebook will apply another round of compression to your photos, so saving them as large files assures best results. I believe Facebook's compression will be more than adequate to assure fast-loading photos on the web.
In Photoshop, choose 12 – Maximum Quality. Other than Facebook's full photo custom tabs (which are limited to 400kb), I haven't run into any file size restrictions. I uploaded a profile picture as a 2200px square, 3.1 MB file, and it worked fine.
There are other considerations about how large your images – in pixel dimensions – should be for upload. See this post for best sizes to upload!
How to Get Sharp Text on Facebook Images
On to those tough images with text or logos! It used to be that Facebook compressed ALL images you upload to JPGs. Now there's a workaround for those fuzzy text graphics, like quote pictures or tips graphics. Save them as PNG files!
It appears that Facebook is now maintaining the PNG format when you upload one. PNG images I've uploaded look virtually the same on Facebook as on my computer monitor, with the same, or even larger, file size.
If you use advanced photo editing software like Photoshop, you know there are different kinds of PNG files. PNG8 is perfect for flat expanses of color with text, like the image shown below. PNG8 only supports a maximum of 256 colors, so it's not suitable for photos, or graphics with gradient tones or glow effects.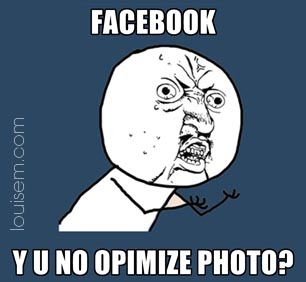 If you have a photo with text or a logo that's coming out fuzzy or with artifacts, try saving it as a PNG24. This format can have up to 16 million colors. Use PNG24 only as needed, as the file sizes can be large, causing slower load times on slow internet connections.
There's no reason to save as a GIF file for Facebook, but if you have one you want to use, Facebook will accept GIFs. PNG is a better choice when saving new images, as PNGs have better color and compression than GIFs.
Hope this helps with how to optimize photos for Facebook!