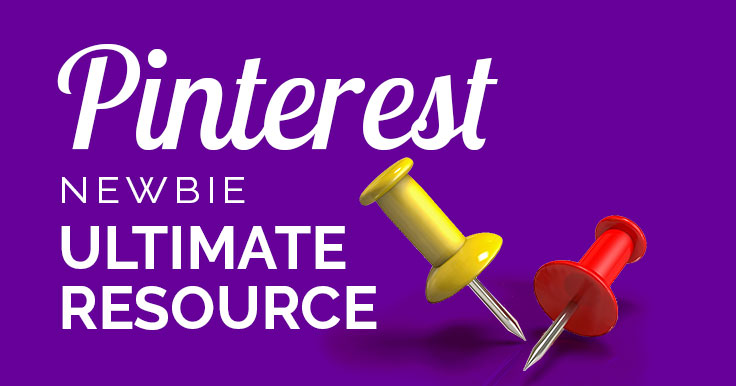 If you've heard me go on about how much I love Pinterest, perhaps you've wondered:
What is Pinterest?
How does it work?
Why should I use it for my business?
I'm sometimes so entrenched in  my visual marketing pursuits that I don't stop to think about what it's like to be a complete beginner.
So this post and video will give you the Pinterest basics!
No time to read now? Get the FREE e-course: ONE simple action step each day.
• • • CLICK to get your FREE Pinterest Basics e-course! • • •
Or read on…

I've also included links to MANY more articles for Pinterest beginners, Pinterest strugglers, and those who are ready to master Pinterest marketing.
CLICK to jump to the section that interests you most:
What is Pinterest? (Directly below)

What is Pinterest?
Pinterest was founded in March 2010 and has quickly become one of the top social networks, especially among women, who make up the majority of users.
In this video, learn more about Pinterest's many features and advantages for both users and businesses. The text of the video is included below (plus my pro tips).
Pinterest allows individuals to organize images and videos into personalized collections known as boards. Pinterest is more geared toward social discovery than other social networks.
PRO TIP: This means it's a great place for your business to be found! Pinterest says they're actually a visual search engine, not a social site. And it's an easier one to master than Google!
Users can create boards and pin images showcasing everything from inspirations to favorite products, as well as browse through public pins and boards created by other users.
Pinterest can provide significant value to businesses looking for a simple tool that engages customers effectively. Brands are empowered to learn about the interests and passions of their community. They can join as a business account in order to get access to analytics and insights, as well as take advantage of features such as promoted pins and buyable pins.
PRO TIP: Using a business account on Pinterest doesn't put you at a disadvantage, like it does on Facebook, and possibly Instagram. Users love to connect with brands on Pinterest!
Brands can also create visually intriguing boards that speak to their audience by highlighting products, promoting company culture, and sharing content that connects with their community's lifestyle. Users can easily interact with brands by repinning or commenting on their content. (Liking has been phased out).

Is a Pinterest business account free?
Absolutely! And not only is it free, a business account is not given lower priority in users' newsfeeds (called the "Smart Feed" on Pinterest).
You may be familiar with this problem on Facebook and Instagram, called "pay to play."
Business accounts on those platforms have a tough time getting their posts seen by those who have chosen to follow their account. Business users often complain that it's Facebook's way of making them pay for ads to be seen.
But Pinterest users LOVE to see (and buy) products! So there's no reason for Pinterest to hamper your business's reach. And they don't!
How do I use Pinterest for my business?
Remember, Pinterest is a visual search engine. Your goal is to provide enticing images with descriptions that are optimized for search. And always with a good call-to-action!
Your Pinterest goals may be one or more of the following:
Get users to join your email list
Bring traffic to your blog posts
Sell your own products and services
Sell affiliate products
All of these goals are easier to attain on Pinterest than you might think! Pinterest users aren't there to catch up with friends, like on Facebook, or hear the latest, like on Twitter.
They use Pinterest to find information and products! Are they finding yours?
When should I start a Pinterest business account?
I do have a business but no website yet. What should I do?
If you don't have anywhere to send traffic yet, it's a perfect time to get started. Check on what others in your niche are doing, set up boards relevant to your business, start repinning others' quality content, and start following relevant accounts.
You can take this as slowly as you want, but the cool thing is that once you have an online business, you already have an established Pinterest account – so you're not starting from ground zero.
I recommend you follow the first 5 steps in my FREE e-course!
Get ONE simple action step each day. Join now!
• • • CLICK to get your FREE Pinterest Basics e-course! • • •
The only way this strategy won't work is if you have NO idea what boards to create because you haven't begun to define your business yet. In this case, you may wish to read about identifying your niche.
Read these posts for more Pinterest basics
Want to go deeper? Click to read these posts for Pinterest beginners.
You can repin the specific posts you want to read later:
| | |


I have a Pinterest account… but I'm not getting results
First off, know that Pinterest takes time. What you pin today isn't necessarily going to drive traffic tomorrow, or even next week.
However, Pinterest pins have the longest life span of any social media posts!
The half-life of a pin is 3.5 months (it takes a pin 3.5 months to get 50% of its engagement). The half life of a tweet is only 24 minutes, andof a Facebook post, 90 minutes. This means that the half-life of a Pinterest pin is 1,680 times longer than a Facebook post. source
Of course, there are always things you can do to improve your success on Pinterest!
Read these posts for intermediate Pinners
For your next steps, I invite you to read these posts:
Be sure to Pin this post to return later! Or repin the specific posts you want to read later:
| | |
Read these posts for advanced Pinners
Once your account is driving traffic and leads, you'll want to maximize your efforts with the tips in these more advanced posts:
You can repin the specific posts you want to read later:
| | |
Pinterest basics conclusion
Here are more topics I can cover in future blog posts, if there's interest.
What does it mean to pin it?
How do you pin your own photos?
How do you repin something on Pinterest?
Can I use my personal Pinterest for my business?
Optimize from the start! I'll take you from setting up your account correctly
to making simple, pinnable images, in the FREE e-course.
Get ONE simple action step each day. Join now!
• • • CLICK to get your FREE Pinterest Basics e-course! • • •
Leave a comment and let me know what else you need to know about Pinterest basics.
Please share this post if you have friends and followers who are asking, What is Pinterest?