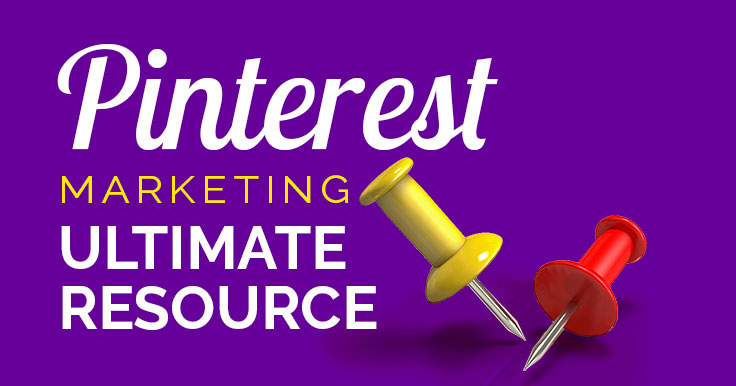 If you've heard bloggers and marketers rave about Pinterest, perhaps you've wondered:
What is Pinterest?
How does it work?
Why should I use it for my business?
If you're a complete beginner, this post and video will give you the Pinterest basics!
No longer a beginner? We've got you covered too, and you can jump to your relevant info.
You'll also find links to more articles for Pinterest beginners, Pinterest strugglers, and those who are ready to master Pinterest marketing.
Read on for an opportunity to get my FREE e-course with ONE simple action step each day.


What is Pinterest?
Pinterest was founded in March 2010 and has quickly become one of the top social networks, especially among women, who make up the majority of users.
In this video, learn more about Pinterest's many features and advantages for both users and businesses. The text of the video is included below (plus my pro tips).
Pinterest allows individuals to organize images and videos into personalized collections known as boards. Pinterest is more geared toward social discovery than other social networks.
PRO TIP: This means it's a great place for your business to be found! Pinterest says they're actually a visual search engine, not a social site. And it's an easier one to master than Google!
Users can create boards and pin images showcasing everything from inspirations to favorite products, as well as browse through public pins and boards created by other users.
Pinterest can provide significant value to businesses looking for a simple tool that engages customers effectively. Brands are empowered to learn about the interests and passions of their community. They can join as a business account in order to get access to analytics and insights, as well as take advantage of features such as promoted pins and buyable pins.
PRO TIP: Using a business account on Pinterest doesn't put you at a disadvantage, like it does on Facebook, and possibly Instagram.
Users love to connect with brands on Pinterest!
Pinners actually want to see content from brands while they're on the platform. 78% of Pinterest users surveyed say brand content is useful.
Pins from brands:
Make it easier to find new products.
Help Pinners make the best purchase decision.
Are used in-store to review Pinners' product wishlists.
As one Pinner said, "Pinterest opened a door to a room full of clothes I'd never seen before."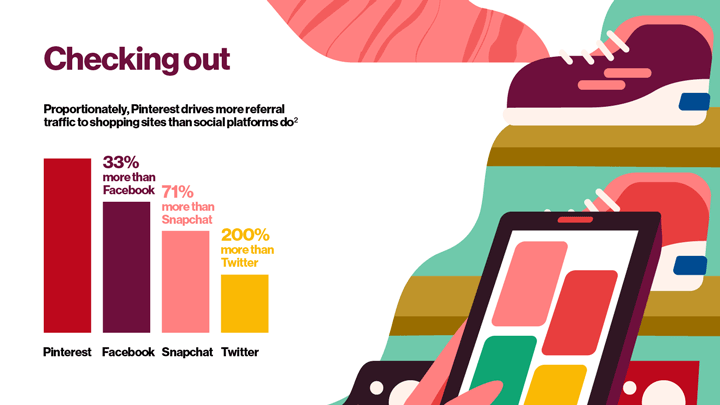 Brands can also create visually intriguing boards that speak to their audience by highlighting products, promoting company culture, and sharing content that connects with their community's lifestyle. Users can easily interact with brands by repinning or commenting on their content. (Liking has been phased out).
The rich pins feature can be used to showcase additional information including details about products, recipes, and locations.Adding "pin it" buttons to your company website allows Pinterest users to pin your imagery instantly without having to leave your site. This lets users share your images with ease, as well as directing traffic back to your website from Pinterest.
When a user re-pins a post from a brand's Pinterest page, they share that content with all of their followers. Because of Pinterest's great search functions, the images you share remain relevant for longer, and can be discovered by users at any time.

Why use Pinterest for business?
This visual-heavy social network can build traffic to your website for little to no cost at all.
It's great for businesses, because most Pinners (Pinterest users) use the site for making purchasing decisions. Plus, its 250 million users spend more time on the site than on Twitter, Instagram, and even Facebook.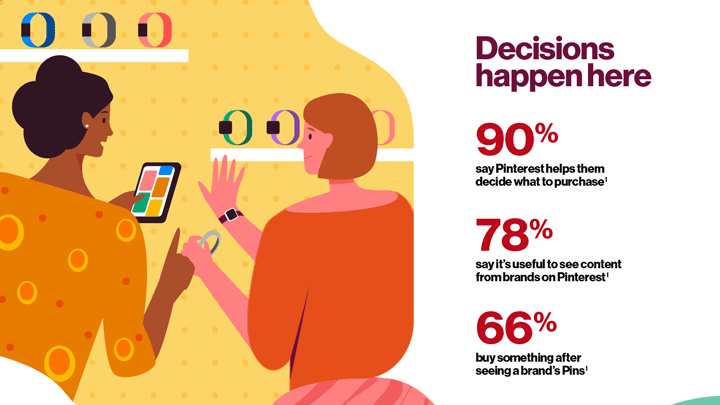 And they buy!
90% of Pinners use the platform to make purchase decisions.
Based on a survey of 4,061 weekly Pinners about their shopping habits, Pinterest shapes:
Which products people buy.
The brands they choose.
How much they spend.
You can see the full infographic clipped above at the end of this article, or repin it here.
Here are ten of the stats on the gorgeous infographic from Pinterest:
60% of weekly Pinners find ideas for what to buy on Pinterest.
72% said that Pinterest inspires them to shop when they aren't even looking for anything.
70% discover new products on Pinterest.
90% of weekly Pinners use Pinterest to make purchase decisions.
78% of Pinners say it's useful to see content from brands on Pinterest.
66% buy something after seeing a brand's Pins.
Pinterest drives 33% more referral traffic to shopping sites than Facebook.
Pinterest sends 200% more referral traffic to shopping sites than Twitter.
41% of people who shop in-store use Pinterest while shopping.
59% use Pinterest to find out more about their purchases.
And when they look for what to buy, they're not seeking a particular brand! 97% of Pinterest searches are unbranded.
They're ready to discover new businesses like yours.
50% of Pinners make a purchase after seeing a Promoted Pin (paid ad).
The best thing about Pinterest, to me, is that it's not really a social network. It's very hands-off! Much of your Pinterest marketing can be automated.
Pinterest differs from other social media platforms in that it functions more like a search engine. Once you've created your content, you can schedule it with a tool like Tailwind, and basically sit back and watch your site traffic grow.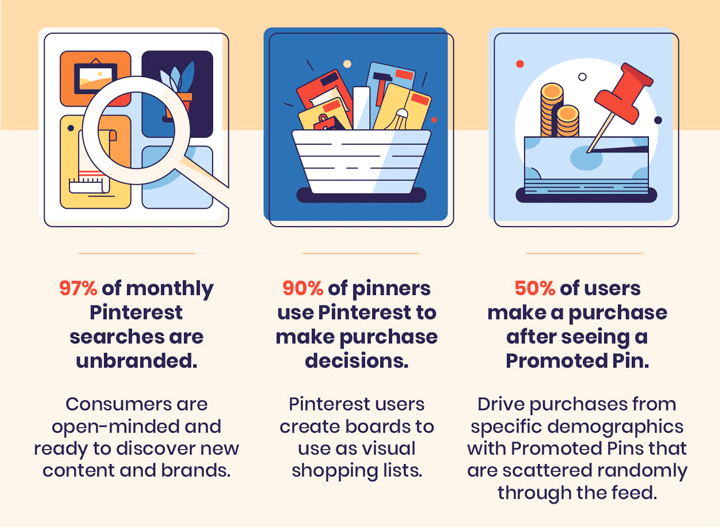 Image from Fundera. Repin the full infographic on Pinterest here.
Is a Pinterest business account free?
Absolutely! And not only is it free, a business account is not given lower priority in users' newsfeeds (called the "Smart Feed" on Pinterest).
You may be familiar with this problem on Facebook and Instagram, called "pay to play."
Business accounts on those platforms have a tough time getting their posts seen by those who have chosen to follow their account. Business users often complain that it's Facebook's way of making them pay for ads to be seen.
But Pinterest users LOVE to see (and buy) products! So there's no reason for Pinterest to hamper your business's reach. And they don't!
How do I use Pinterest for my business?
When you pin an image on Pinterest, it creates a clickable link to the website where the image is located. So if someone pins an image from your blog or website, every time another Pinterest user clicks it, you get free traffic.
By getting people to pin or repin images from your website on Pinterest on a regular basis, you are guaranteeing a steady stream of traffic for months (even years!) to come.
And, it's more than acceptable for you to pin your own content. Please do!
Pinterest has confirmed that they actually give higher priority to pins saved by the content creator, and that you should save your pins to multiple relevant boards. More visibility for you!
The coolest thing about Pinterest is that you don't need a lot of followers to see results – because your pins will be seen by Pinterest users who don't even follow you!
Remember, Pinterest is a visual search engine. Your goal is to provide enticing images with descriptions that are keyword-optimized for search. And always with a good call-to-action!
Your Pinterest goals may be one or more of the following:
Get users to join your email list
Bring traffic to your blog posts
Sell your own products and services
Sell affiliate products
All of these goals are easier to attain on Pinterest than you might think! Pinterest users aren't there to catch up with friends, like on Facebook, or hear the latest, like on Twitter.
They use Pinterest to find information and products! Are they finding yours?
When should I start a Pinterest business account?
I do have a business but no website yet. What should I do?
If you don't have anywhere to send traffic yet, it's a perfect time to get started. Check on what others in your niche are doing, set up boards relevant to your business, start repinning others' quality content, and start following relevant accounts.
You can take this as slowly as you want, but the cool thing is that once you have an online business, you'll already have an established Pinterest account – so you're not starting from ground zero.
The only way this strategy won't work is if you have NO idea what boards to create because you haven't begun to define your business yet.
So define your business first, then set up your Pinterest business account.
How to get started on Pinterest for business
How do you craft the perfect Pinterest profile for your small business?
Beyond simply opening an account, there are key steps you must take to optimize a successful small business Pinterest profile.
1 | Create a Pinterest business account
If you've struggled with getting anyone to see your Facebook business page posts, you may be wondering if it would be smarter to use a Pinterest personal page for your business.
Guess what? There's no suppression of business posts on Pinterest, like there is on Facebook.
That's because on Facebook, users are mainly there to connect with friends and family, not check out your business offerings.
Because Pinterest users are actively searching for ideas and products, they welcome businesses!
So don't hide your business in the closet, so to speak. Take advantage of the additional benefits a Pinterest business account provides.
If you want to use Pinterest for commercial purposes, "you must create a business account and agree to our Business Terms of Service." ~Pinterest
And the Pinterest business account cost? $0.
It's not only free – it comes with benefits too:
Display your business name instead of first/last name.
Get a live website link in your profile.
Access Analytics, Rich Pins, and Promoted Pins (ads).
And there are no downsides! So if you want to use Pinterest for business…
Go ahead and set up a Pinterest business account, or convert your personal account to a business account, here.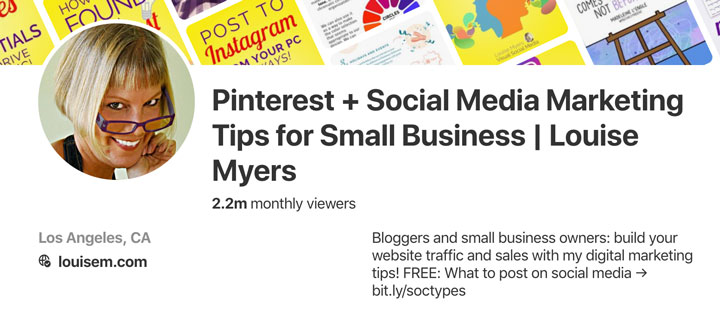 2 | Add relevant keywords
Be sure to optimize your profile for search! Use relevant keywords in your:
Display name
About this profile
At this time, you can only use 30 characters in your Display name if you set up on desktop. Some people have found more characters available on the mobile app, though.
You can copy your bio info from Facebook or Instagram, or tweak it somewhat for this platform. You'll notice I added Pinterest to my Display name, since that would be highly searched on the platform! Pinterest no longer allows use of their name in a Pinner's Display name, though.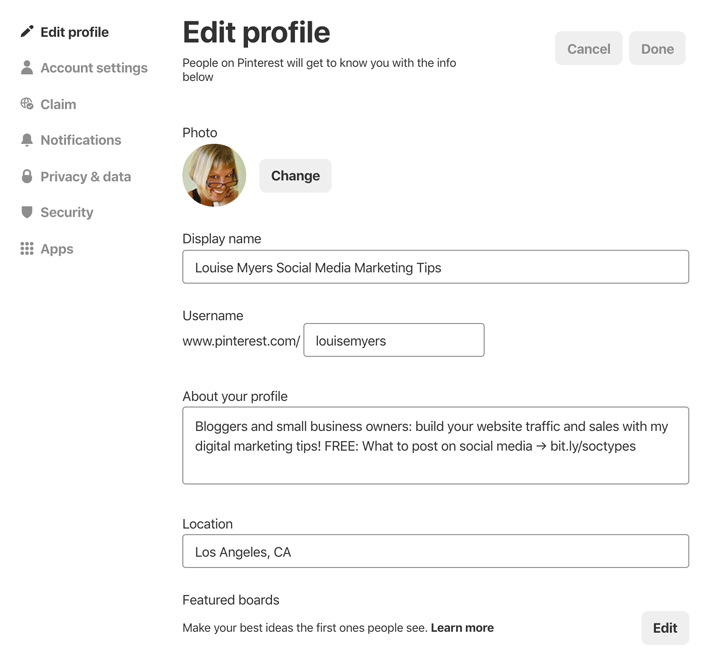 3 | Claim your website
Claiming your website allows you to get attribution and analytics for your content on Pinterest, so be sure to do this in your profile settings!
You'll receive a snippet of code which must be added to your site. OR, you can choose to download an HTML file and add it to your root server via an FTP client.
How to claim your website on Pinterest with Yoast
The easiest way to add the HTML tag is with the Yoast SEO plugin.
If you have this installed on your WordPress site, then visit SEO > Social page from your WordPress admin area.
Be sure that open graph settings are enabled under the Facebook tab.
Now, go to the Pinterest tab. In the Pinterest confirmation field, paste HTML tag provided by Pinterest.
When done, done, click on the Save Changes button.
Claim your Instagram and more
In addition, you can claim your Instagram, Etsy, and YouTube. This allows Pinterest to attribute Pins from your claimed accounts to you. You'll get stats about each Pin. They also use claimed account information to help distribute your content and offer you additional Pinterest features and content.
Might as well, while you're here, even if you don't currently plan to save Pins from those platforms.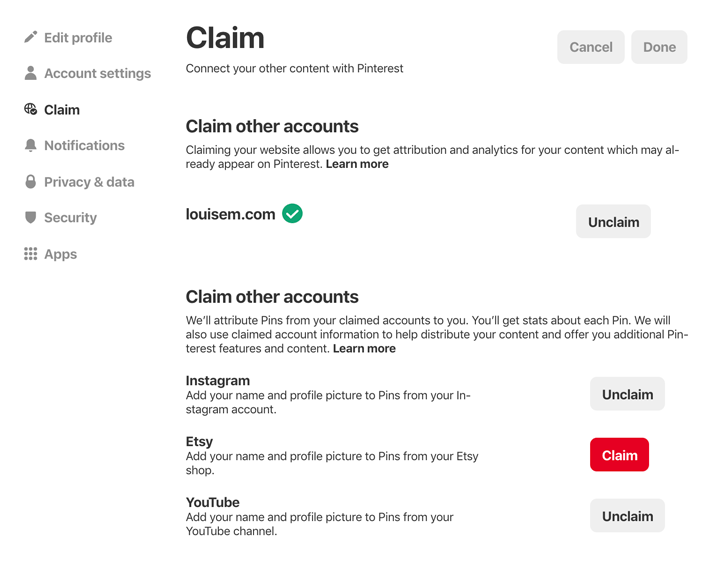 4 | Set up Pinterest boards niched to your business
Think of Pinterest as a search engine, and stay on topic – just like you would on your blog or store.
Create boards that are informative and that reflect your business.
Be sure that your boards are laser-focused on your target market, and use keywords in your:
Board titles (these will become the URLs to the boards).
Board descriptions.
Set up several relevant boards to save your content to – or, if you already had a personal account, you may need to clean up the boards you have.
For instance, if you blog about healthy eating, set up healthy recipe boards for your own content:
Healthy breakfast recipes (lunch, dinner, dessert).
Healthy recipes for families (singles).
Healthy recipes for vegans (paleo).
Fast healthy recipes.
Etc.
If you already have 10 boards about different kinds of fattening treats, consider making those boards "secret." That means only you can see them.
To start, take a look at your blog categories, and/or your product lines. Then create 5 to 10 boards, naming them with keywords your target market would be searching for.
You can also add your core boards to a "Showcase" that's featured on your Pinterest profile. Up to 5 can be featured.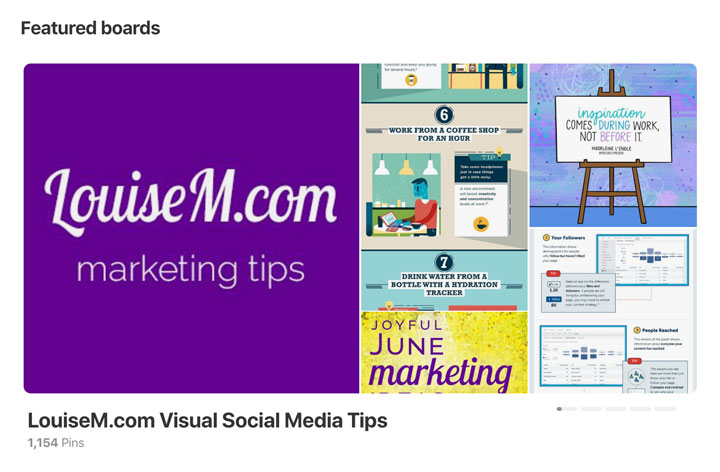 5 | Create traffic-driving Pinterest Pins!
Want to make great pins that drive leads to your website?
It's not that hard! There are so many easy design tools available now. Free photos too!
But before you go creating just any old images for your Pinterest boards, there are a few things you should know.
Goals your Pinterest images should achieve:
Stand out in the Smart Feed
Attract your target customer
Be easy to understand
Garner clicks to your website
Pinning for business isn't just about looking good, or even about getting repins! It's about getting your target audience to visit your site, where you can start (or further) a relationship with them.
Be sure each pin you create has:
A keyword-optimized description.
A few Pinterest hashtags relevant to the topic.
A link back to the appropriate web page or product.
Take a look at the Pinterest Smart Feed for design inspiration. Ready to dive in?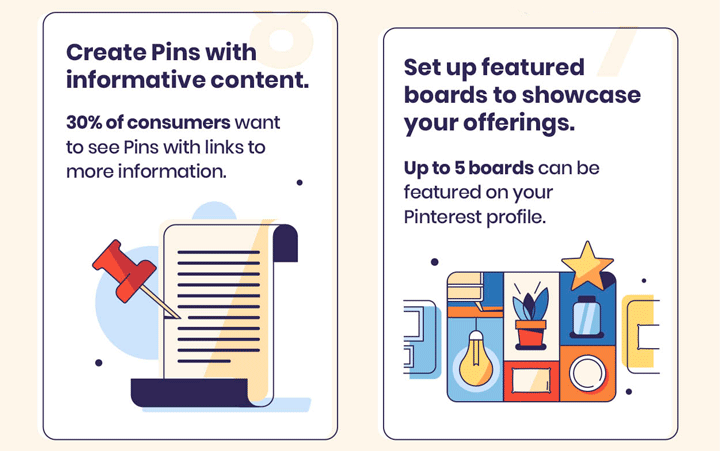 Image from Fundera. Repin the full infographic on Pinterest here.
6 | Use a Pinterest scheduler to keep Pinning in less time
If you want to rock Pinterest marketing – without spending a bundle, or adding hours to your day – you need Tailwind!
Tailwind for Pinterest is simply the most efficient way to drive traffic to your blog or online store. You can set up a week's worth of traffic-driving Pins in less than an hour.
Tailwind's Pinterest marketing tool does all this:
Schedules your Pins for days, weeks, or months in advance.
Posts at the best times for engagement.
Repeats your content at an interval you choose.
Discovers related content you can share.
Connects you with Pinners to share content in Tribes.
Monitors conversations on your Pins.
Amplifies your reach.
And measures your results!
All with one tool.
Learn everything you need about Tailwind to maximize success with minimal time and expense.
Or jump right in and give it a try! Schedule and publish 100 Pins free!
• • • Click here to try Tailwind for Pinterest FREE • • •
Disclosure: I'm an affiliate for Tailwind and will earn a referral fee if you sign up via my link. You can schedule and publish 100 Pins FREE! You won't pay a cent more by using my link.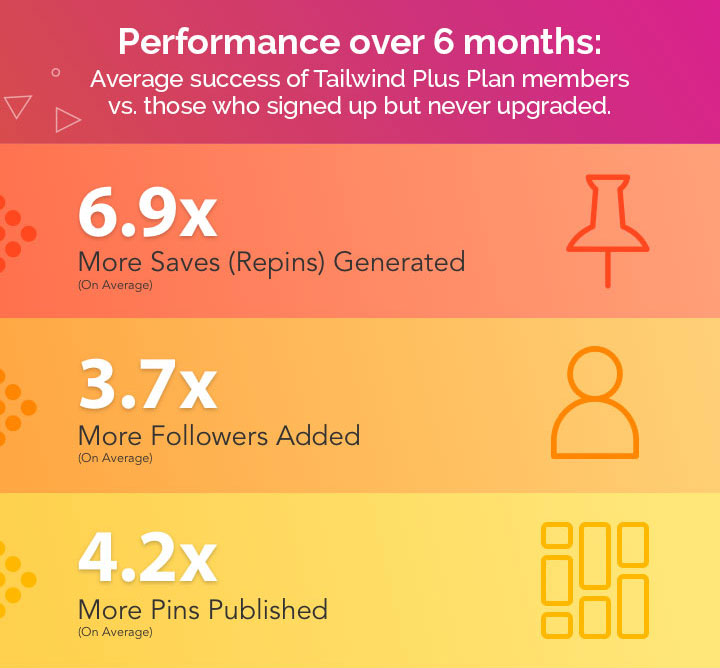 More Pinterest for business basics
Want to learn more? I'll take you from setting up your account correctly to making simple, pinnable images, in the FREE e-course.
Get ONE simple action step emailed each day. Join now!
• • • CLICK to get your FREE Pinterest Basics e-course! • • •
Or read these posts for Pinterest beginners.
How to make the best Pinterest Boards for your business
How do I get more Pinterest followers?
What's the best time to pin on Pinterest?
You can repin the specific posts you want to read later:
| | |

How to Succeed with Pinterest Marketing
If you have a Pinterest account, but aren't getting the results you desire…
First off, know that Pinterest takes time. What you pin today isn't necessarily going to drive traffic tomorrow, or even next week.
However, Pinterest pins have the longest life span of any social media posts!
The half-life of a pin is 3.5 months (it takes a pin 3.5 months to get 50% of its engagement). The half life of a tweet is only 24 minutes, and of a Facebook post, 90 minutes. This means that the half-life of a Pinterest pin is 1,680 times longer than a Facebook post. source
No worries – there are always things you can do to improve your success on Pinterest!
The BEST thing you can do for success on Pinterest is to be consistent.
In this section, you'll learn the tasks you need to do consistently – daily, weekly, and monthly – to succeed on Pinterest.
Good news! Much of this work can be automated.
Pinterest differs from other social media platforms in that it functions more like a search engine. Once you've created your content, you can schedule it with a tool like Tailwind, and basically sit back and watch your site traffic grow.
If you like to spend your time on social media seeking out and interacting with prospects, leads, and customers, then you might not find Pinterest fulfilling.
But if you prefer to create valuable content, and let your content speak for you, then Pinterest is your game.
I'll show you how to make these daily, weekly, and monthly tasks fast and easy!
And it's all summed up on an awesome infographic at the end of this article. Pin it for reference!
Just getting started? Look at the daily and weekly tasks. Choose a few you can manage.
Add more as you become convinced of Pinterest's potential!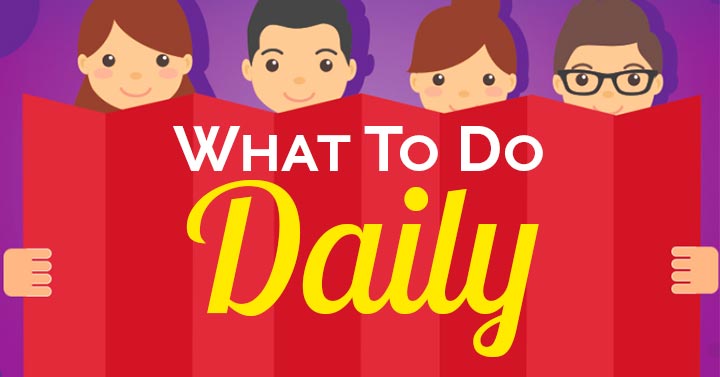 What to Do for Pinterest Marketing Daily
This is all you need to do daily on Pinterest: Pin! And you don't even have to do it "live."
If you don't have a lot of your own blog post or product Pins yet, Pin other people's Pins.
Just Pin the best-quality, niche-related content on Pinterest every day.
It's best if you don't Pin these all at the same time. The easiest way to spread the love around is with a scheduler. Just be sure to use a Pinterest-approved Marketing Partner, like Tailwind.
Tailwind saves me SO much time that it's well worth the small cost. I'd never get anything done if I were stopping to pin 5 times a day, and I can't imagine the cost to hire a VA to do it, either.
Plus, Tailwind will Pin at your BEST times for engagement! You can't even figure that out on your own.
Try Tailwind for free here. You can schedule 100 Pins free!
Disclosure: If you decide to purchase at the end of your trial, I'll get a referral fee.
Eventually, as your blog and content grows, you'll want move towards pinning 10 to 15 times a day, mostly your own content.
Long term goal: 30 pins a day. I currently pin this much, and the benefits have been enormous! Loads of site traffic and follower growth. However, it took me 3 years with Tailwind to amp up to this number!
While some people pin as often as 100 times, more than 30/day hasn't been shown to provide any increased benefits.
Get back to basics! I'll take you from setting up your account correctly
to making simple, pinnable images, in the FREE e-course.
Get ONE simple action step each day. Join now!
• • • CLICK to get your FREE Pinterest Basics e-course! • • •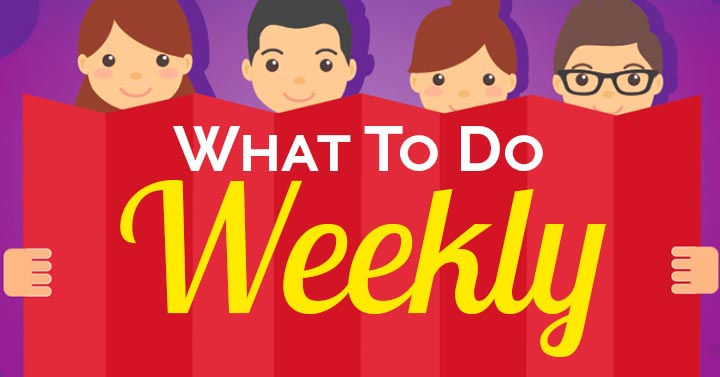 What to Do for Pinterest Marketing Weekly
Check home feed to repin top content.
Follow interesting Pinners, including some of your new followers.
Create images for new blog posts and pages.
Write a great Pin description with keywords.
Schedule your new Pin to all relevant boards.
Schedule Pins to share on your other social networks.
Quite honestly, I'm great at 3, 4 and 5, and don't do the others very often. Do what you can!
3, 4, and 5 are definitely the keys to success though 🙂 I recommend emphasizing those.
It's important to be a source of quality content so your Pins surface in the Pinterest Smart Feed, too.
It's wise to look at repin numbers, and repin some popular Pins from your niche. If others have liked them, there's a good chance your repin will get likes and saves too.
Before you repin others' content, be sure the Pin leads to the correct address – don't lead Pinners astray!
Click the Pin and check what it links to first.
Follow people and boards that post content you like.
Pinterest will place similar pins from accounts you don't even follow in the Smart Feed, so don't follow irrelevant stuff in hopes of a follow-back.
Follower count isn't that important on Pinterest anyway, as it's a search tool. Users are actively looking for products and information!
You should create new Pins weekly for as many of these as you can manage:
New blog posts and pages.
Updated blog posts and pages.
Evergreen blog posts and pages that are already doing well on Pinterest.
Pinterest prefers new Pin images over recycling the old ones, so keep the new stuff coming.
When you create images for Pinterest, be sure they're vertical! At least 600 pixels wide, and 1.5 to 2.1 times the height is ideal.
Longer is fine too, but they'll get cropped in the Smart Feed.
Learn more about Pinterest Pin Sizes.
Continued below.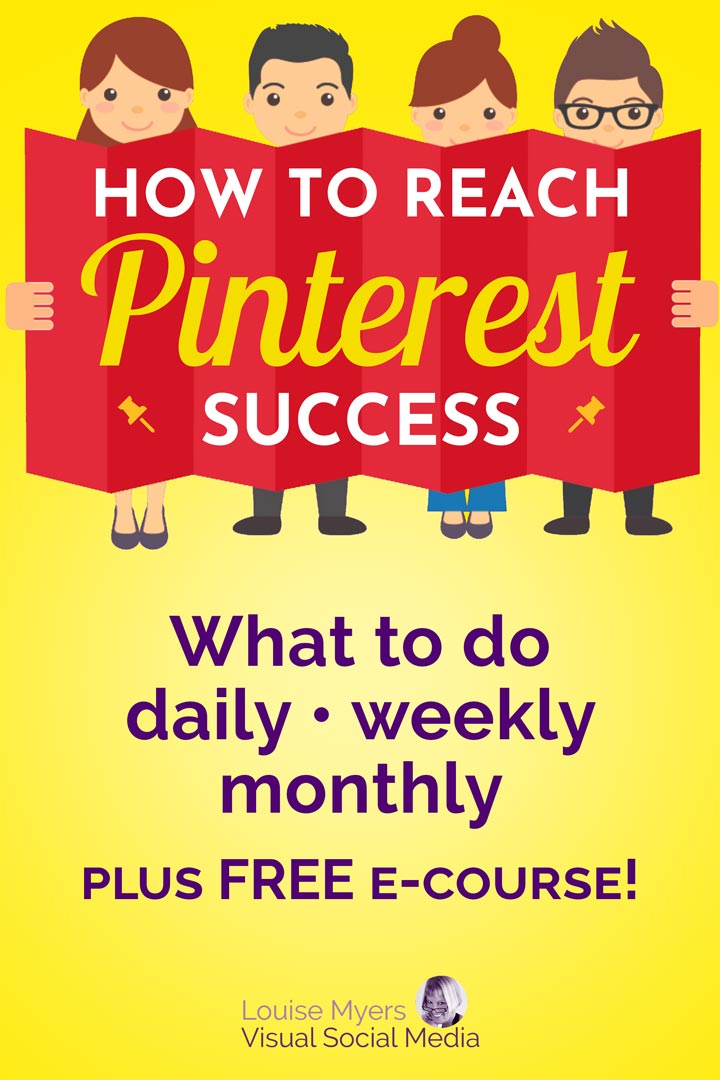 Be sure to include keywords that pinners are searching for, and a compelling call to action in your pin description.
Include a few relevant hashtags at the end of your description (click to read the latest on Pinterest hashtags).
If you use a Pinterest scheduler, take some time to schedule your new Pins, and any that you want to recycle now. Yes, you can repin the same Pins to your own boards, and to some group boards. Check their rules.
Share your Pins on other social networks for more exposure.
In Tailwind, you can tick a box to have your scheduled Pin also appear on Facebook and/or Twitter.
If you don't have a Pinterest scheduler but do schedule posts to other platforms, you can schedule your Pins to post with a link to the Pin on Pinterest.
You could post a Pin once a day on Twitter, maybe once a week on Facebook and LinkedIn.
Overwhelmed? Let me take you from setting up your account correctly
to making simple, pinnable images, in the FREE e-course.
Get ONE simple action step each day. Join now!
• • • CLICK to get your FREE Pinterest Basics e-course! • • •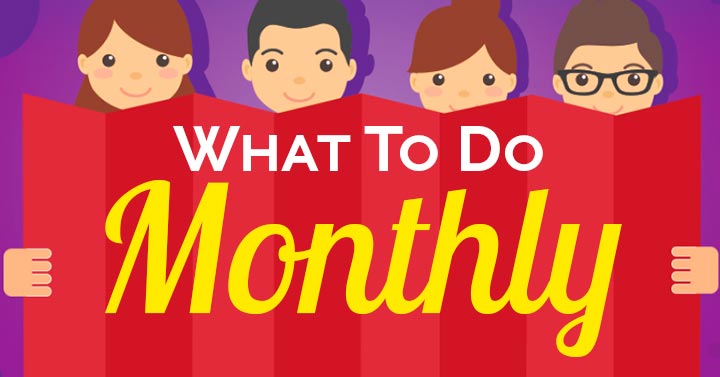 What to Do for Pinterest Marketing Monthly
Review analytics in Pinterest, Google Analytics, and/or Tailwind.
Create new images for old evergreen content.
Consider the next month's trending topics.
Schedule your best performing Pins, new images, and trends.
Evaluate group board performance.
Plan new blog content based on what's working.
Here's the stuff that can really make a difference to your success on Pinterest! It's a little more advanced, so take it one step at a time.
See what's working! You can get some info in your Pinterest analytics. I look at Clicks and Saves on Pins and boards.
Google Analytics will quickly show you just which pages on your site are attracting Pinterest traffic. Learn how here.
And Tailwind can show you which specific pins are getting repinned in the Pin Inspector section, and which boards are getting the most repins under Board Insights. Plus lots more! Stats is their strong suit.
Next, in your Google Analytics, which pages on your site are getting a lot of traffic, but could use better Pinterest images?
If you can't get to this task weekly, a few hours once a month to create optimized images will pay off in even more traffic.
Does your business follow seasons or trends? Be sure to start pinning for them months in advance. Pins take time to circulate and catch on.
Now schedule all this great, new and top-performing visual content.
Check out your group board performance in Tailwind's Board Insights. If a group board isn't getting repins, consider leaving it.
If you're not pinning to a group board that you should be, based on your research, identify some relevant Pins to schedule out over the month.
Which posts, pages, and Pins are performing? This info is gold. Make a plan to do more of that next month.
Improve your Pinterest with ONE simple action step each day. Join now!
• • • CLICK to get your FREE Pinterest Basics e-course! • • •
Ready for Remarkable Pinterest Marketing Success?
Start where you are. Use what you have. Do what you can.
Start with Pinning daily. Then set aside a weekly time when you can start on a couple of those tasks. Add more as you can!
If so much of this is new to you, don't worry about learning Tailwind at the same time, too. Get the basics down. When you're ready for a scheduler, I appreciate if you use my affiliate link! I'll get a small commission if you buy a paid plan. This helps support my free content 🙂
If you do want to learn more about Tailwind, you should read:
How To Use Tailwind For Massive Pinterest Growth
What to do next? Pin the infographic at the end of this article! Sign up for the FREE e-course. You'll soon be on your way to Pinterest marketing success.
You can also read these posts for intermediate Pinners:
How To Get Found On Pinterest: It's All About This…
Are You Using the Best Pinterest Pin Size?
Pinterest Group Boards, the Good and Bad: Ultimate Guide
How To Use Tailwind For Massive Pinterest Growth
The Surprising Truth About Pinterest Hashtags
Be sure to Pin this post to return later! Or repin the specific posts you want to read later:
| | |
Or read these posts for advanced Pinners:
Once your account is driving traffic and leads, you'll want to maximize your efforts with the tips in these more advanced posts:
How To Hide Pinterest Images on Your Blog: Approved!
How to Embed Pinterest Pins So They Don't Disappear
41 New Pinterest Marketing Practices You Need To Know Now
Pinterest Copyright Infringement: How To Protect Yourself
You can repin the specific posts you want to read later:
| | |
Pinterest for Business Ultimate Resource: Conclusion
Here are more topics I can cover in future blog posts, if there's interest.
What does it mean to pin it?
How do you pin your own photos?
How do you repin something on Pinterest?
Can I use my personal Pinterest for my business?
Optimize from the start! I'll take you from setting up your account correctly
to making simple, pinnable images, in the FREE e-course.
Get ONE simple action step each day. Join now!
• • • CLICK to get your FREE Pinterest Basics e-course! • • •
Leave a comment and let me know what else you need to know about Pinterest basics.
Please share this post if you have friends and followers who are asking, What is Pinterest?