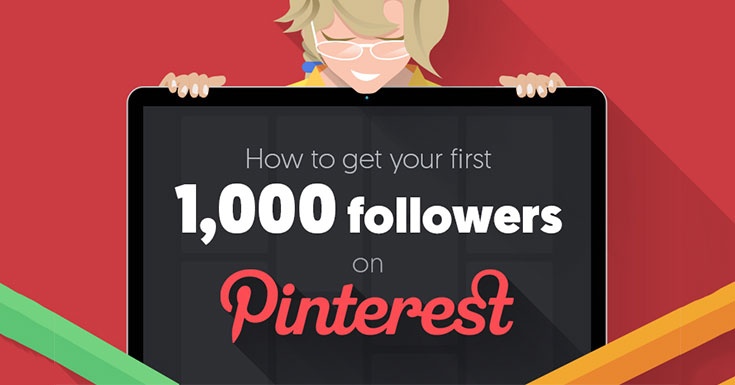 Wondering how to get followers on Pinterest?
If you're just starting out, 1,000 followers might seem like an impossible dream.
Not so, if you take it step-by-step!
Follow the tips on this infographic from Quick Sprout and your account will be off and running.
Why Use Pinterest?
Pinterest is one of the highest converting social sites on the web, especially for e-commerce related products. Even for my business-to-business site, it's my top social referrer of traffic.
Pinterest accounts for 25% of retail referral traffic.
Pinterest generates 4 times more revenue per click than Twitter.
And generates 27% more revenue per click than Facebook.
47% of U.S. online consumers have made a purchase based on info from Pinterest.
The number of people who see your pins is greater than your number of followers.
Due to that final point, your follower number isn't critical. But having a nice, round number like 1,000 may help instill confidence in potential followers, thus drawing more.
Get on Pinterest if you can visually attract followers!
Equally important is to help searchers find your content with careful keywording. Join my FREE e-course for all this info, and more!
Get ONE simple action step each day. Join now!
• • • CLICK to get your FREE Pinterest Basics e-course! • • •
5 Steps on How to Get Followers on Pinterest
Linked words will take you to more info on my site, except where noted.
Fill out your profile completely to entice pinners to follow.
Verify your site and add rich pins. Rich pins get more likes, increasing visibility.
Share your Pinterest profile (or a "Pin of the Day") on other social media networks. Alert your email subscribers of your Pinterest profile.
Include a Pinterest button on your website or blog. Try a follow button or a widget.
Follow your competitors' followers. Not only might they follow back, but you can see the type of content they like as well.
7 More Ideas to Get More Pinterest Followers
Bonus! Here are some of my own ideas that you can implement to attract more followers.
Create Pinterest boards that are targeted to your audience.
Pin regularly. The top accounts pin 10 to 30 times per day.
Use targeted keywords in your profile, board, and pin descriptions.
Follow people who are pinning from your website. To find them: https://www.pinterest.com/source/[YOURDOMAIN].com/
Ask to contribute to group boards that have a lot of repins and followers.
Engage with Pinterest users by re-pinning and commenting on their Pins.
Run a Pinterest contest. (affiliate link to Pinterest content app)
This post was originally published in October 2015, and updated September 2017. Note that the term "Pin It" has been replaced with "Save."
If you find this helpful, share with a friend who'd love to know how to get followers on Pinterest!