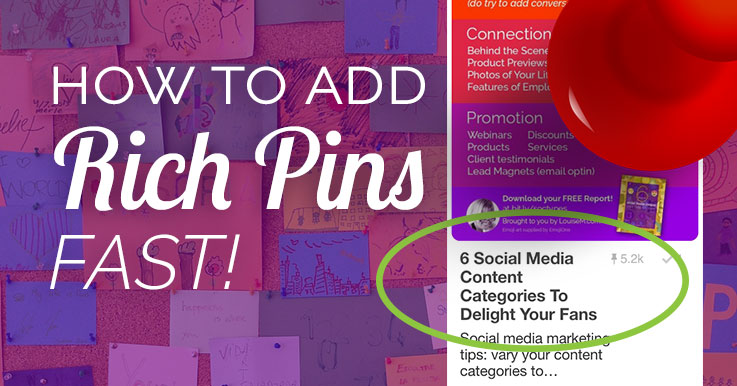 Want to use Pinterest Rich Pins?
You should! They really pop your presence on Pinterest.
Rich Pins are absolutely free. They help both you and Pinterest users by providing more context about your product, recipe, or page on the Pin.
What are Rich Pins?
Rich Pins are Pins that include extra information right on the Pin.
There are four types of Rich Pins:
Product Pins include real-time pricing, availability, and where to buy.
Recipe Pins have ingredients, cooking times, and serving sizes.
App Pins (iOS only) show an install button so people can download your app without leaving Pinterest.
Article Rich Pins show a headline, author, and story description.
As a blogger with an audience that also includes bloggers, my article is specific to Article Pins for WordPress bloggers.
6 Benefits of Rich Pins
These elements add up to make Rich Pins look more professional and trustworthy:
Extra info – including more keywords to surface in search!
Control over the info attached to all Pins from your site.
Rich info on Pin is updated when linked page is updated.
Bold title in the feed.
Branded with your interest account and profile picture / logo.
Follow button!
You can identify Article Rich Pins by the extra information above and below the image on closeup, and the bold title in easily visible in the feed.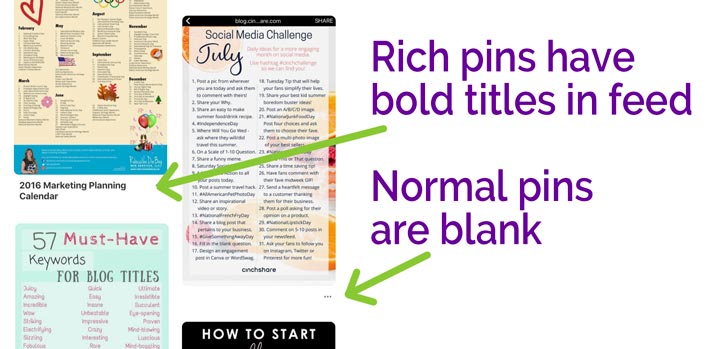 This is metadata pulled in from your website. If you're sharp with keywording on your post titles and meta descriptions, your Rich Pins already have a big advantage! This info is attached to your Pin by the page it's linked to and can only be edited by you.
When you update your blog post title and meta description, these will also update on all Rich Pins linked to that URL – regardless of who pinned it.
So if I update an article yearly, such as Best Pinterest Pin Size for 2019, the publish date as well as the title change will be reflected on all Pins that link to that page.
Pretty cool, huh?
This info travels with your Pin regardless of who pins or repins it. It can only be changed by changing the page it's linked to.
Same if you change the price on a product with Product Rich Pins – the price will be updated across all Pins.
And when someone clicks the Rich Pin – not just the bold headline, but a little push to follow the account that enabled Rich Pins! Priceless, right?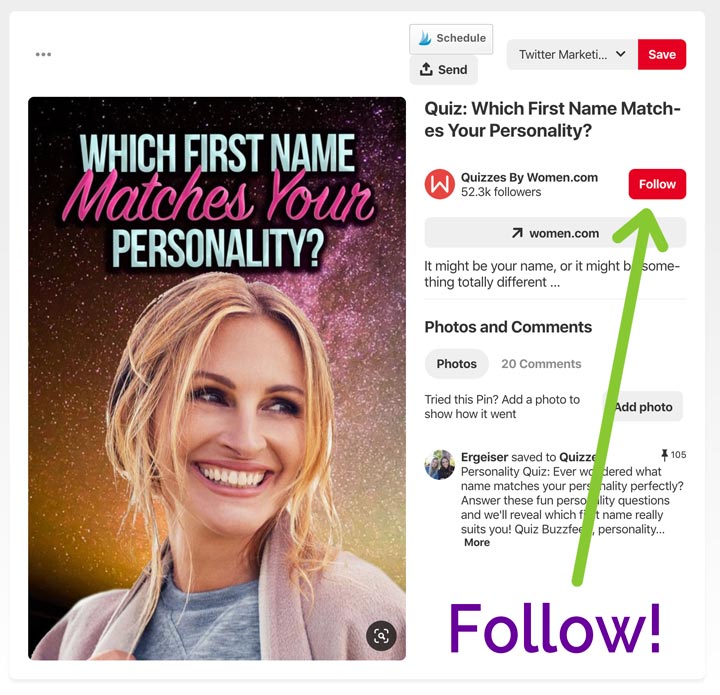 Non-Rich Pins are starting to look pretty blah, amiright?
How to add Rich Pins in 5 minutes
Perhaps you haven't added them because you didn't realize how fast and easy it is – if you blog with WordPress.
If you don't use WordPress, you might need some tech help to add the needed markup language to your site. But on WP, it's done for you!
Of course, if you're using your Pinterest account for business, you've got a Pinterest business account, right? This is required by their ToS.
If not, better get straight with Pinterest by converting to a business account here.
How to Add Article Rich Pins on WordPress
Article Rich Pins are perfect for bloggers. This tutorial only works for article pins.
Step 1: Add Yoast SEO Plugin.
Activate it.
Then go to the Social tab in its settings, then to the Facebook tab.
Yes, Facebook! Other social networks use the Open Graph metadata that FB instigated. So you want this ON.
Be sure Add Open Graph meta data at the top is set to Enabled.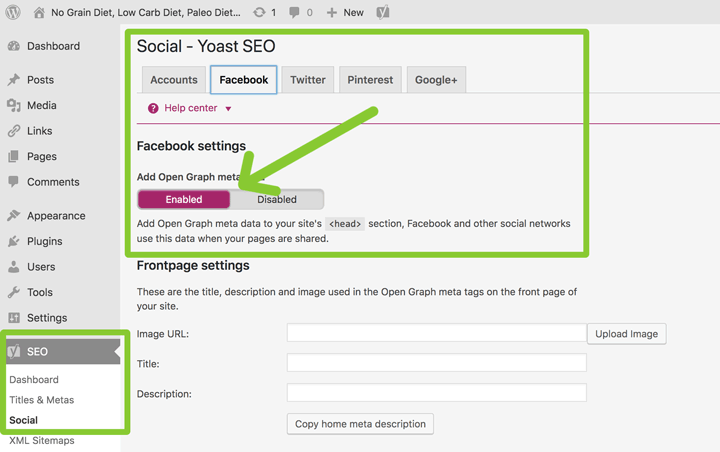 Here's a quick video walkthrough:
NOTE: If you use Genesis themes, you already have Yoast, so skip this step!
If you use a different SEO plugin, ask a techie for help.
Step 2: Validate Your Rich Pins
Just go to the Rich Pin Validator.
Enter a URL from your site.
Click the Validate button.
Check that the Rich Pin preview is what you expected.

Step 3: You're done! or Apply for Rich Pins
If you get the green check and "Your rich pins are approved and on Pinterest" message, you are all done!
It will take a few days for your existing Pins to pull in the "rich" data.
Try to be patient 🙂

If you get the green check and "Your Pins have been validated!" message, click Apply Now.
You should get a "thanks for your application" message as shown below.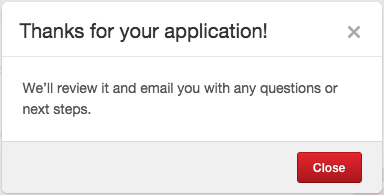 It could take a couple days to hear from Pinterest with your approval.
Once approved, it will likely take 2–3 days for your normal Pins to turn into Rich Pins!
Disable Rich Pins on specific pages
You can have the benefits of Rich Pins only where you want them.
If there's a certain page or two where you don't want Rich Pins (for reasons I can't fathom, so please let me know in a comment!):
Add this tag to the header of your page before the closing body tag:
<meta name="pinterest-rich-pin" content="false" />
The tag will override the Rich Pin meta tags on that page only and not affect the rest of your site. If you ever want to turn Rich Pins back on, remove this tag.
Pinterest Rich Pins conclusion
Take control of your Pins by enabling Rich Pins!
This whole process takes less than 5 minutes, and you'll be so glad you took the time to set it up.
Share this post with others who could benefit from Pinterest Rich Pins. Thanks!
Want to learn more Pinterest basics for business?
Get ONE simple action step each day to optimize your Pinterest account. Join now!
• • • CLICK to get your FREE Pinterest Basics e-course! • • •