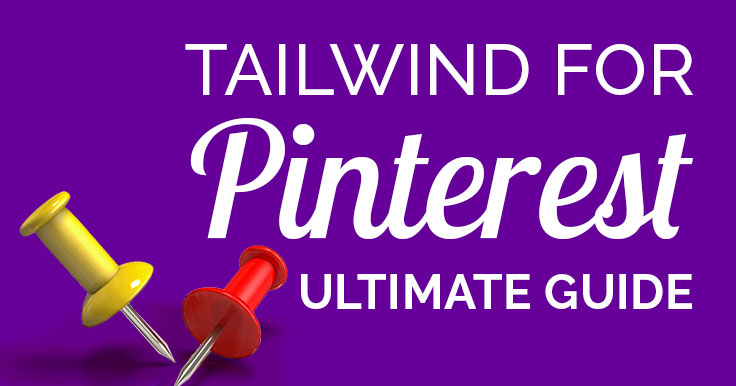 Want to rock Pinterest marketing – without spending a bundle, or adding hours to your day?
You need Tailwind for Pinterest!
Tailwind app is simply the most efficient way to drive traffic to your blog or online store.
Once you get the hang of it, you can set up a week's worth of traffic-driving Pins in an hour. But first you must understand how to get the most from Tailwind!
This Tailwind tutorial is the ultimate guide to growing your Pinterest traffic.
You'll learn everything you need to maximize success with minimal time and expense.
Let's dive in!
Disclosure: I'm an affiliate for Tailwind and will earn a referral fee at no cost to you, if you purchase via my link. Schedule and publish 100 Pins FREE! No credit card required.
What is Tailwind for Pinterest?
Tailwind is the complete Pinterest marketing toolkit for bloggers and small businesses. This Pinterest scheduler has everything you need to drive traffic, leads, and sales from Pinterest – with a minimal investment of time and money.
Sure, you could "Pin" your content to Pinterest manually – when you have the time.
With Tailwind, you won't have to find time daily to post Pins. Sit down once a week and let Tailwind post for you – at the best times every day!
Plus, their analytics show at a glance which content is resonating with Pinners. So you can make more of the kind people are interacting with, and improve the content that isn't.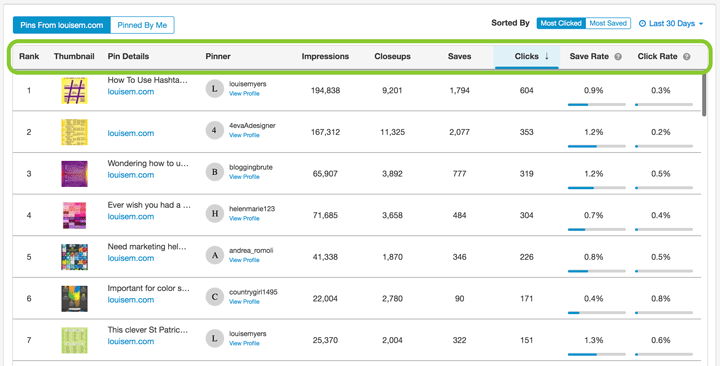 How does Tailwind work?
Tailwind's Pinterest marketing tool does all this:
Schedules your posts.
Posts at the best times for engagement.
Repeats your content at an interval you choose.
Discovers related content you can share.
Connects you with Pinners to share content in Tribes.
Monitors conversations on your Pins.
Amplifies your reach.
And measures your results!
All with one tool.
Not using Tailwind for Pinterest yet? Try it out. Schedule and publish 100 Pins free!
• • • Click here to try Tailwind for Pinterest FREE • • •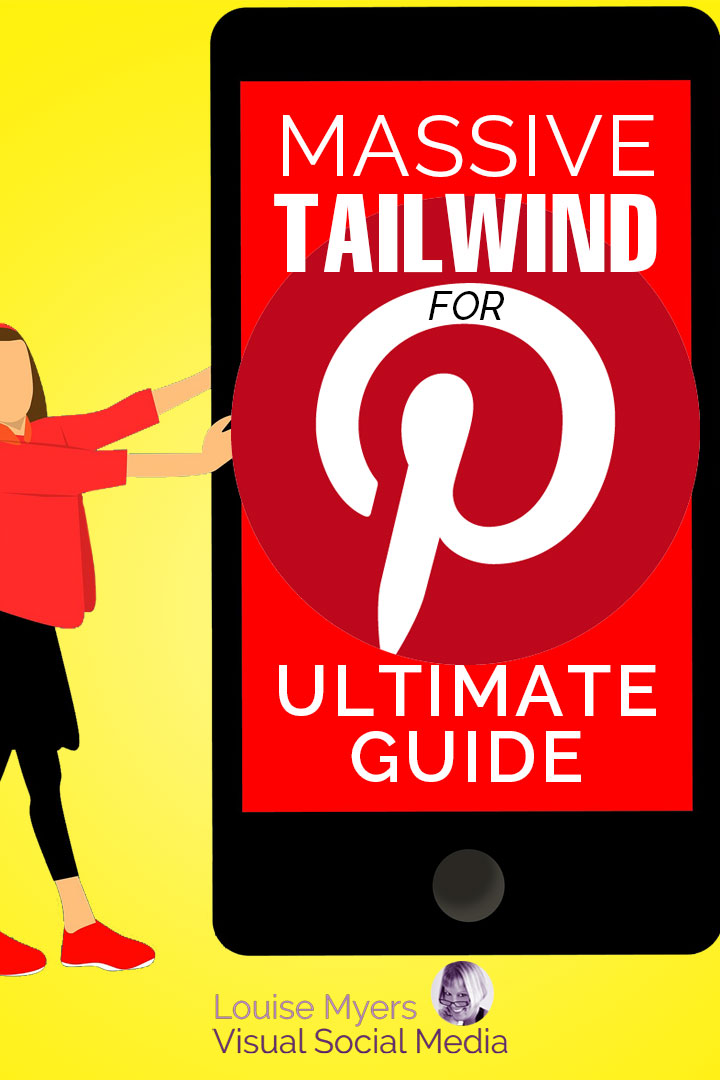 Is Tailwind approved by Pinterest?
Tailwind is a Pinterest Marketing Partner that follows all their standards to keep your account safe and growing.
You don't need to provide any login details! Just link your Pinterest account.
Tailwind will analyze your account and your niche, and generate a Smart Schedule with the best times for you to Pin for audience engagement.
Just tell Tailwind how many Pins you want to schedule a day – that could be 5, 25, or 50! With the Tailwind Plus plan, you can schedule unlimited Pins if you pay annually.
Whether those times are while you're working, playing, or sleeping, Tailwind will post your Pins for you.
How do I connect Pinterest to Tailwind?
Because Tailwind is an approved marketing partner, there's no need to enter your Pinterest login info.
Did you know? Sharing your login breaks the Terms of Use you agreed to when you joined Pinterest. So don't give away your login details!
If it's your first time using Tailwind, just follow the prompts to connect your Pinterest account, and you'll be ready to schedule Pins.
Want to add more than one Pinterest account?
Make sure you are logged in to the one you want to add on the desktop web version of Pinterest.
1 | Go to your Account Settings located in the settings menu in the top right hand navigation.
2 | Click the "+ Add New Account" button just above your current account.
3 | Choose Pinterest and authorize the Tailwind App.
You can connect as many Pinterest accounts to your Tailwind Dashboard as you like! Every new account you add will start as a Free Trial plan. At any stage you can upgrade these to the Plus plan, at an additional fee.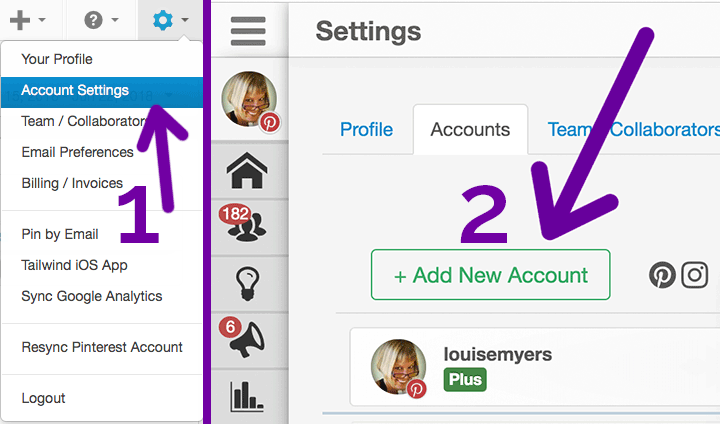 How to schedule Pins on Tailwind
You have 3 options to add Pins to your schedule:
Schedule from Pinterest.
Schedule from your website.
Upload Pins directly into Tailwind.
The fastest way for #1 and #2 is to add the Tailwind extension to your browser. Just click it, and you can add as many Pins from the page as you wish – at the same time!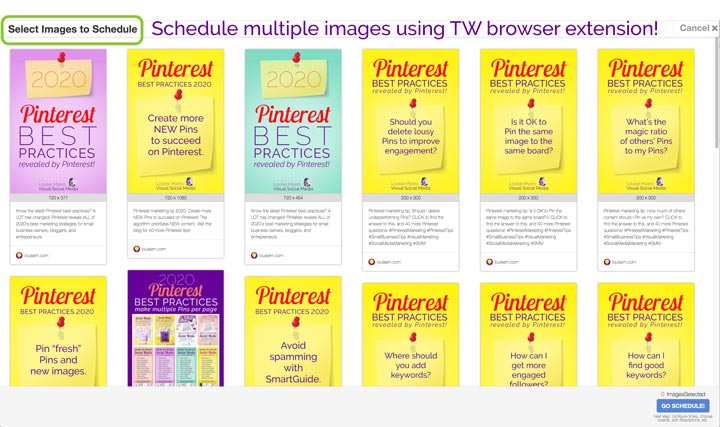 Next, in the window below the Pin image, add the boards that make sense for this Pin. Pinterest recommends you Save to the most relevant board first, and to no more than 10 boards total.
If you've chosen two or more boards, I recommend clicking the Interval button and spacing these Pins out by 5 or more days. They'll drip out to your relevant boards automatically, with no further effort on your part!

Check the Pin description to make sure it's how you want it.
Click "Schedule now" and you're done.
If you close the window without scheduling, your Pin will be waiting in your Drafts page.
How to schedule Pins on Tailwind: video tutorial
See all the ways to schedule Pins to Pinterest in action!
How Tailwind grows your Pinterest traffic and followers
Here are a few of the ways Tailwind explodes your Pinterest possibilities!
Maintains a constant presence on Pinterest without manually Pinning all day.
Spaces out your Pins so they won't appear spammy to Pinterest or annoy your followers.
Pins at the best times for engagement (helping you crush the Pinterest algorithm!).
Curates Pins from your favorite blogs in the Find Content feature, to save you time.
Offers niche Tailwind Tribes for another source of Pins to share.
Joins you with Tribe members who can share your content too.
"Loops" your Pins so they keep posting to Pinterest automatically!
Check out this infographic to see how Tailwind Plus members grow their Pinterest accounts. Or click to jump to the next section.

Want to learn more about growing your Pinterest with Tailwind?
What are Tailwind Tribes?
Tailwind Tribes are groups of like-minded Tailwind users who band together to share each others' content.
By collaborating in a Tailwind Tribe, everyone enjoys a continuous stream of content from people they trust, saving them time while improving the quality of the content they share.
And, when Tribemates share each other's content from the Tribe, they all get exposure to highly relevant new audiences. It's a win-win.
As Sara Barnes, blogger at Taming Twins, put it, "Tailwind Tribes are one of the best things to happen to bloggers in a long time."
And it's free to get started.
• • • Click here to try Tailwind Tribes for Pinterest FREE • • •
How do Tailwind Tribes work?
I have an entire blog post dedicated to Tailwind Tribes!
Or you can watch the Tailwind Tribes video tutorial below.
What is Tailwind SmartLoop?
Want to get more traffic to your best content?
Without spending more time figuring out what's performing.
Without keeping spreadsheets to determine when to schedule your Pins again.
And without having to reload your queue!
Tailwind SmartLoop makes it easy to re-share your best Pinterest Pins at the best times for engagement!
Add your Pins to SmartLoop once and they'll re-circulate indefinitely.
Set a loop to Pin year-round or within a season you specify.
See everything you're Pinning with Tailwind's intuitive calendar.
Customize limits to ensure you're not spamming or breaking Group Board rules.
Know what's working & hone your performance with detailed stats on each Pin.
Tailwind worked closely with Pinterest to develop looping that works – without breaking any Pinterest rules!
Pinterest best practices are baked into SmartLoop's frequency recommendations .
Sign up for Tailwind and check it out – 250 looped Pins are included at no extra charge.
• • • Click here to try Tailwind for Pinterest FREE • • •
Want a deep dive into Pinterest-approved Tailwind SmartLoop?
How can I save the MOST time with Tailwind for Pinterest?
Believe it or not, Tailwind has even more time-saving features than I've covered here.
I've rounded up some tips for power users ready to take their Tailwind to the next level.
Learn which features you might be missing out on!
Take my knowledge bombs from the post and learn on your own!
It's really all about time vs. money, and your own business goals.
Can Tailwind help me with Pinterest Group Boards?
Yes! Schedule Pins to your own boards as well as group boards you're a member of.
As long as the group boards don't have strict rules like "1 Pin per day," add them to your board lists. (If they do have per-day limits, be sure to check out "board rules" for SmartLoop in the second video).
I create a board list for each type of content I save, placing the most relevant, best-performing boards first. I usually add the group boards after my own as they tend to be more general and not perform as well.
Here's a great overview of using board lists:
Using SmartLoop? Here's how to set board rules so you don't over-share to group boards that have daily Pin limits:
You can also use Tailwind to quickly determine how many Pins you've added to a group board within a specific date range.
And, if you want to know how any group board you're a member of performs overall, or how your own Pins on the board perform, Tailwind helps with that too.
How to improve your Pinning with Tailwind Analytics
Once you've started Pinning, Tailwind will analyze your results to show you which Pins and boards are performing best for you.
On the Plus plan, Pinterest Profile Insights include:
Follower growth
Pins added
Repin growth
Comments added
View these for the last 7 or 30 days.
Your Pinterest Board Insights for each board include:
Number of Pins per board(total, or see how many added in the last 7 or 30 days)
Number of followers per board (total, or see how many followed in the last 7 or 30 days)
Number of Repins per board (total, or see how many repins in the last 7 or 30 days)
Virality (repins per pin) of each board (lifetime score)
Engagement (repins per pin per follower) for each board (lifetime score)
Tailwind's Pin Inspector lets you see the repins on each pin you added to each board.
Website Insights show you 7 or 30 day graphs for:
How many Pins are saved from your website.
How many visits you're getting from Pinterest.
You'll also see the trending images for the last 30 days, so you can quickly determine exactly what's hot now.
Under Organic Activity, you'll see the latest Pins saved from your site, and a word cloud of the most popular words in their descriptions.
Referral Traffic displays 7 or 30 day graphs of visits, visitors, and pageviews.
Yeah, it's pretty much endless. And all included in the Plus plan.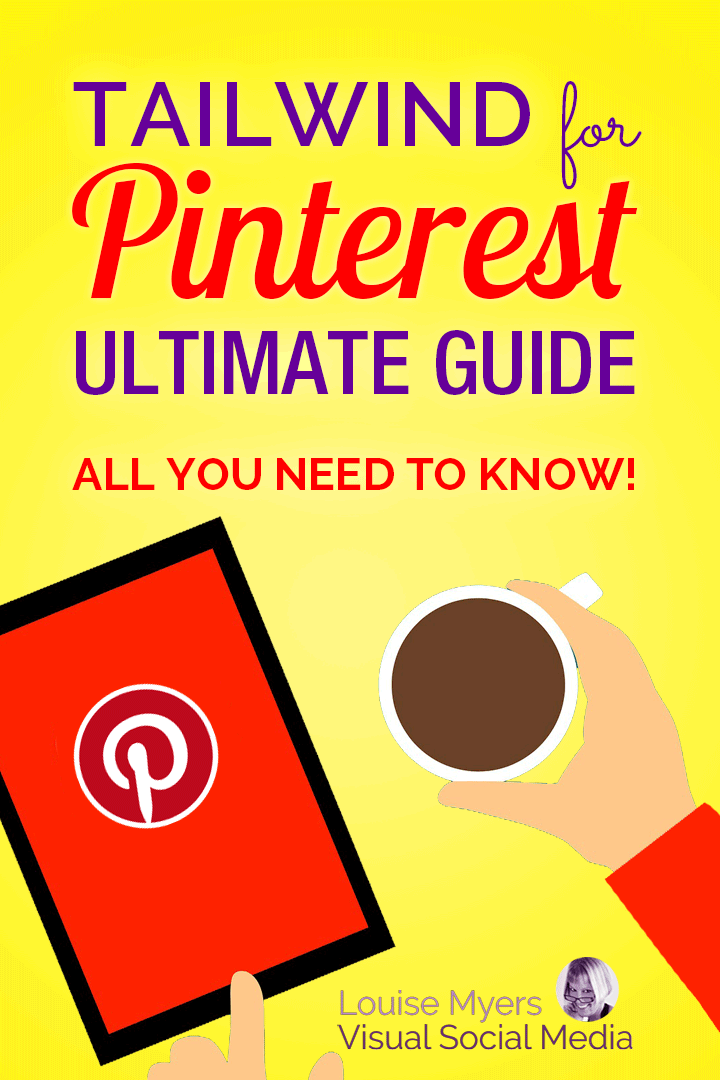 What about Tailwind reviews?
Who loves Tailwind for Pinterest? Just about everyone!
Yes, there are other schedulers, but Tailwind is simply the best Pinterest scheduler.
Why? Because it's designed for Pinterest!
Pinterest is unique among social media platforms in that you have multiple boards to share your content.
Pinterest has told us it's fine to post Pins to multiple boards! But who has time to do that, let alone figure out which one you saved to last?
You could use a tool that's designed for Facebook and Twitter, and schedule your Pins to one board at a time… over… and over… and over.
Or you can use Tailwind, and schedule one Pin to every single board that makes sense, spacing them out at a day, a week, or whatever interval you choose.
Plus, Tailwind is the best Pinterest analytics app, because they have a data-driven focus. This helps you determine what your audience loves and wants to see more of – and what's falling flat.
Okay, enough of my opinions! Listen to what these social media gurus have to say:
"I use Tailwind for my account and for clients that I manage, which is a dream because I don't need to sign in and out of Pinterest. If you want to get serious about Pinterest or offer Pinterest management to your clients, Tailwind is a must." ~Peg Fitzpatrick, Social Media Architect & Brand Strategist at Guy Kawasaki

"Tailwind's Scheduler allows me to engage effectively with my audience across the globe and ensure I don't "spam" my followers with too many posts at the same time." ~Neal Schaffer, Founder and Editor-in-Chief at Maximize Social Business

"Tailwind has got the right approach with a balance of topline summary KPIs and the option to dive deeper into the data for power users. Best of all, they are ever tinkering for better approaches and visualizations, and taking feedback from clients to tackle the research challenges we marketers face. Great work!" ~Peter Fontana, Research & Insights Director, We Are Social
See? LOVE!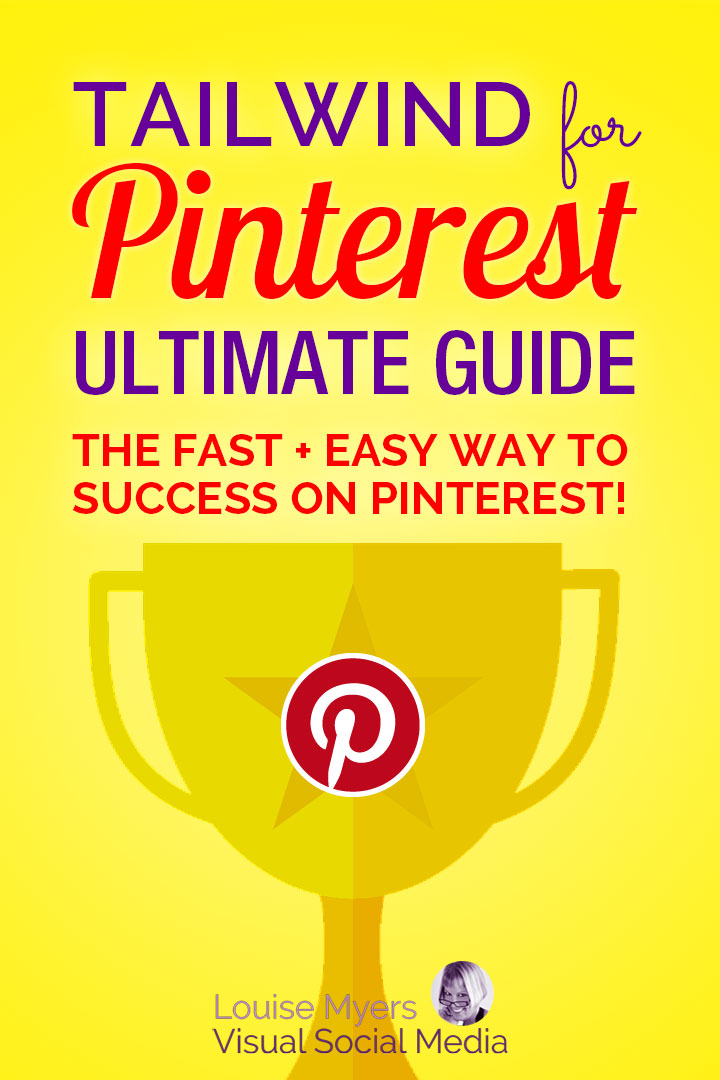 When do I need Tailwind for Pinterest?
Q: How many of my OWN Pins should I have before I begin to use Tailwind?
A: It's a great question. Sorry for an "it depends" answer, but…
If you want to automate and start growing your Pinterest account, you honestly could start with little or no content of your own. Find top-quality, viral content in your niche to Pin. This will start building your authority with Pinterest, and grow your followers.
OR, you might wait until you have about 10 blog posts with a few Pins for each. Then you could schedule each Pin to at least 4 different relevant boards, spacing out your Pins on intervals as noted above.
After 4 to 6 months, you can repeat the same process. Pinterest recommends not sharing the same Pin to the same board more often than that.
Can I get a Tailwind free trial?
Of course! Sign up with my link and start scheduling Pins.
How long is the Free Trial? There's no time limit! You can schedule up to 100 pins on Pinterest. No payment details needed!
Once Tailwind publishes 100 Pins from your queue, you can decide whether to purchase a plan.
• • • Click here to try Tailwind for Pinterest FREE • • •
Tailwind pricing: how much does Tailwind for Pinterest cost?
Bloggers and small businesses need the Plus plan.
Tailwind Plus plan includes:
Unlimited Pin scheduling (if paid annually, or 400 monthly).
Smart Schedule so your Pins post at the best times.
Analytics to evaluate your Pin, Profile, and Board success.
Website Insights.
30-day history archives.
5 Tribe memberships and 30 Tribe submissions.
250 SmartLoop Pins (1 Pin to 1 Board = 1 Looped Pin).
Add one Pinterest account.
All this is included for $15 billed monthly OR save 33% by paying for a year at $119.88.
If you use and enjoy the Tribes and/or SmartLoop features, upgrades are available.
These "PowerUps" are available in Max, Elite, and Unlimited at $9.99, 19.99, or 29.99 per month for either Tribes or SmartLoop.
You only pay for what you need!
Tribes will be most effective for new blogs trying to build traffic.
SmartLoop will be most effective for established blogs with lots of content.
Choose what works for you, if and when you want to.
Tailwind for Pinterest Wrap Up
Your options now:
Ignore the power of Pinterest to build your business.
Take time from your business to do the busy work of manually pinning.
Pay hundreds a month for an assistant to schedule your Pins.
Pay $15 a month for the magic of Tailwind pinning for you!
Start using Tailwind for free with no credit card required.
Pinterest sends you free traffic and leads when you use it consistently.
Make that easy with Tailwind for Pinterest!
• • • Click here to try Tailwind for Pinterest FREE • • •