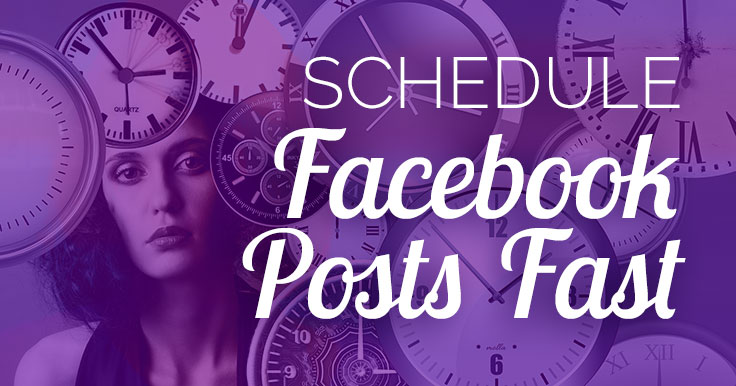 Want to schedule Facebook posts?
It saves you tons of time!
If you've got content that forgets to get posted, this will solve your dilemma.
And if you don't have content, or are always scrambling to figure out what to post, pick up a done-for you graphics package!
There are numerous tools that will schedule Facebook posts. Some have a free option, but will severely limit how many posts you can schedule.
But today, you'll see how to schedule right inside Facebook. Free and unlimited!
This feature is only available on business pages. For groups or personal profiles, you will need a paid tool.
Note: If you decide to purchase something via a link in this post, I may make a profit. I only recommend things I use and love!
First, Gather Your Content for Facebook Posts
You need content to post! In my example, I used the Holiday Graphics Pack of 25 images.

If you need to locate or create content, you'll need to make time for that.
If you buy a graphics pack, you can unzip the file and be good to go.
I decided to brand the 25 graphics from the package so I could tell you how long that takes.
Here's what I did:
Opened all the pictures in Photoshop. Then one by one…
Adjusted for Hue (Command-U), making most purplish (my brand color).
Typed in a watermark and adjusted its color.
Saved each using "Save for Web" maximum resolution JPG.
Time: 40 minutes to edit and add a watermark to 25 images.
You can add your logo or URL in any graphics editor, if you don't use Photoshop. Could be Canva, PicMonkey, or a watermarking tool.
Faster: post them as-is. 5 minutes to purchase, download, and unzip.
3 Easy Steps to Schedule Facebook Posts FAST
Logged in as an admin, go to your Facebook Page.
You can schedule posts right in the Status Update box at the top of your Page, or go to Publishing Tools –> Scheduled Posts –> + Create. The only difference is the text on the blue button vs. the drop-down arrow.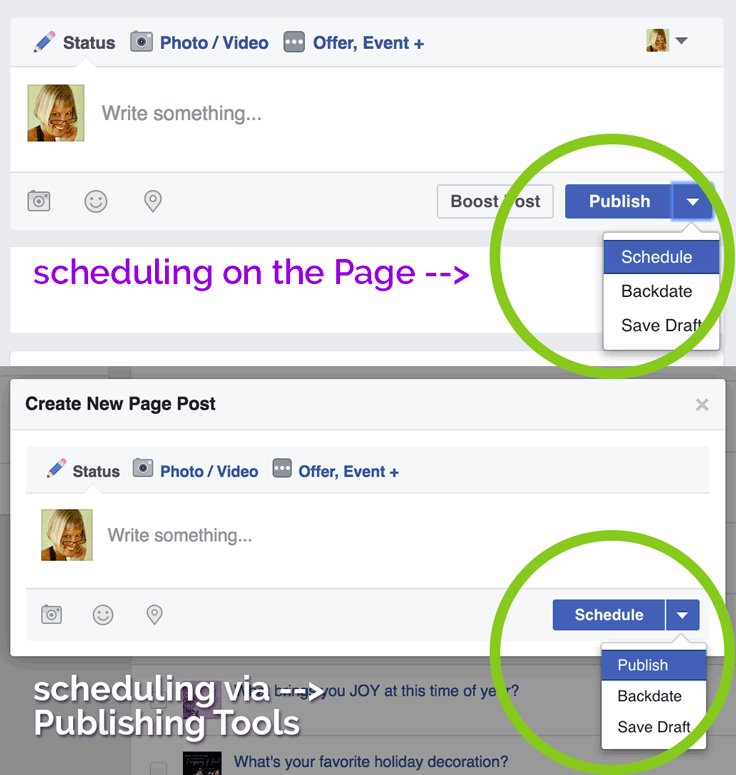 When scheduling images, I find it easiest to start with the image, then add the words.
Click the Photo / Video button and upload that first.
Type in your text. Keep it short, and use a question to engage your audience.
Find the schedule button and pick a time. Choose an odd time, like 6:17 or 9:53.
Rinse and repeat! When you have all your posts scheduled, glance over the list under Publishing Tools –> Scheduled Posts to ensure you didn't make any errors.
Time: 30 minutes for 25 posts.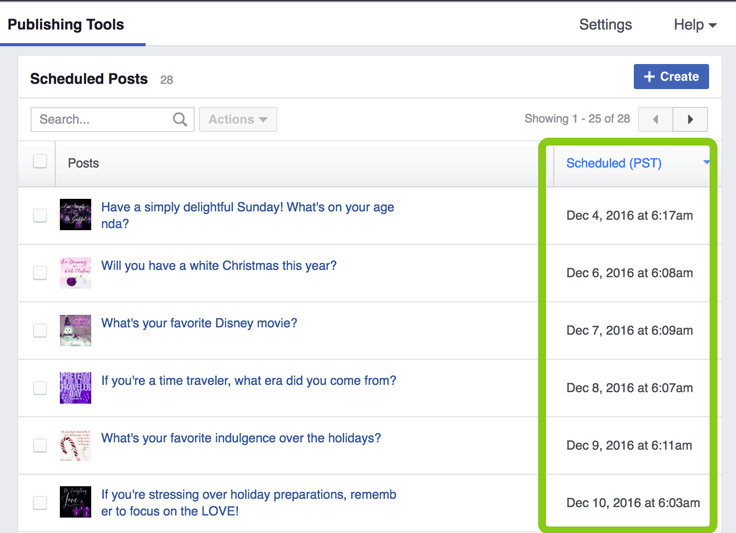 Conclusion
Five to seven posts a week is a good posting frequency for most pages. So you may want to schedule 21 to 31 posts for any given month.
Your time may vary, but if you have pre-made graphics, and get into a rhythm with your text, it saves so much time over posting them one-by-one. Imagine stopping what you're doing, finding what you want to post, and coming up with something to say. That's surely at least 10 minutes each time you post.
Other options (prices currently $9–$15 per month; try them out free):
Try it out! I'd love to hear what you think about this method to schedule Facebook posts.