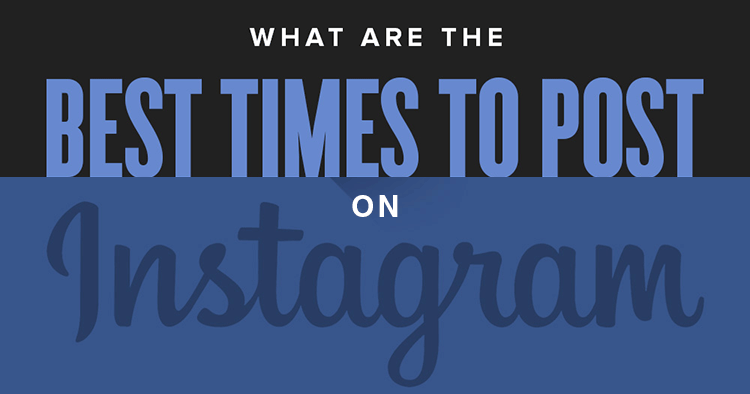 Wondering the best time to post on Instagram?
You've spent hours coming up with engaging Instagram post ideas and crafting great content in the best image sizes.
You've picked some great hashtags for Instagram, and maybe even a few popular emojis.
So of course you want to make sure your audience gets to see it!
Does when you post to Instagram matter?
It does, and we'll tell you how to nail it.
Why posting time matters
Every audience is indeed different.
For some people, the exact time of the post doesn't have a massive impact.
For others, if they miss their key window, the post is doomed to fail.
That's why it is important to understand why posting time matters, and how it impacts your own account.
Timeliness
One big consideration about finding the best time to post is an algorithm thing.
They call it 'timeliness,' and since 2018 it adds more weight to when something was posted.
It was part of measures to give users more control over their feed. It let them see new posts at the top of the feed with the tap of a button.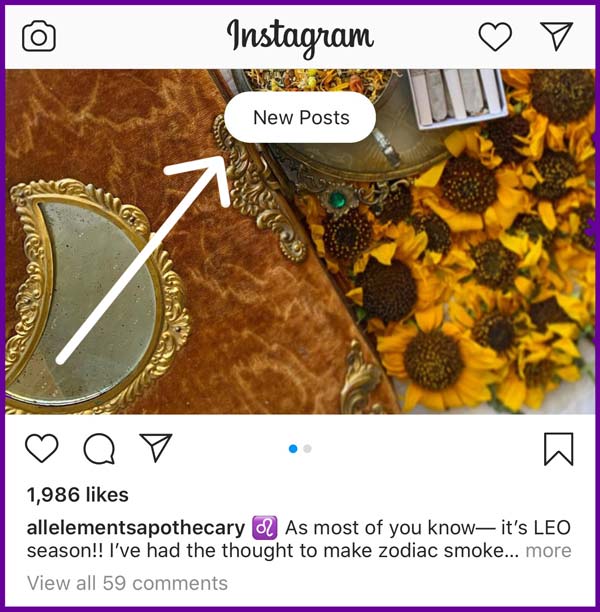 Engagement
The other reason why posting time matters is that it helps with engagement.
We all know the more likes and comments a post gets, the more people Instagram will show it to. By ensuring you post when your audience is around, you increase chances of engagement.
You'll get your stuff seen by more people. Work with that algorithm!
When is the best time to post on Instagram?
So, let's start with some general information on when the best time to post Instagram is.
In terms of time zone, studies have shown that working in Central Daylight Time (CDT) is top for getting the most engagement. So we will work with that.
2020 saw improvements to the platform with the addition of Reels on Instagram, enhancements to Instagram Stories, and encouraging discovery on the Explore tab.
The pandemic also seems to have had some impact on the time that people spend on Instagram. But interestingly, rather than widening the data, it has actually narrowed it.
There are now clear patterns about when it is a good time to post and when to avoid in 2021.
The highlights are:
Best time to post: Tuesday 11am – 2pm
Best general posting window: Mon to Fri 11am
Best day: Tuesday
Worst day: Sunday
During 2020, the trends showed that the best times became better. But the quieter times became even quieter.
Compare the charts below – 2020 followed by the new 2021 chart.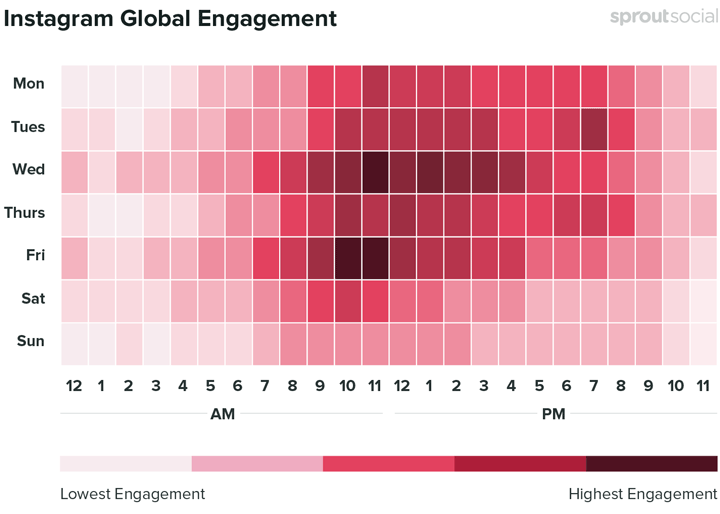 OLD 2020 Instagram Engagement time chart from Sprout Social.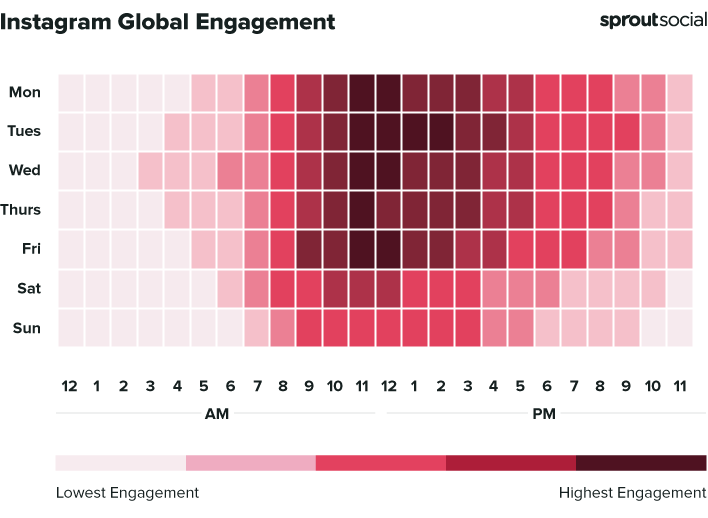 What are the best times for each day?
There are also some good recommendations about the best time to post each day. These work on your own time zone, or where your audience is located.
If you have a global, English-speaking audience, it's likely the majority of them reside in the heavily-populated Eastern time zone, so you can use that.
The best times to post each day are:
Sunday – 9am-3pm (no best time)
Monday – best 11am-2pm, generally 9am-5pm
Tuesday – best 11am-2pm, generally 8am-8pm
Wednesday – best 11am-12pm, generally, 5am to 10pm
Thursday – best 11am, generally, 7am-9pm
Friday – best 11am – 12pm, generally 7am-9pm
Saturday – best 10am – 12pm, generally 8am – 6pm
Snapshot of who should post when
There are even some general ideas about when to post for different types of industry.
These can also apply to bloggers in these niches.
Technology companies and blogs
Best time: 10am Wednesday (CDT)
Best day: Thursday
Best engagement: 10am-5pm (CDT) Wednesday to Friday
Worst day: Sunday
B2C companies and blogs
Best time: 10am & 1pm Friday (CDT)
Best day: Wednesday
Best engagement: 10am-3pm (CDT) daily
Worst day: Sunday
Education companies and blogs
Best time: 8am Monday (CDT)
Best day: Monday
Best engagement: 11am-4pm (CDT) weekdays
Worst day: Sunday
Healthcare companies and blogs
Best time: 1pm Tuesday (CDT)
Best day: Tuesday
Best engagement: 9am-4pm (CDT) Tuesday to Friday
Worst day: Saturday and Sunday
Non-profits
Best time: 3pm Tuesday and Wednesday, 2pm-3pm Thursday, 10am and 2pm Friday (CDT)
Best day: Tuesday
Best engagement: 12pm-5pm (CDT) weekdays
Worst day: Saturday
How to use your Instagram profile to find the best time
These general guidelines are great. But once you've been posting on Instagram for a while, there's a better way.
You can get information about your account from Insights.
This is customized data based on your account and your audience.
Add this to the general data and you can fine-tune your posting schedule.
Activity tab
If you head into Insights on your Instagram app, the first tab is content.
But the second one is 'Activity,' and there's some good data here.
First, there's your general reach. This is broken down by the last seven days.
So, you can compare what you posted to the days with the most reach.
Did your posts reach people or fall flat? Take some notes from here.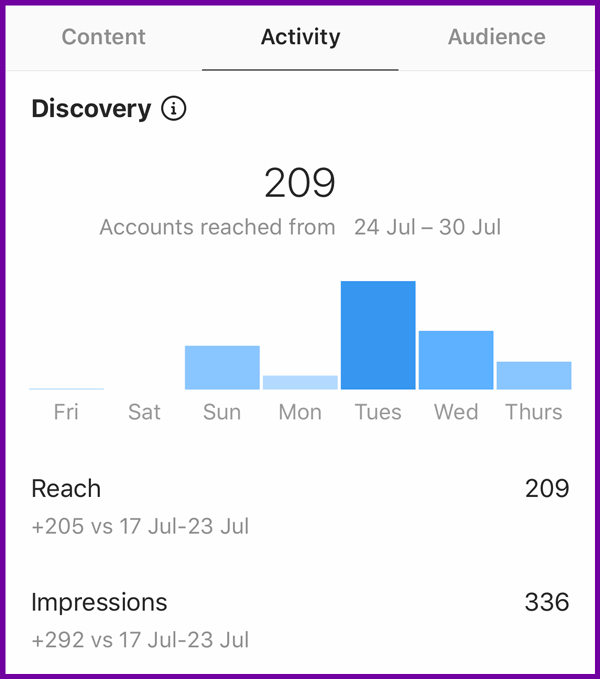 Interactions
Further down the same page is the 'interactions' section. This is looking at profile visits.
Again, it highlights the last seven days. It highlights the days you had the most profile visits.
Do they line up with when you posted? Or particular types of posts?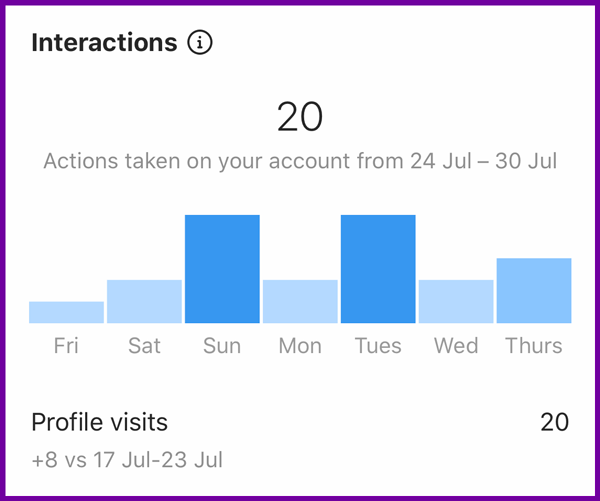 Audience
The final tab is 'audience' and there's information on followers here.
Scroll down to the bottom and you can see followers by hours or by days. Again, you can compare this with your posting schedule for a bit more context.
Here, you can see if you pick up followers at particular hours of any day. Or you can see if any day of the week brings in more followers than others.
Check it out on the two screenshots below.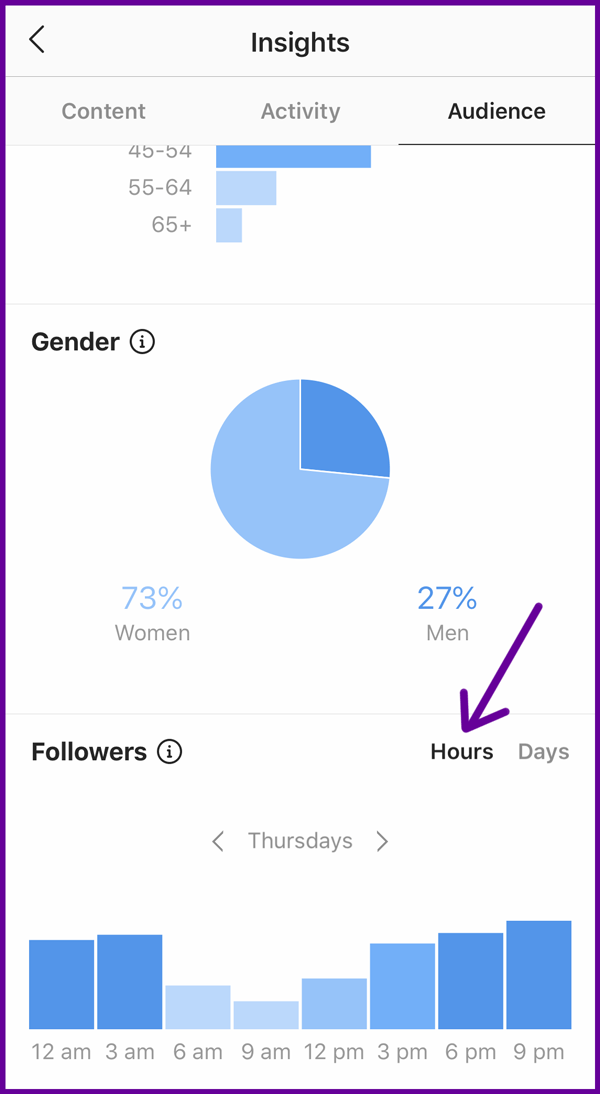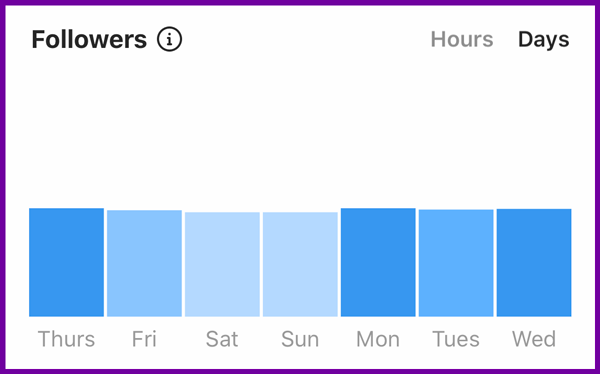 Top locations
One final element from Insights is top locations.
This doesn't help so much with day and time, but with the time zone.
By default, it will show you the town or city where most of your audience lives. Or switch to 'Countries' for a broader picture of where your followers fare concentrated.
Two screenshots below: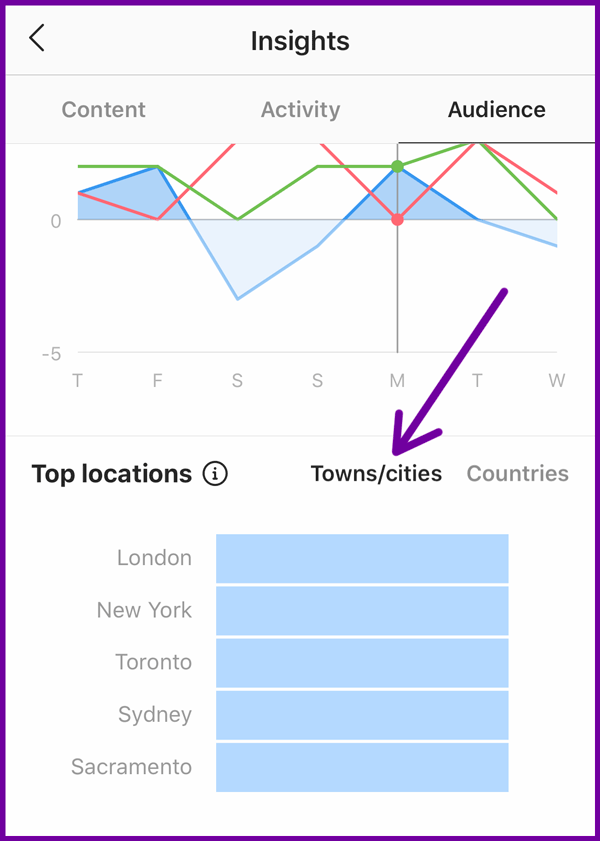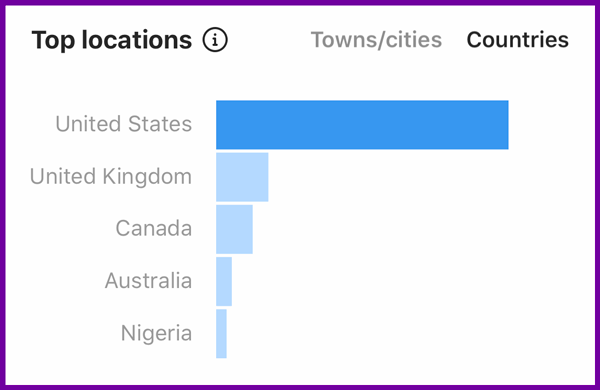 Both of these can help you pick a time zone to base your posting schedule on if you are unsure.
For example, if your audience is mostly in the US and one of your top cities is New York, then Eastern is a good bet.
When using any of these metrics, check them every month for changing patterns.
Using Tailwind to optimize posting times
If you want to cheat with getting the best times to post on Instagram, I've got a solution.
It's called Tailwind!
Most of us know Tailwind from Pinterest scheduling, but it does an equally awesome job at posting to Instagram.
And one of the best features for scheduling is available. It's called the Smart Assistant.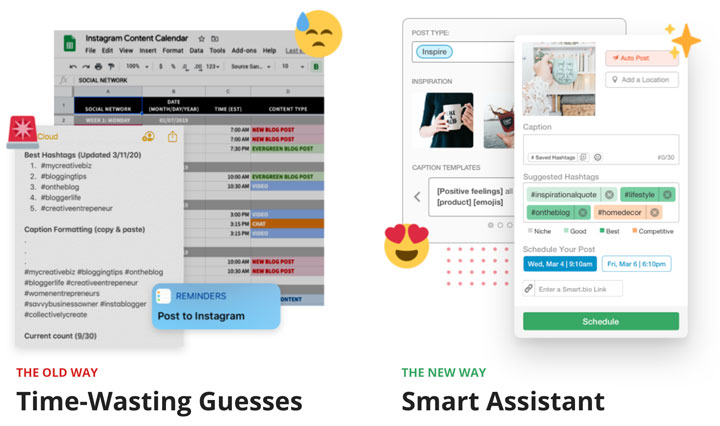 Similar to the Smart Schedule for Pinterest, it helps optimize every post. It lets you:
Optimize the time of every post by using a color-coded content plan based on your business.
Auto posts your content so you don't need to worry if your best time is the middle of the night your time.
Has a handy hashtag finder and adds them to the first comment.
Combined with the analytics it offers, Tailwind makes Instagram so much easier.
No spending hours with time charts, time zones, and post numbers.
You can let it figure out when to post and get on with it!
• • • Click here to try Tailwind for Instagram FREE • • •
Disclosure: If you use my link, I may earn a referral fee at no cost to you.
Optimum Instagram posting times
By hitting the optimum Instagram posting times, you can reach more people.
You can increase engagements, followers, and fulfill your IG goals.
There's a bit of research involved – unless you opt to let Tailwind do it for you!
But learning the best time to post on Instagram is definitely worth the effort.
Come back often to review, and the latest updates! For a quick link, Pin the infographic from QuickSprout to your Pinterest board.
Once you've done a bit of research, comment below and tell me when is your best time to post on Instagram?