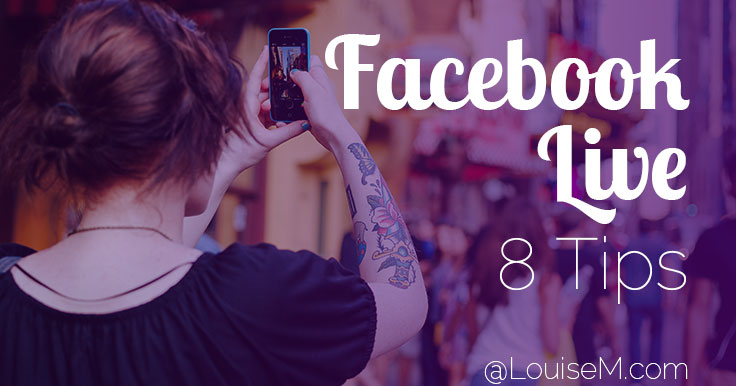 Have you tried Facebook Live?
I did! My very first live streaming experience.
At the time of writing, it was available to iPhone users on personal profiles only. The fact that it's my personal profile made it a little less intimidating for my first stab at it.
How to Use Facebook Live Streaming
Facebook Live is easily accessed when you go to write a status update on your phone. (Don't choose Photo/Video, as you can only upload, not live stream, from there).
You'll see the Live button to the far right.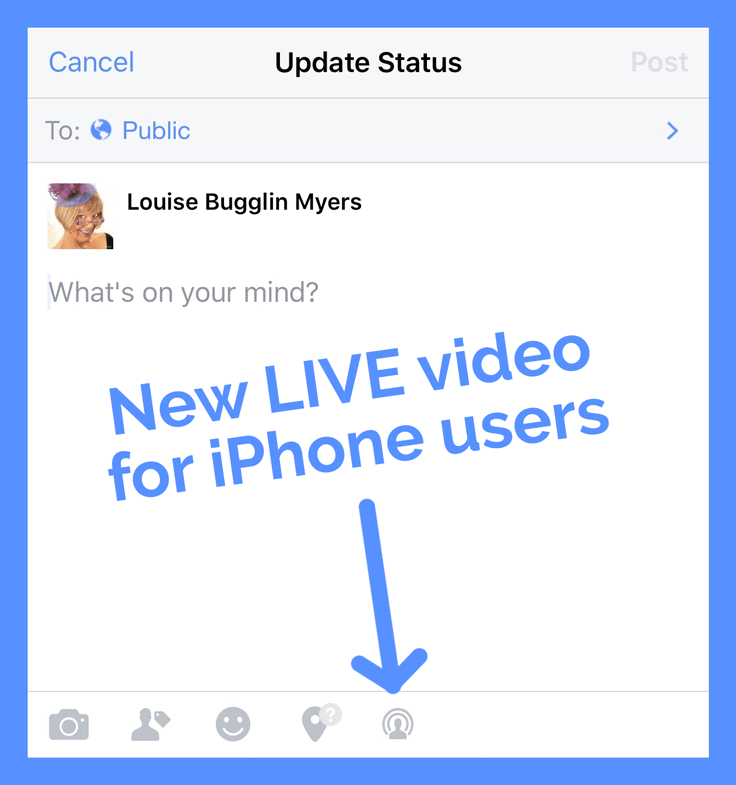 I urge you to try it out! I got an amazing response on mine.
I will tentatively say that I may even try it when it comes to Pages. As of early 2016, only a very few verified Pages have it.
Somehow it seems less intimidating to me in that it's part of Facebook – not some scary new app like Periscope or Blab. And (so far) not in front of potential clients! 🙂
Here's how it works:
In the Facebook app, begin to compose a status as usual.
Instead of entering text, look for the new icon just above the keyboard at far right. Tap it.
Fill in a title and select your privacy options (friends, public, etc.).
Select front or rear facing camera in the top-right corner.
Go Live!
Once you begin streaming, an alert will be sent to your Facebook friends, notifying them of your stream. The top half of your screen will show what your viewers are seeing. The bottom half of the screen is where notifications of comments and new viewers will show up. source
My own video was just a 45 second clip of the wild weather we had Sunday, January 31. You can look for it on my personal profile if you're interested!
Here's an awesome recorded Facebook Live video from Kim Garst, on 5 silly reasons you're (I mean I'm) not using live streaming for business.
(I know, I know, it's what all the cool kids are doing!)
5 SCAREDY CAT REASONS TO NOT USE LIVE STREAMING IN YOUR BIZ. Let's Kick 'Em To The Curb #ShareTheLuv #Scopuary

Posted by Boom Social with Kim Garst on Wednesday, February 3, 2016
8 Top Tips for Facebook Live for Business
Just getting prepared – I know this day is coming soon! In the meantime, most of these tips are useful for your personal FB Live streams as well.
Pin the graphic for later. Below it are more detailed tips.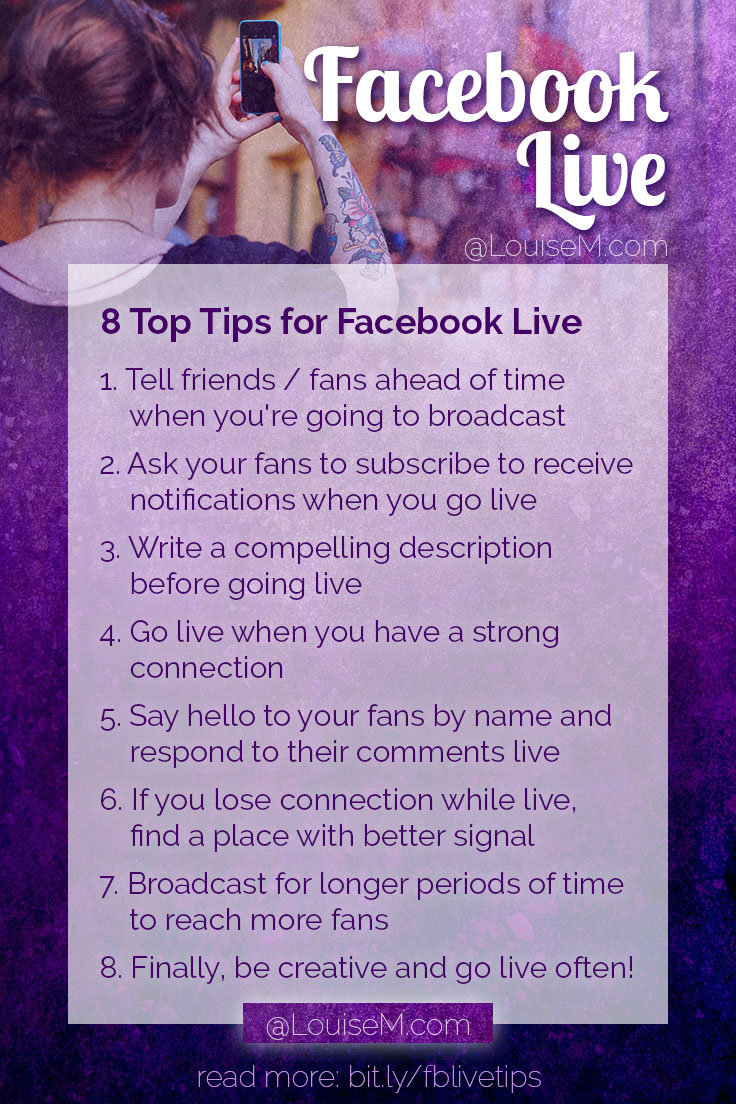 1. Tell fans ahead of time when you're going to broadcast
Build anticipation by letting your fans know when you'll be broadcasting live.
2. Ask your viewers to subscribe to receive notifications when you go live
Call out that fans can tap on the subscribe button on live videos and videos that were live to get notifications the next time you go live.
3. Write a compelling description before going live
A great description will capture fans' attention and help them understand what your broadcast is about.
4. Go live when you have a strong connection
Check the app to make sure that you have a strong signal before going live. If your signal is weak, the 'Go Live' button will be grayed out. Try to find a location where you're on wifi or have at least a 4G connection.
5. Say hello to your fans by name and respond to their comments live
Your fans will be thrilled to hear you mention their name and answer their questions when you are live.
6. If you lose connection while live, find a place with better signal
If you lose connection while live, don't panic! Go to a place with better signal and your app will automatically try to re-connect. If you are unable to re-connect, your existing broadcast will still be saved to your Page. Think about whether you want to delete it before starting a new broadcast.
7. Broadcast for longer periods of time to reach more fans
The longer you broadcast, the more likely fans are to discover and share your video with their friends on Facebook. We recommend that you go live for at least 5 minutes and we've seen some public figures broadcast for over an hour.
8. Finally, be creative and go live often!
Try different types of broadcasts – and go live frequently – to keep fans engaged.
Over to You
What do you think? Will you try Facebook Live?