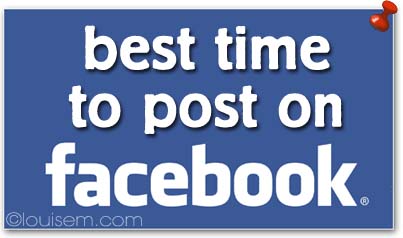 Wondering when to post on your Facebook Page?
What is the best time to post on Facebook?
The best days and times, as well as the worst, are revealed in a new report from Buddy Media. [pinit]
Best Time to Post on Facebook: New Buddy Media Report
Many Facebook Fan Pages are doing it all wrong.
Wednesday is the most common day for Fan Pages to post, yet Wednesdays have the lowest fan engagement: the rate at which users Like, share or comment on Facebook Page posts is 7.4 percent below the average daily interaction rate.
Only 14 percent of posts by brands are published on the weekend, yet posts on Saturdays and Sundays receive 14.5 percent more interaction compared to weekday posts.
The Buddy Media report analyzes user engagement from more than 18,000 Facebook Pages of the world's largest brands, for the months of April & May 2012 (after the switch to Timeline). These pages have many thousands of fans – for the small business FB Page, your mileage may vary. The point of the report, however, is well taken: the best time to post on Facebook is when fans are the most active. "When not at work, people are more likely to spend time perusing Facebook and interacting with Page content," the Buddy Media report says.
Thus, users are most likely to engage with Fan Page posts in the early morning and evening. Fan Page posts published between 8 p.m. and 7 a.m. receive 14 percent higher interaction than those published between 8 a.m. and 7 p.m, the report found.
Interesting tidbits:
Keep it short. It's all about brevity on Facebook. Posts with 80 characters or less receive 23% higher interaction than longer posts.

Use photos.  Photo posts receive interaction rates 39% higher than average. Status updates, which contain only text, see interaction rates 12% higher than average, while posts with links or videos drive fewer likes, comments and shares than average.

Limit brand posts to one to two times per day (brands that post one or two times per day see 19 percent higher interaction rates than those who post three or more times per day).

Call to actions still work. Telling fans how they should interact will help drive specific types of interaction.

When fans are asked to like a post, there is a 3X higher like rate than when not asked to like.
When fans are specifically asked to comment on a post, there is a 3.3X higher comment rate than when they are not asked to comment.
When fans are asked to share a post, the share rate is 7X higher than those posts not asking fans to share.
Download the full report, "Strategies for Effective Wall Posts: A Timeline Review," and you'll learn much more, including the best days to post for each industry.
My experience has been, when posting during evenings and weekends, I need to focus on being entertaining. Fans don't seem to be as interested in thinking about work during their off-hours.
What about you? Have you found a best time to post on Facebook? Please share with us in the comments!