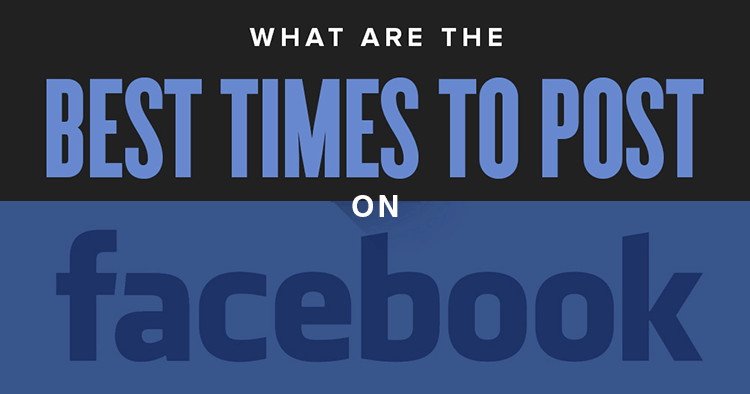 Wondering the best time to post on Facebook?
You've created content your fans love, and are hoping for a chance to go viral on Facebook.
You're ready to schedule on Facebook – but when?
Your best time may differ from mine, your local hangout's, and WalMart's. But it's nice to start with a clue, and measure your success against it.
So here's a head start, with stats from several recent studies
You'll also learn to use Facebook Insights to build a picture for your own account.
Let's find out when's the best time to post on Facebook!
Why posting time matters
As Neil Patel says,
Your visitors and followers prefer using social media sites during specific hours. So if you start sharing your content when your users are on these social sites, you'll not only gain more shares, but you'll also notice an increase in traffic.
In other words, if you post when everyone is asleep, no one will react to your post!
You've probably heard (or experienced!) that organic reach can be poor for Pages. So you need to do everything you can to optimize your posts to get seen.
Plus, there's this matter of timeliness. It's a big part of the best time to post on Instagram.
And it also works on Facebook in a way. Sometimes the content you create needs to be released at just the right time.
If you post about a social media holiday, you want to get the peak time on that day. Or the content just won't do anything (and will look a bit weird).
When is the best time to post on Facebook?
If there's one thing you can guarantee about Facebook, it's that no one can agree on anything!
The same applies to the best time to post.
There are loads of ideas about when it's best, and no definitive answer.
So, let's look at a few of the suggestions:
1pm-3pm weekdays and Saturdays (Buffer)
9am-3pm weekdays (Adweek)
11am-1pm Wednesdays (Sprout Social)
1pm-3pm Thursdays and Fridays (HubSpot)
8pm Thursdays (TrackMaven)
1pm-4pm later in the week and weekends (CoSchedule)
What does this tell you? There's no 'one size fits all' answer to the question!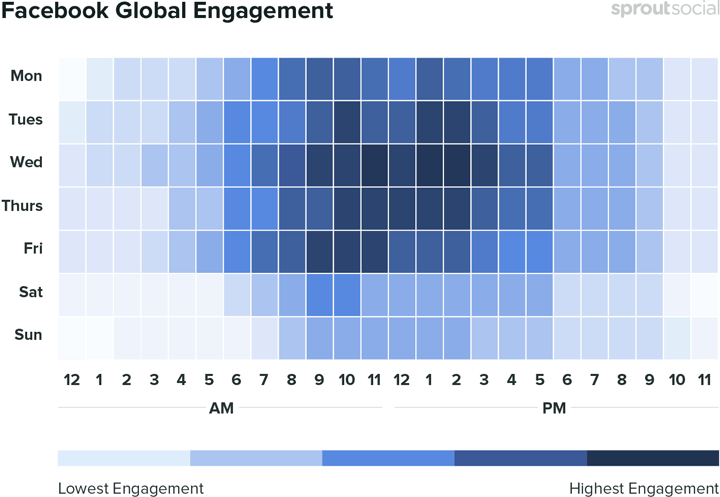 Best times to post for best Facebook engagement via Sprout Social.
What are the best times for different niches?
Another way to look at the best time to post is by niche.
There are different times that are worth posting. And others to avoid.
Hootsuite found there's a difference in the best times and days depending on if you are B2B or B2C.
In other words, if you blog about blogging, you are mostly B2B – business to business.
But if you sell handmade products and blog about it, you are mostly B2C – business to consumer.
Mondays and Tuesdays are best for B2B brands. But Tuesdays are also great for B2C businesses.
If you are B2C, try to post around noon (EST) to catch people on their lunch break.
For B2B niches, you have a wider window from 9am until 2pm (EST).
Product sellers
Let's say you sell products. The best times to post can be:
Best day: Wednesday, Friday
Worst day: Sunday
Best time: 1pm Wednesday, 11am Friday
Avoid those hours before and after typical work times. So, don't post before 8am or after 5pm.
Media niches
Maybe you have a news blog or are the media niche. The best times to post can be:
Best day: Wednesday
Worst day: Sunday
Best time: 5pm, Tuesday, Wednesday, and Thursday, 8am-9am Friday
Weekends tend to be a bit quieter. But you can get good engagement from 8am until 10am most days.
Education niches
If you have an educational niche, the best times to post are sensible:
Best day: Wednesday
Worst day: Sunday
Best time: 9am Wednesday, 5pm Saturday
If you are blogging about school events or sports, aim for mornings and nights. Unless there's a big event, then remember timeliness!
Tech niches
If you blog about the latest tech or products, the best times to post can be:
Best day: Wednesday
Worst day: Sunday
Best time: 9am-noon Wednesday
Once it reaches 6pm each day, your audience moves onto something else. So, save posting for the next day (or post earlier!)
Finance niche
If you talk about financial matters and products, the best times to post can be:
Best day: Wednesday
Worst day: Saturday and Sunday
Best time: Noon, Wednesday
Lots of financial businesses run classic office hours. So, posting within these times can catch people. Again, once 6pm comes around, your post reach will probably die off.
How to use Insights to find your best time
That's the general stuff to help you get started. But the best way to find when to post on Facebook is simple: use your own account to get the information.
Facebook Insights is the built-in analytics platform that every Page has.
It contains loads of useful information about your specific account. It's the best place to decide what to post and when.
Reach
Head into Insights and select the 'Reach' option on the left side menu.
Here you'll see a graph that shows your post reach.
It might be a bit random, but you can spot if there were any spikes.
Was it on certain days?
Also, check the 'Posts' section for that day to see what you posted.
This helps you spot what worked. You can try something similar to see if when it posted helped too.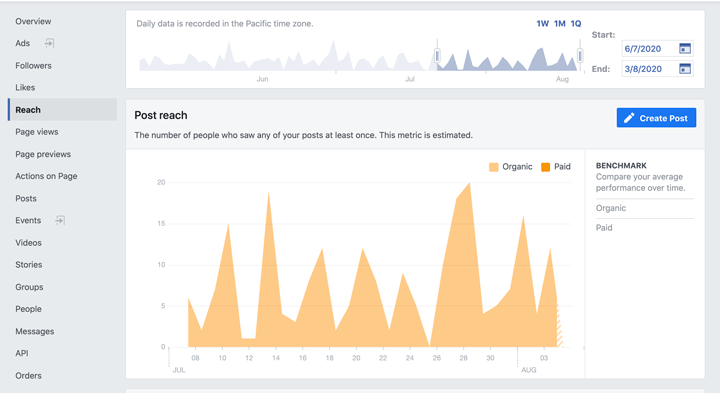 Posts
Also, in the posts section is the area that tells you 'when your fans are online'.
It shows the last seven days. So, if you check it each week for a month or two, you can spot patterns.
You can also see those published posts and see what reach and engagement they received. Remember, you are looking for patterns.
The graph below also shows the most active time of the day.
This helps you spot when your audience is around the most.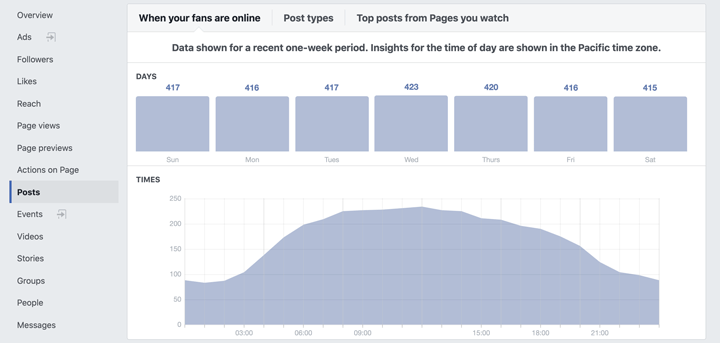 People
The final section to check is 'People'.
This tells you where most of your audience is by country and city.
So, if most of your audience is in the US and in cities like New York, then decide your best times to post by Eastern Time.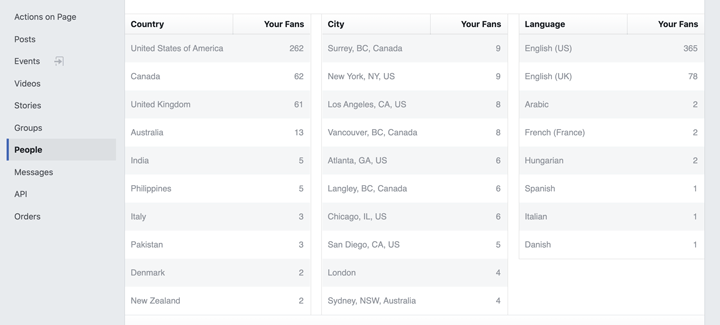 Using tools to find the best time to post
There's one final way to get some data on when to post to Facebook:
Third-party scheduling tools like SmarterQueue.
Lots of these have ways inside them to analyze your profile and see when is best to post.
You can search the profile for the lifetime it has been running, or for a specific time period.
There's loads of information here including:
Engagement by content
Posts per month
Average likes per post
Average shares per post
Average comments per post
But the one we're most interested in is the posting times.
This is a graph that shows days and hours. It shows posts and likes color-coded to see when you had the most reaction.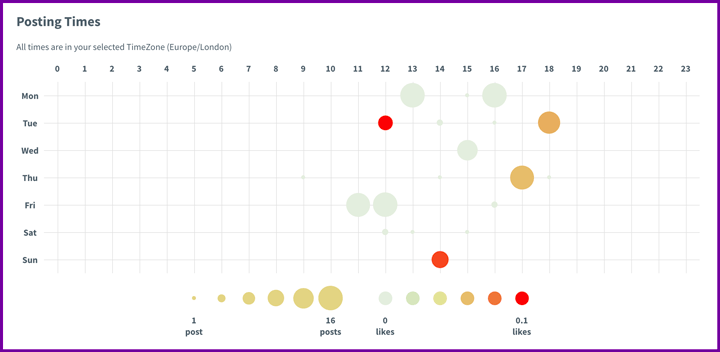 Nailing the best time to post
Nailing the best time to post for your account takes a bit of research and testing. But the results are worth it.
With organic reach in decline, you need to make the most of data, so every post is seen.
Learning the best times to post on Facebook is one part of this.
Understanding data from your own account is the other.
Like to see it visually? Check out the infographic from QuickSprout below! Pin it to Pinterest as a reminder.
Then take a look at your analytics and leave a comment below. What's your best time to post on Facebook?