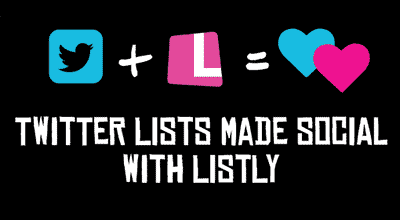 Twitter lists just became a community builder.
Previously, you made one, others could follow, the end.
But now you can collaborate on Twitter lists – with your community, right on your blog.
Made possible by the magic of Listly!
What's Listly?
If you haven't heard of Listly, it's a fabulous tool for creating list blog posts – the most popular thing you can post. And the coolest thing with Listly is that your blog posts gain visibility over time, instead of fading away. My most popular Listly post has over 70,000 views as I write this.
As of today, you can import one of your existing Twitter lists to Listly, or start a new one from scratch, and invite your community to add to it, vote on it, and more!
Try these tips to create a popular Twitter list:
Think about what value you can create for your community.
Share and embed your Twitter lists (it's easy with the free WP plugin).
Invite people to contribute.
Leave gaps – don't fill your list with everyone you know.
Invite people to subscribe to your Twitter list.
Focus on flushing out the experts to add to your lists.
How to Create Listly Twitter Lists, Step-by-Step
Listly Twitter lists made before Jan 15th will always be free. So get cracking! Here's how:
Create a Twitter list first, populated or empty (content will get sucked into Listly).
Then create a Listly list, choose type = "Twitter," and select the list you want.
It can take 10 minutes for additions to hit the Twitter list.
Turn on moderation if you want.
Items in moderation queue are not sent to the list. Items moved to the queue are removed from the list.
Don't add to your Twitter list directly (as that won't end up in Listly).
Anyone can add to your Twitter lists by adding to the Listly list.
Check the infographic for more tips on how to co-create Twitter lists. Be sure to pin for reference! Then let me know how Listly is working for you.

Twitter lists infographic by Listly.