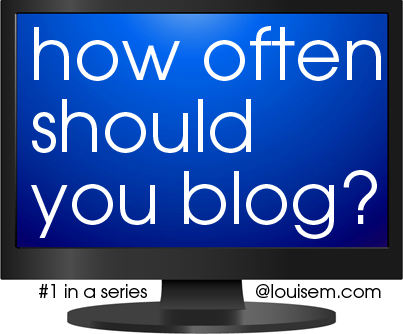 Have you wondered how often to blog?
Can you blog too much – could that even be possible?
For the month of January, I'm taking part in the Ultimate Blog Challenge, where the goal is to blog daily for all 31 days of the month. I signed up, even though my intent was to blog 3 times a week – which is double my last year's average of 6 posts monthly (see last year's website traffic report). Why do I have concerns about blogging too much?
How Often to Blog: 8 Reasons I'm Afraid to Blog Too Much
Concerns if I push myself to post daily:
Quality of each post goes down
Can't keep all posts on-topic for my blog, diluting my message
Quickie posts don't have much longevity
Won't have time to do my most popular type of post, a tutorial
RSS subscribers will be overwhelmed and unsubscribe
My readers are expecting 1 – 2 posts a week
My readers don't have time or interest for so many posts
I'll be neglecting other important business tasks
My main concerns are about lowering the overall quality on my site and my site's focus, which could decrease my Google ranking as well as my subscribers.
In addition, I'm not certain how much traffic quickly-done posts will bring. My site has a handful of quality posts that bring in hundreds of pageviews daily, for months – those are the posts I'd like to make more of!
If only I were psychic and knew which those would be 😉
Finally, I'm concerned about neglecting more-important business tasks. Last year I had a tough time prioritizing what benefited my business most, and I don't want to start the new year doing the "wrong" things first.
For the flip side, tomorrow we'll look at the benefits of blogging daily. Then the next post will share more blog challenge benefits!
How Often to Blog: Conclusion
I can't give a definitive answer for myself – yet. I'll keep checking my stats and keep you posted, though. But your best blogging frequency will vary by your audience.
I recommend blogging as often as you can blog consistently. Minimum for any small business: once monthly. Preferable: at least once per week. But commit to a pace you can maintain. Why? Both your readers and the search engines will know what to expect. And hopefully, so do you – so you'll allow time in your schedule for each blog post!
What's your opinion of my thoughts on how often to blog? Do you think you can blog too much?