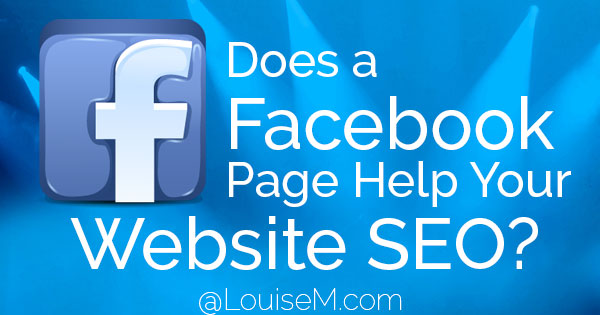 Have you heard this? Having a Facebook Page will boost your website's SEO.
A friend and I were just chatting about this yesterday. And I wondered:
Does just having a Facebook Page help in some mysterious way?
Does your page need to have lots of likes?
How about engagement on your Facebook link posts?
And how exactly does it help your website SEO?
Turns out, there's not a lot of info on this subject. Then I finally found this great post:
Does Facebook Activity Impact SEO?
The author ran a test to see whether sharing a link to a web page on Facebook alone can cause the web page to be indexed by Google. And the results were quite interesting.
In short, the answer was a definitive NO. And almost all the commenters (there were quite a few) agreed that their experience was the same. You can check out the post for details.
However, social media marketing IS still worth your time. Check out this article: how social media supports your SEO efforts.
Regarding Facebook pages, I uncovered a stat that says
70 Facebook shares plus 50 "likes," give rise to 7% rise in search ranking for websites."
Now, that a LOT of shares, and even likes, for your average blog post. My website traffic is quite good, and I'm not aware that I've ever had that many shares of a post, even ones about Facebook, with many thousands of views.
So, we can stop spreading the Facebook myth that simply having a Facebook Page helps your website SEO.
It doesn't.