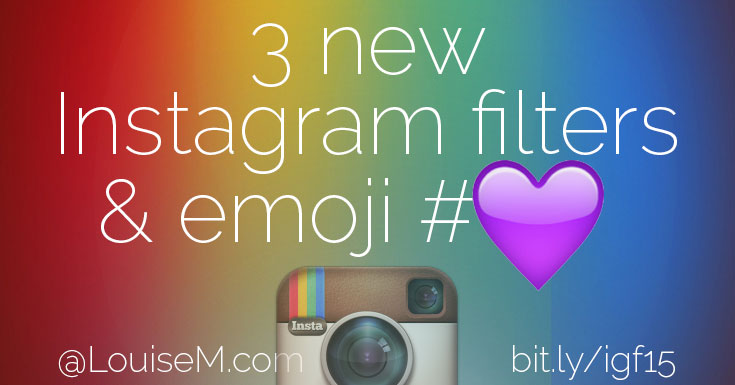 Seen the new Instagram filters?
The NEW new ones! There was such a great response to the 5 filters that debuted in December 2014 that Instagram just added 3 more.
And they promise that more will be coming – as part of their commitment to creativity.
If you aren't using Instagram filters and / or editing tools, let me encourage you to try them. They're really quite powerful, and so easy.
You'll be hearing more from me about them, as I've become rather obsessed with 'em! Except for print projects (for which I use Photoshop), Instagram has become my go-to photo editing tool.
These 3 new filters – Lark, Reyes and Juno – subtly enhance your photos, like the 2014 group of filters. Some of the original filters can look too obvious and a bit cheesy. Lark, Reyes and Juno brighten and enhance your photos in refined ways.
Lark desaturates reds while punching up blues and greens to bring your landscapes to life. Beware the eye-popping blues, though!
Reyes brings a dusty, vintage look to your moments. Like a dusting of talcum powder!
And finally, Juno tints cool tones green while making warm tones pop and whites glow for vibrant photos of people.
These just came out, so I haven't had much time to play, but Reyes looks like it might be useful for underexposed photos. You can see their effects on a selfie below, and on a landscape in my pin at the end of this post.

Emoji Hashtags!
Along with the 3 filters, there's a bonus update: you can now use emoji hashtags.
Over the past few years, emoji have become part of a universal visual language. And just as we share photos and videos, we use emoji to communicate emotions and feelings in ways that anyone can understand, regardless of language or background. With emoji hashtags, you can discover even more by adding them to your own photos and videos, searching them on the Explore page and tapping on them when you see them in captions. source
I discovered that, in one day, there were already 30,000 photos tagged to the purple heart emoji!
These features are already available on Instagram for iOS version 6.11.10, and Instagram for Android, 6.20.0.
What Are Your Next Steps?
Here's what I recommend:
Update your Instagram app
Try out one or more of the new filters
Hashtag #imadethisgraphic, and tag me @louisemcom
Because I'd love to see what you come up with!
I completely recommend playing with filters to see which might enhance your photo. You can always go back to being "Normal!"
Once a filter has been selected, you can reduce its effect by tapping again and adjusting the slider. So many possibilities!
Know anyone who might enjoy the new Instagram filters? Share!