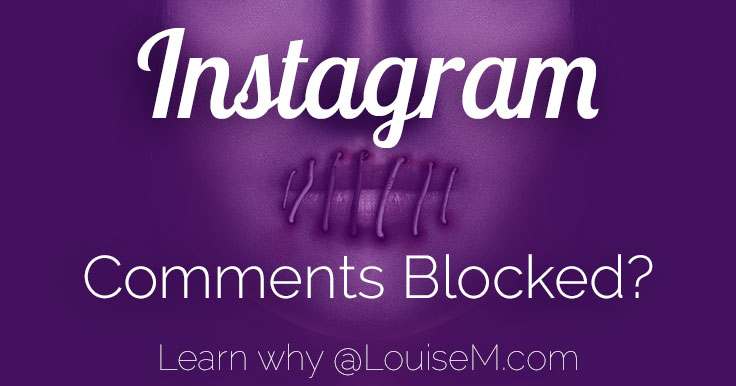 Have you had your Instagram comments blocked recently?
IG continues to battle spammers, and innocent users are caught in the aftermath.
Duplicate comments and, as of July 2015, comments with several users tagged, are now being blocked by Instagram.

If you weren't aware, spammers (and some marketers) use automated "bot" commenting to draw attention to their accounts. It's an annoying aspect that we have to put up with as the Instagram audience grows, becoming a more and more attractive target.
Now Instagram is hoping to stop bot commenting by blocking comments that duplicate what a user just posted.
Friends and I have noticed this on our personal accounts when we write "Congrats!" or similar to more than one person. Totally innocent, but IG only sees it as a duplicate comment – and blocks it.

If you're marketing on Instagram, please don't use bot commenting. Even if your comments are varied or spaced out enough to not get blocked – auto commenting is just flat-out annoying.
If you're just trying to make a number of quick comments, then add a few relevant emoticons. I think everybody actually likes those! 🙂
As Instagram continues to crack down, consider including the person's real name in the comment, too. Not only does this add a personal touch, it will help Instagram see it as a genuine, un-automated, comment.
New Issue: Instagram Comments Blocked for Tagging Users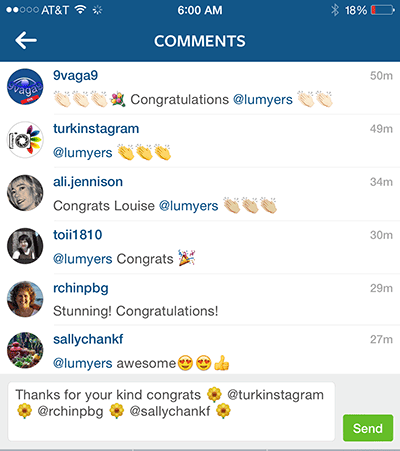 Updated August 2, 2015: Over the past month I've had comments blocked when I've tried to thank a few users who have congratulated me on being featured by a "hub" account (see sample comment at right). This is disconcerting, as Instagram tells you your comment may be "abusive." Certainly that would be the furthest thing from my mind!
After having that happen 3 times, I gave up tagging anyone who was not following my account. Now I'm tentatively tagging non-followers if they've tagged me first. This seems to be acceptable – for now.
Again, this blocking is due to those abusive spammers who tag numerous users in comments – usually on a post to "get free followers." Ugh!
I have to admit, since this crackdown, those obnoxious spammers have declined greatly. Small price to pay, I suppose – as long as we nice folks don't get confused with spammers, and possibly have our accounts closed!
I suggest you err on the side of caution. If I get another comment blocked due to tagging others, I'll return to only tagging my followers.
If that doesn't work, I'll have to stop thanking people for congratulating me on hub accounts. It's not worth risking a banned account.
Updated September 25, 2015: Instagram has eased up on me for tagging multiple users in a comment thread. I did it a few times today and didn't get blocked. I was replying to people who had already commented in the thread, as in the image above right.
IG Comments Blocked on Accounts with over 50K Followers
Updated September 25, 2015: I'm starting to hear a lot about this one. Several 'grammers have found this post and left comments begging me to resolve this. Here's my answer.
Starting a new account and quickly posting on huge and/or celebrity accounts is not typical behavior. Well, I imagine it's typical of spammers! The only solution for this one? Don't do it. 
If you're not a spammer, then be cautious of posting on accounts with huge followings immediately after opening an account. But really, who seeks out the biggest accounts on IG in their first days?
Spammers, that's who. Just don't do it.
How to Get Instagram Comments UNblocked: A Reader's Tips
Updated May 10, 2016: Here's advice a reader left in a comment. Not sure if you have to do ALL these things, but essentially, you want to make your profile look like a real person:
Add / change a profile picture and description.
Delete your link if it might be suspect (affiliate links, typos, possibly shortened links).
Use Instagram normally. Do NOT use automation!
Comment very little, if at all.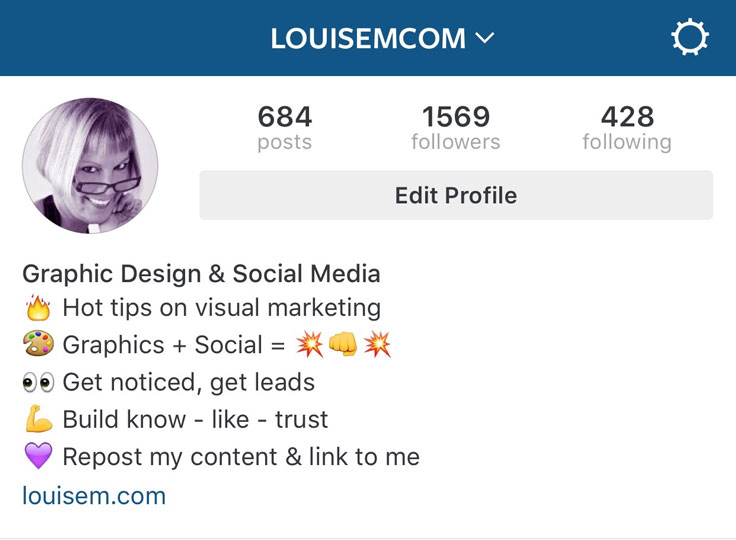 QQ says:
I had the same problem. I could only post 3 comments every 24 hours. If I posted more than 3 comments I'd get banned for 24 hours from commenting (could still like pictures, follow people – just couldn't comment.)

I did the following things:

– Change my profile (just write something new in your profile; maybe don't leave any links until you're unbanned from commenting too).

– Set a profile picture.

– Log in and out of your Instagram account.

– Go on your computer and log into Instagram. Like some pictures and try commenting at least once.

– On your phone, use Instagram normally: just browse, look at pictures, search hashtags, like some pictures, (show that you're not a bot).

– Set a gender: male or female.

– Don't comment for a few days or a week, but do all the above.

– Post two pictures (6 hours apart) every day.

I got unbanned in 4 days doing all this. I can comment all the time now, like pictures, follow etc. Good luck!!
Thank you QQ for sharing!
Quick Fix for Instagram Comment Block on iPhone
Updated February 11, 2017: I haven't tried this, but just read about it from someone who said they do this on a monthly basis. I don't know what other ramifications changing this setting might have, so beware.
The simple solution if you are on iPhone. Go to your settings -> General -> Reset -> Reset Network Settings. This will give you new IP address.
How Long Will It Last? What Can I Do?
I know you want answers, but…
I have no idea how long your block will last. Just be sure you're not making duplicate comments or multiple tags, which would likely make it worse.
Be sure you have the latest version of Instagram and your mobile OS. Old versions may prevent your comments from posting.
Never tag more than 5 users in one comment. Source: Instagram.
Try Instagram on your browser. At least one user has reported this resolved his issue.
If your app has frozen, you can try a hard shutdown of your device. This worked on my iPhone. I have no experience with Android or Windows devices, so do your due diligence before trying anything.
If you still can't open Instagram, you can try deleting the app and reinstalling. Again, check this out first before trying. I'm not qualified to provide tech advice!
Read the comments to see if other readers have left advice you can follow. Leave advice if you have any. If you ask a question, be aware that I have no further advice beyond what I've provided in this article. Maybe another reader can help.
Be real, be authentic, be you – and be careful not to get your Instagram comments blocked!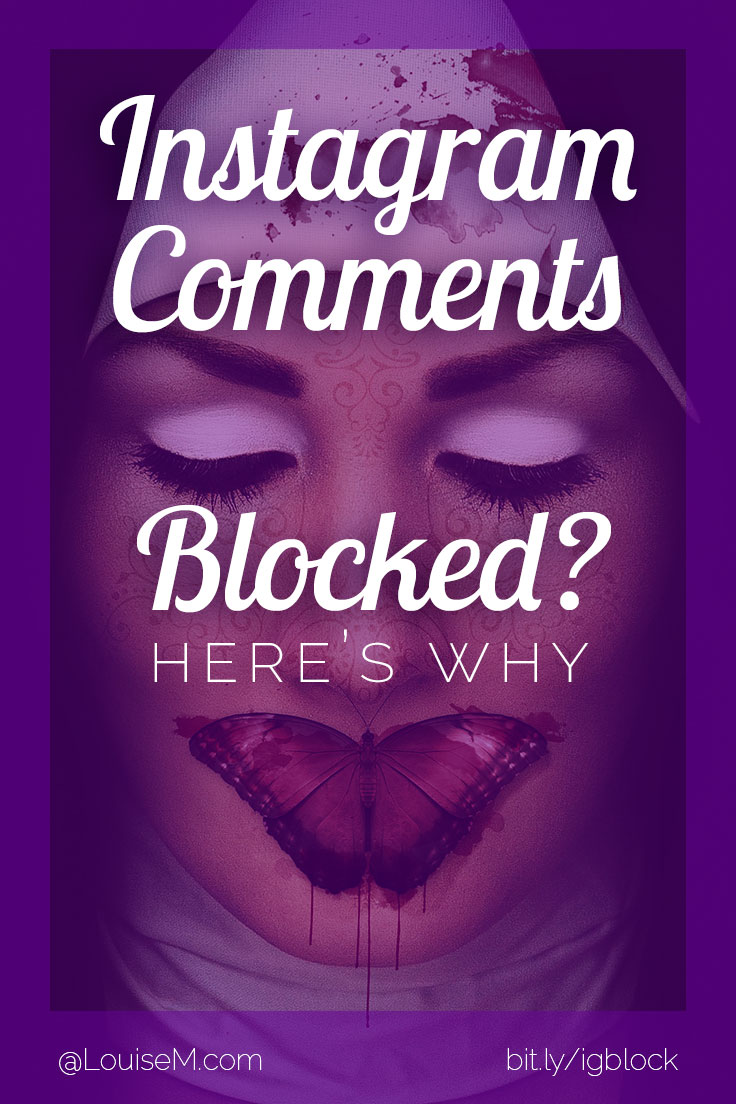 This post on blocked Instagram comments was originally published in April 2015 and has been updated 6 times.