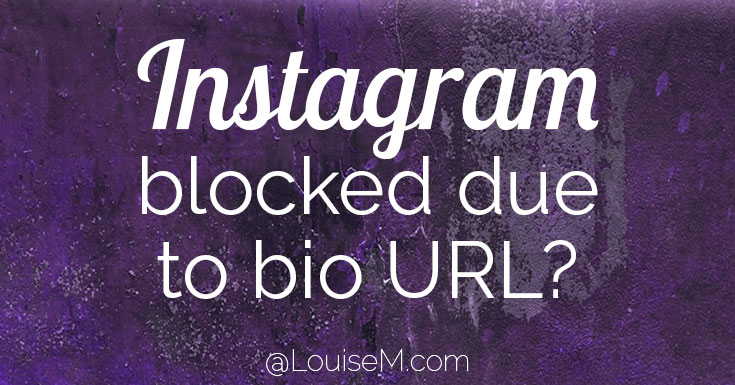 Did Instagram block your bio link?
Due to my wildly popular post on blocked Instagram comments, I'm hearing more and more about this happening.
Like a lot of changes to the platform, it may have to do with Facebook.
Or not.
But here's fair warning, and one workaround.
Don't Post Links to Your Snapchat or Telegram
Just two months ago, Instagram disabled the ability for users to encourage others to follow them on Snapchat or Telegram. Tech Crunch announced this on March 3, 2016:
Previously Instagram users were able to include 'add me'/'follow me' links in a website section on their profile page, directly linking out to any other profiles they had on third party social services' apps. Now attempting to type one of these links to a Snapchat or Telegram profile, within the Instagram app's website field on a user's profile, results in the following message…

A spokesman for Instagram confirmed the change to TechCrunch, providing the following statement: "We've removed the ability to include 'add me' links on Instagram profile pages. This was a rare use-case, and not the way our platform was intended to be used. Other types of links are still allowed." source
So if this is what you've been trying to do, you know you should stop trying.
Don't Post Links to Your Etsy Store
UPDATE August 13, 2016: I just heard from a reader who was informed by Instagram that etsy.com/shop/ URLs are not allowed. Now she can post photos, but nothing else – no captions, comments, or follows.
Apparently this has been going on since April 2015. The problem now is – she can't even change the link.
Some Etsy sellers reported that the format shopname.etsy.com worked fine, but others said they had problems with that too.
One person said using their own domain name that redirected to their Etsy shop worked – but no guarantee that will continue.
Beware linking to an Etsy shop in any format. Definitely don't use etsy.com/shop/shopname.
What If My Website Link Is Blocked by Instagram?
So, you're posting a link to your own website and getting a notice that your URL is blocked. You know your site isn't spammy, and perhaps it's even been allowed before.
Whether your URL is blocked by Instagram or Facebook, try the Facebook debugger:
You might try running your website through the Facebook Debugger:
https://developers.facebook.com/tools/debug/?ref=u2u

This tool was built to help to identify any errors that Facebook is reading from your website, and help provide information on what needs to be fixed to unblock your link.

From there, you can get help from your developers team or from the Facebook Developers team to make your website compliant and help our systems detect it as safe. Click the link below and select "Get Started" to open a support ticket with the Facebook Developers team (this option may not be available for all websites): https://developers.facebook.com/tools-and-support/?ref=u2u
source: IG help on FB
This same advice was provided over and over when people were complaining about this issue. I'm hoping it works for you!
That debugger link is pretty handy for a number of things, including getting Facebook to pull up the right image with link posts. Bookmark it, or this post!

What If My Account Is Blocked by Instagram Due to My Link?
Unfortunately, I've been hearing from people who can't even get into their account because of the link in their bio.
At this point, I don't really know what you can do. Asking support seems to be fruitless.
One account was unblocked after a week and was able to remove their questionable link. Another account disappeared – so I don't know what happened to it.
But first, try to patiently wait it out.
If you end up setting up a new account, I suggest:
Don't post a link to Snapchat or Telegram.
Don't post a link to an Etsy shop.
DontMakeUpAPhonyURL.com – one account was blocked for doing this.
Triple check your URL for typos. One account was blocked for spelling "Instagtam."
Run your link through the FB debugger before posting.
Don't post affiliate links.
Be cautious of posting a shortened link (ie, bitly).
And finally, don't post other people's content without permission. Your account may be reported and then blocked.
NOTE: I haven't had any trouble with bitlys. Just a suggestion if you want to be extra cautious.
Did You Fix an Instagram Block Due to Your Bio Link?
Have you found a solution? Please help the Instagram community by sharing it in a comment here! I will add the info to the post ASAP, with a link to your IG account if you like.
Please share this post with others so we can resolve the Instagram block on bio links!