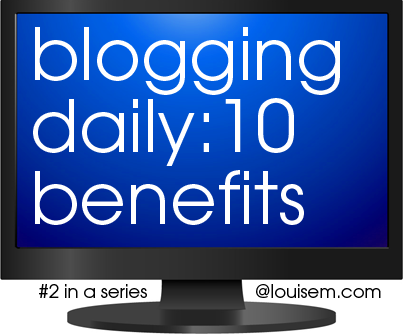 What are the benefits of blogging daily?
Is it worth setting aside time in your schedule to post daily?
Many bloggers recommend it. The small business marketing experts at HubSpot do too. Check out the following diagram from their small business study The 2012 State of Inbound Marketing.

10 Benefits of Blogging Daily
Let's consider the benefits of daily blogging. Each post you publish:
Has leverage. You can enjoy traffic and sales today, and for months and years in the future.
Contributes to the overall value of your blog, increasing the library of information for your readers.
Helps establish your authority as an expert.
Creates another opportunity for your content to be shared across social media channels.
Provides an opportunity for back-links from people referencing your content, which improves search engine ranking.
Gives another entry point to your website or blog.
Helps strengthen your relationship with your readers.
Creates more potential ad space, ad impressions, and total page views, boosting your revenue potential.
Allows you to stay on top of hot topics and trends within your niche.
Gives readers another opportunity to participate in active discussions via blog comments.
Of course, your posts need to be of high quality and relevant to your prospects' needs. Can you keep up?
What Do YOU Think?
If you're blogging for qualified leads for your small business, HubSpot has a great Inbound Marketing System.  Try the FREE 30-Day Trial!
Do you have the time or resources to post great content daily? If you've  you tried it, what were the results? What's your take on the benefits of blogging daily?
Share and Enjoy