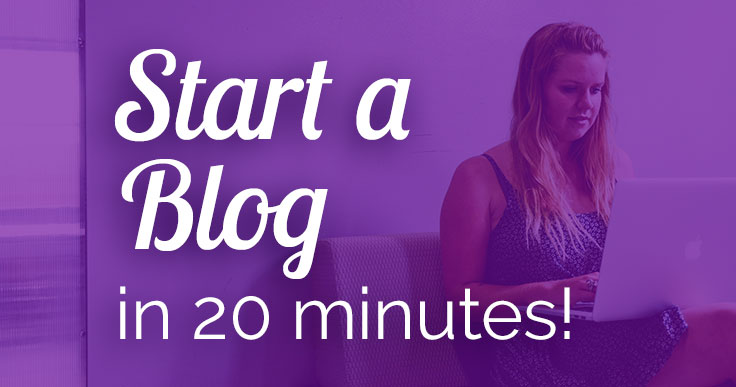 Want to start a blog but are short on time?
In this post, you'll learn how to start a blog as fast as possible!
Having a blog is quickly becoming as necessary as having email. Almost every business leader has a blog. It is now an established fact that a blog is one of the best ways to establish a reputation as a subject matter expert and gain credibility.
But, for most non-techies, starting a blog is still a scary affair that conjures up images of complicated coding and dent in the pocket.
Nothing could be further from the truth! Read on as we show you how a 7 or 77 year old can set up a blog in 20 minutes flat with little or no coding knowledge.
Start a blog in four easy steps
1. Select a slogan, domain name and description
A name is everything. A domain name is your unique address on the Internet, for example, mysite.com. People should be able to know what your blog is about simply by reading the domain name, so choose it wisely.
Domains are registered for a minimum of one year with a domain registrar. There are many domain registration companies online. Perform an online search to confirm the availability of your preferred name. If the name is available, proceed and register it.
Annual domain registration fees usually range from $10 to $20 depending on the registrar and domain name prefix. Examples of domain name prefixes include .com, .net, .org and so forth. Most domain name registrars also double up as web hosting companies so you get to kill two birds with one stone.
The slogan you choose for your blog should be also short and precise.
It is important to note that you can also start a blog without registering a domain name. This is possible using free blog services such as WordPress.com and Blogger.com. In such a case, your blog would be hosted on a subdomain, for example. mysite.wordpress.com or mysite.blogger.com. However, we discourage this because there are serious disadvantages to using free sub domains. The most glaring is the fact that you actually don't own your site. Your site can be deleted on a whim and you can't do a thing about it.
2. Select a content management system
A content management system, or CMS, is the engine that runs your blog. A good CMS eliminates the need turn into a geek. There are many systems out there such as WordPress, Blogger, Live Journal, Moveable Type, Tumblr and many more. However, one CMS beats all hands down and that's WordPress.
WordPress is over a decade old and has a large user community that contributes plugins, little snippets of code that extend the system's usability.
Your hosting account will usually come with a one-click install solution for a CMS. Install the CMS and proceed to the next steps below.
3. Choose a design and layout
WordPress usually comes with pre-installed designs known as themes. You can also browse the massive theme library at WordPress.org to find a theme of your choice. Make sure the design, layout and color scheme gel with the theme of your site.
4. Write your first post
Once your blog is set up, all you need to do is write your first post. A good blog post should focus on one key message. Having one key message allows you to focus on one keyword which is good for search engine optimization (SEO).
A few tips to speed-up your blog
Finally, it would be remiss of me if I didn't discuss the issue of speeding up your blog. Speed is now a ranking factor. Sites that load faster are getting a good bump in search rankings.
Search engines like Google have found it necessary to include speed in their algorithms because Internet audiences are increasingly becoming an impatient lot. Research has established that most users close the browser window if a page fails to load within 7 seconds. Many new bloggers fail to take speed into consideration and search rankings end up tanking.
There are a number of simple things that you can do and which have a big impact on page load speed. These include:
Images used in the blog article should be web ready. Web ready images are scaled down versions of the originals. They contain less image information and hence, are smaller in size. They are essentially a comprise between image quality and size. WordPress has a number of plugins that prepare images for the web. You can also do it yourself using a free image editing tool such as Gimp.
Only use necessary plugins – another mistake made by new blogger is to install too many plugins that end up slowing the site. Only use the plugins you need and no more.
Conclusion
So, there you go! Four easy steps to get you started. As Neil Patel says,
Creating your own presence on a blog, forum, online magazine, or simple website is simple, fun, and rewarding.
Want more? Read my in-depth tutorial here.
• • • Click here for the Ultimate Guide to Starting a Blog • • •
Select your domain name, choose a CMS, find a good theme, write your post and don't forget to adhere to the speed optimization tips. Once you have gotten the hang of it and understand the basics of running your blog, read the documentation to find out how you can get the most out of your blog.
Know others who'd like to know how to start a blog? Please share!