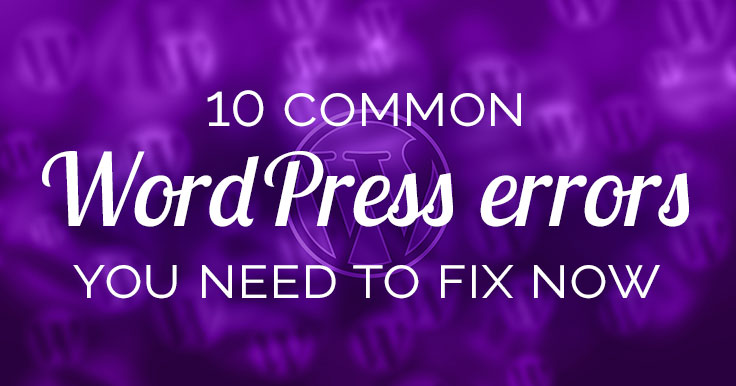 Got a WordPress error?
Wondering how to fix it?
Check out the tips on the valuable infographic below to fix the 10 most common WordPress errors.
When looking for the best platform for setting up your own business website, one of the most recommended across the Internet is WordPress.
And why wouldn't it be heavily-recommended?
It has a rather simple and straightforward interface.
It's free to download, develop and use.
It's easily extendable with many themes and plugins, provided by both official WordPress developers and third-party ones.
It's search engine-friendly (which means you won't need to struggle much with your SEO efforts).
It's safe and secured.
It has the ability to handle different types of media for whatever purpose they may serve.
It has an open-source framework (which means that it's open for many types of websites).
Of course, this doesn't mean that WordPress is infallible or indestructible. Like everything else, it can also fall prey to errors that can be confusing – especially for beginners who aren't familiar with the errors they're facing.
WordPress errors can range from easy-to-solve ones, to more complex and serious errors that can take a bit of effort to correct.
(Read on after the graphic).

Luckily for its many users, WordPress is one of the easiest mediums to work with in terms of website creation and usage, so solving its most common problems is also a piece of cake.
Because of its popularity, many users have seen its various errors before, and they have been researched, experienced, or diagnosed by web developers and other experts who are focused on WordPress usage. So it's relatively easy to find resources that tell you what you need to do when you encounter a particular error.
With WordPress, there are 10 problems that have become commonplace experiences for users – beginners especially.
White screen of death (WSOD) on WordPress
WordPress internal server error
WordPress error establishing database connection
404 error on WordPress
Maintenance mode after upgrading WordPress
Admin locked out on WordPress
WordPress syntax error
WordPress login page redirecting or refreshing
Broken images on WordPress
White text and missing buttons on WordPress
Learn more about them in this infographic brought to us by the professional WordPress support team, NewtLabs.
Pin the infographic for reference, and share with your friends and followers, so they can solve their own WordPress errors.