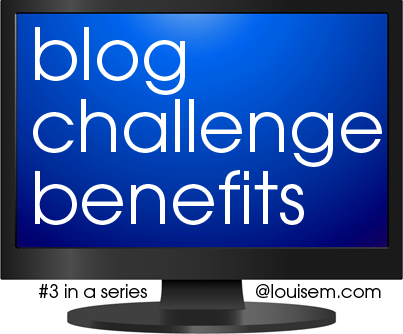 Have you taken a blog challenge? Or are thinking about it?
There are various blog challenges to take, with different requirements and goals. I joined the Ultimate Blog Challenge, where participants commit to blogging daily for a full month. Yesterday we looked at the benefits of blogging daily. But there are benefits from a blog challenge beyond those for your website.
12 Blog Challenge Benefits Beyond the Blog
Developing a daily habit of writing.
Finding your blogging "voice."
Honing a skill: writing faster and better.
Finding your niche by learning what your readers appreciate most.
Discovering topics for ongoing series.
Stretching yourself and feeling good about completing a goal.
Connecting with other bloggers for support, comments, and sharing over social networks.
Widening your own online social network.
Finding potential joint ventures, guest bloggers, friends, and clients.
Adding content to raise your website's visibility in the search engines.
Producing content to repurpose into books, freebies, webinars, infographics, and more.
Getting great ideas for more blog posts.
I admit – the last item was my top item for joining the Ultimate Blog Challenge! Michelle Shaeffer is a successful business blogger who shares a motherlode of ideas about blogging, and blog post topics, during the "UBC." I wanted to virtually "pick her brain" a bit!
You'll also find topic ideas from reading other challenge members' blogs. What's your take on a subject?
And, I've already made some great friends and supporters, and gotten one idea for an ongoing series: website traffic report. Readers found my first traffic report inspirational, encouraging me to post one monthly, or at least quarterly.
I still have concerns about blogging too much, but – I'm finding that scheduling one day of the week to write my main post(s) for the week may be the most efficient for me. Scheduling / planning was an issue for me last year. I no longer want to be writing on Thursday night in order to have a post to go out in my Friday blog broadcast!
You may find that writing for a specific amount of time daily works best to complete your blogging goals. Take a blog challenge and learn what works for you!
Will You Take a Blog Challenge?
What do you think? If you've taken a blog challenge, please share your experience! Even if you haven't, what do you think of the blog challenge benefits?