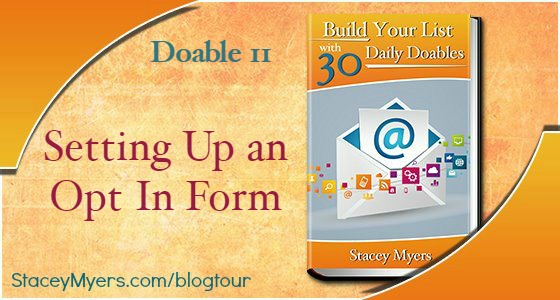 Hi, readers!
Join me as we learn How to Build Your List by Setting Up an Opt In Form, by my friend Stacey Myers.
~Louise
Setting Up an Email Opt In Form
Now that you have the list created, you need to make the form that is going to go on your website, or wherever else you choose to host it. This will usually be on your website but could also be on a Facebook page.
If you don't have a website the other option is for your autoresponder provider to host the form for you. This isn't ideal and I would recommend that you get yourself a website with some hosting.
You are going to need a website eventually, so you may as well get one now.  You can get hosting for $5 a month and domain names aren't very expensive. I buy all of my domains and my hosting from one hosting company. What I like the most about them is their amazing customer service. They will help you get everything set up. You can buy domain names a bit cheaper elsewhere but for the convenience of having it all in one place, it is worth the extra couple of dollars I spend.
While inside AWeber click on "Sign Up Forms" and click on "Create Your First Sign Up Form."  
Here you can have a play around with various different forms.  There may even be one with a picture that is going to suit what you are going to give away.  You can also change some of the colors, words, and also the size.
I quite often just go for a plain one.  I also remove all the 'Email Marketing by AWeber' as well, by hovering over it and clicking on the X. It is up to you if you want to leave it there or not.
It is in the header part here that you will want to add a bit more if you are not going to host the form yourself.  Add some writing at the top of your form so that people know what they are getting.  Not all the forms will allow you to do this so play around for a bit until you find one where you can add additional writing at the top. You can simply add the name of the report and a benefit or two if they will fit. This isn't the ideal way to do it, but it will get you started.
Once you have chosen your design simply click "Save Your Form" and then "Go to Step 2."  On this next page you will name your form. This is purely for your reference so you know where the form is going. It might be at the bottom of a blog post, a stand-alone landing page, on a Facebook tab, or in your sidebar.  
You have a couple of other options on this page as well.  You can enable Facebook registration so people can click and subscribe with their Facebook account. I only use this one when I am putting my form in a Facebook tab. I think it asks to access too much information. When other people have these, I don't always opt in for that reason. So I figure other people may feel the same.  It is purely a personal choice. I know people that love the feature and use it all the time.
The next option is one that we touched on before. Here you can decide where people are going to end up after they have opted into your form. It is in here I put in the Thank You page I referred to earlier. As I don't generally use the double opt in, they only end up there once after they have initially opted in. If there isn't a double opt in, my first follow up email is already making its way to their inbox.
I always leave the "Already Subscribed" option as it is. Click on 'Save Your Form' and 'Go to Step 3'.
On this next page there are three options:
I will install the form – click on it to open it out and you have two further options – Javascript snippet and Raw HTML version.  The Javascript snippet is the one I use.  The good thing about using the Javascript snippet is that if you go back into AWeber and make a change to your opt in form then it will automatically change the form wherever you have it placed the code.  It doesn't work this way if you use the raw HTML version.
My web designer will install the form – if you have a web designer you can email the code to them directly from inside the system.
Have AWeber host my form – this is the option to use if you don't have a place to host your form.  Here you will find a link for you to share.  Copy and paste it into the URL bar on the internet and you can see what it looks like. Make changes to the form and it will make the changes to the page.
This section can freak some people out because you are getting code to place on your website. It is like most things – easy once you know how. We will be covering how to do this in tomorrow's blog post.
Pin this post on Setting Up an Email Opt In Form.