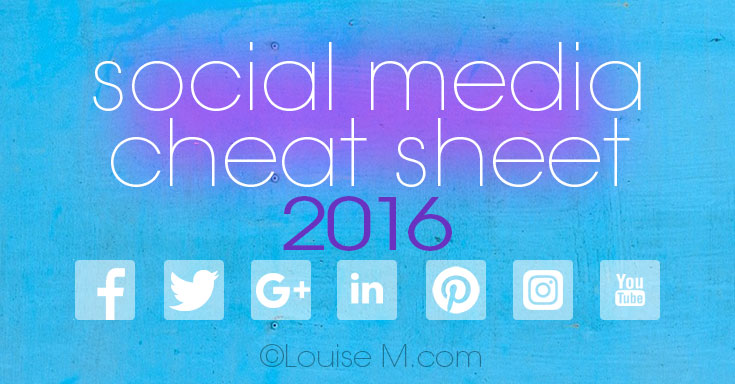 Searching for the ultimate social media cheat sheet?
I've been looking forever, and can't find one that's completely correct. So I made my own!
Simple – but accurate! Outdated infographics  are still widely posted and shared, despite their misinformation. Here are the updated social media sizes, as of April 3, 2016.
April 2016: Facebook Cover Photo size updated to 828 pixels wide from 851.
Also: Pinterest pin height shown in mobile feed will be cut off if taller than 2.8 times height.
January 2016: Twitter sizes updated to new square format (most mobile devices still crop to horizontal).
November 2015: Tumblr sizes added (text only).
September 2015: Instagram sizes updated to new UNsquare format.
The 640 pixel width was scrapped for higher resolution 1080 in July 2015.
I've included ALL essential sizes for Facebook, Twitter, Google+, LinkedIn, Pinterest, Instagram, AND YouTube on the chart.
Please leave a comment if any need to be corrected. I'll update as quickly as possible!