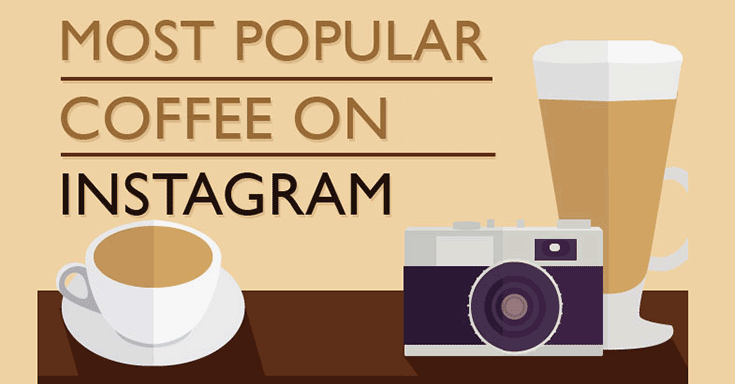 What's the most popular Instagram coffee?
And how does tea fare?
Here's the ideal graphic to help you find the answer. Express Vending has crunched the numbers and calculated the most popular blends of hot beverages, via Instagram coffee hashtags.
While this is somewhat of a departure from my normal posts, here's what you can learn from my sharing it (besides what's popular in hot drinks!):
If You Create Infographics for Backlinks, Actively Solicit Them
If you, an unknown blogger, have heard how great infographics are for your website SEO, know that it's not magic. You'll need to research top blogs in your niche and contact them to ask that they post your graphic with a link back to your site.
While I'm obviously not in the coffee niche, I probably was contacted because I've posted about Instagram hashtags.
I get requests all the time to repost infographs – mostly on social media and quotes.
Good-Looking Graphics Get Shared
With the rise of do-it-yourself graphics, there's a lot of low-quality work out there. If you can't make a graphic that's at least "good," don't expect top bloggers to post it. And if it's not well above average in design, the information itself needs to be stellar.
Here, the info isn't completely relevant, but the design is very nice – plus it allowed me to teach you a bit about infographics!
Create an Infographic to Share Your Research
This infographic teaches customers and followers of this vending machine company which coffee hashtags are most popular. I imagine they wanted to do the research for their own use. So why not put it in an attractive format that others can enjoy too?
Well done, Express Vending!
So, what's your favorite hot beverage? Let us know in a comment – or share it on IG with an Instagram coffee hashtag and tag me! @LouiseMcom