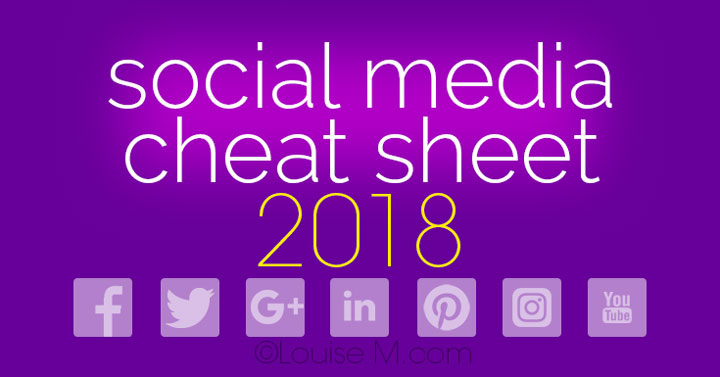 Searching for the ultimate social media cheat sheet?
I've been looking forever, and can't find one that's completely correct. So I made my own!
Simple – but accurate! Outdated infographics are still widely posted and shared, despite their misinformation. Here are the updated social media sizes, as of April 3, 2018.
Latest updates: Newest first!
Pinterest: NEW March 2018, Pins will be cropped in the feed if more than 2.1 times taller than wide. Fall 2017, Pin size maxes out at 564 pixels wide when clicked. Jump to Pinterest section below.
Facebook: NEW November 2017, FB group cover photo proportion has changed. Jump to Facebook section below.
Profile pictures are virtually all circular now! Even on a Facebook Page, the square photo you see next to your cover photo gets cropped to a circle elsewhere.
Plan your avatar or logo accordingly! Make sure there's nothing critical in the corners of the square.
Twitter: NEW September 2017, with readers' help I finally figured out the best size and shape for both tweeted images and Twitter cards. Read all the details here, or jump to Twitter section below.
LinkedIn: NEW August 2017, LinkedIn personal profile "backgrounds" redesigned. Jump to LinkedIn section below.
Tumblr: A reader has provided a size list. Jump to Tumblr section below.
I've included ALL essential sizes for Facebook, Twitter, Google+, LinkedIn, Pinterest, Instagram, AND YouTube on the chart. I also added some notes about aspect ratio where there isn't a specified maximum size.
Please leave a comment if any need to be corrected. I'll update as quickly as possible!
Continue Reading