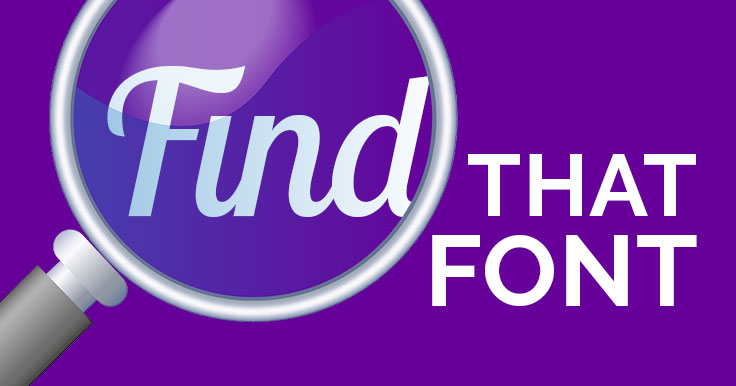 Ever look at type and wonder, What font is it?
Perhaps you've saved some Pinterest Pins that you find inspiring.
One of the fonts really speaks to you, and it'd be perfect for your branding.
But how are you supposed to figure out what font it is? You're not a designer!
(News flash: Even designers can't name all fonts on sight. Luc Devroye, "The Mathematician Typographer," says he's catalogued over half a million fonts. I doubt I could name 1% of them).
But no worries! You won't have to scroll through 500,000 fonts to figure out the name of the one you like. There's an easier way to identify fonts!
Note: This is a sponsored post. I was asked to write an honest review in exchange for compensation. And honest is what you'll get!
How to Identify Fonts Easily
Your first step is to get the clearest depiction of the font possible.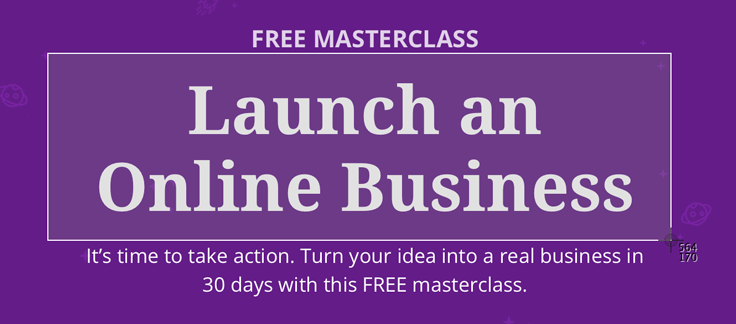 If you're on a Mac, you can grab a screen shot of just the type portion of a Pin, web page, etc., by pressing Command-Shift-4 at the same time. The pointer changes to a crosshair (see above).
Move the crosshair to where you want to start the screenshot, then drag to select an area.
When you've selected the type area you want, release your mouse or trackpad button (the more different characters included, the better).
Find the screenshot as a .png file on your desktop.
If you don't have a Mac or a screen-capture tool like Jing, just take a screen shot of your full PC desktop or phone, or download an image like a Pin.* We'll edit it in the next step.
*For font identification only! Don't use others' Pinterest Pins.
Now, upload your font sample at WhatFontIs.com.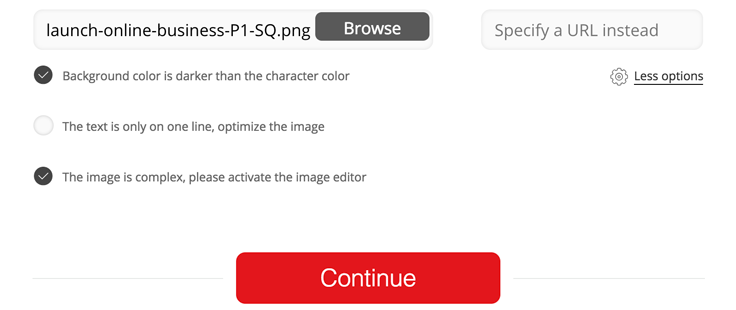 Be sure to tick the box if the background is darker than the font. And, if you need to crop your screen shot down to just the pertinent portion, click the gear at right and choose "Activate the image editor."
When you're ready, click "Continue."
Cropping is fast and easy, and the editor even inverted the colors so I had dark type on a light background, in this example.
Click "Crop image" or "Crop image and reverse colors" to continue.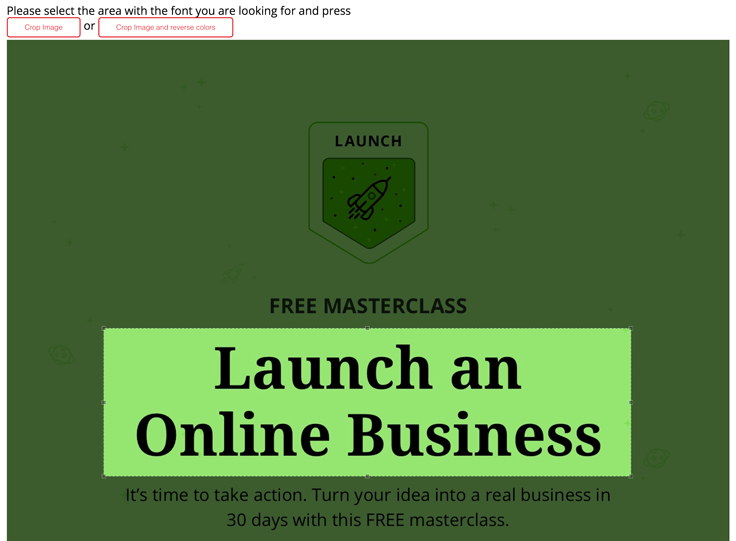 Now you're going to tell WhatFontIs what the letters in the image are, so it can identify similar fonts. It will only use 10 letters on a free account, so identify letters that vary a lot among fonts, like g, a, t, Q or f.
Make sure letters match the images (uppercase to uppercase etc.).
One oddity I noticed with this task is that (on all 3 fonts I tested) WhatFontIs saw the i and its dot as 2 separate elements. But that's usually not a very critical letter.
When you're ready, click "Continue."
You can also choose for search results to include all fonts, only free fonts, or only commercial-use fonts, which is handy.
One thing I didn't like at all is that there are an excessive amount of ads on the site (I've removed them from the screen shots). Of course, everyone deserves compensation for their hard work, so I understand the reasoning. It doesn't prevent you from getting the results you need, but if you'll be using this more than once in a while, you might consider upgrading to a paid account to get rid of them.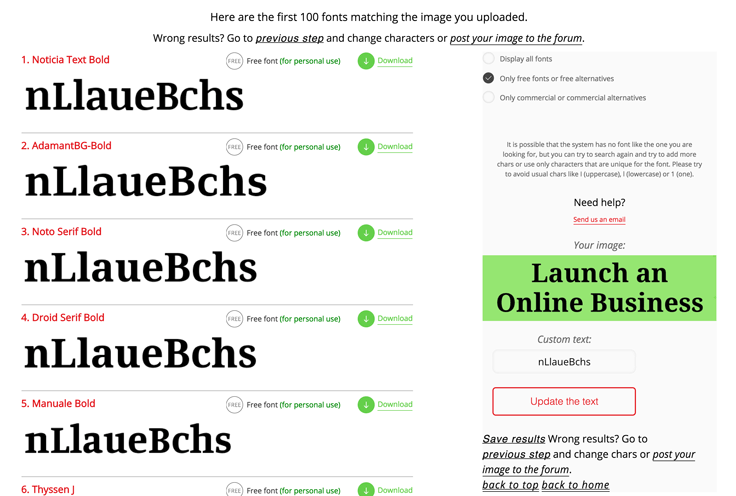 I did find acceptable font suggestions in both the free and commercial returns.
However, all free fonts are labeled "personal use." If you want a free font, I suggest you check the download source for licensing restrictions. There are some Google fonts in the free results that are perfectly acceptable for commercial use.
Free to use. All fonts are released under open source licenses. You can use them in any non-commercial or commercial project.
OK, I guess we can't expect a free service to check all the separate licenses! I sure wouldn't want to. Even if you paid me 😉
I thought the third one in the "free" results was a great match: Noto Serif Bold. And this one does happen to be a Google font, so a great find!
Can WhatFontIs Identify Script Fonts?

Let's get a little trickier. Maybe even mean – because I already know what this font is, and I want to see if WhatFontIs can find it.
My initial results were not good. Now, you have options to "Go to previous step and change chars or post your image to the forum." I decided to persist instead.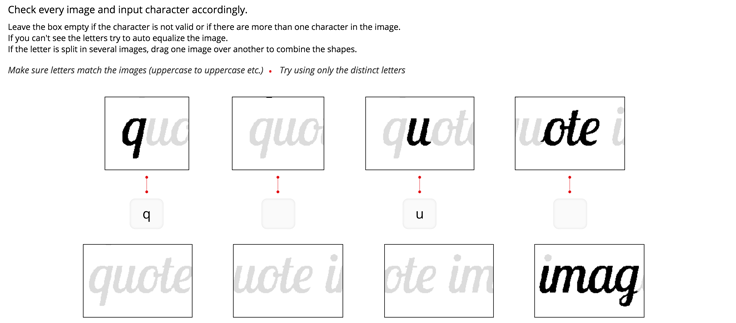 I found that WFI had problems identifying characters when they were connected. The only individual letters WFI could "see" were q and u. Hardly enough to go on.
So I reverted to their image editor, which in this case opened pixlr.com.
I painted a little yellow line between each character, saved, and checked the new sample in WFI.

The results were WAY better! The first two would have been completely acceptable – had I not already known that this was a FREE Google font.
The actual font was down at #29 in the free font selections.
Now, this was a tough challenge. And, you're not expected to use it to identify a font you already know. That's not the point of it 😉
In both tests so far, I got totally acceptable, close matches to the font sample I uploaded.
It just might take a little more work with a script font. Try my trick of separating the letters.
Or, just upload to the forum and let someone else help you!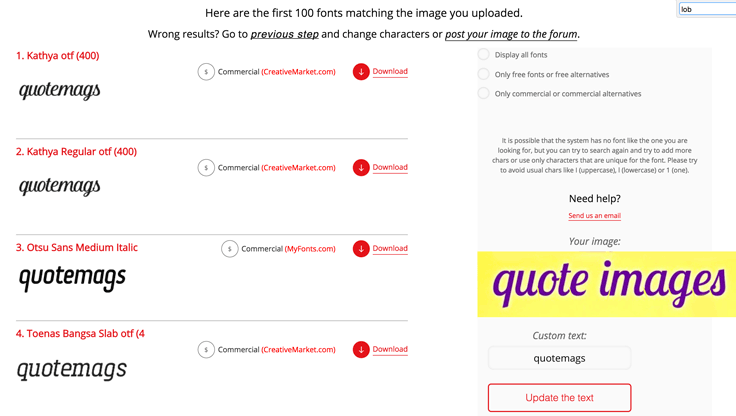 Font Finder Final Challenge
I tried one last font – a sans serif.
I was happy with the top "free font" return!
One issue with this font, though, is the circular dots on the i's. That's actually fairly unusual, so if that feature is important to you, WhatFontIs can't help you find it. It doesn't see a lower case i as one letter but as two separate elements.
However, you have some good leads to follow up on. The download sites will probably show you a full alphabet, and you can take it from there.
This font was from Pinterest's branding, so those circular dots could even be custom.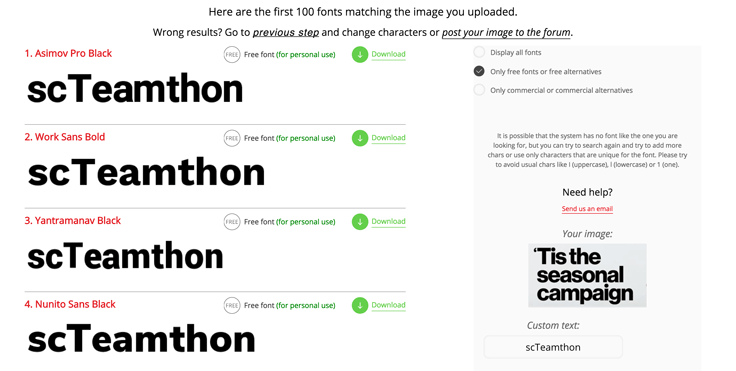 Whatfontis.com Font Identifier: The Verdict
Unless you're working with million-dollar advertising accounts, WhatFontIs.com will be very useful for you to find a close match for that font you love.
A very handy feature for my budget-minded readers is that you can choose to only search free fonts.
The burden is on you to ensure that the font license allows the use you need. However, this is true in any case! Even when you pay for photos, design services, etc., you need to read the terms.
Be sure to pin this post so you can reference it later.
I trust this in-depth WhatFontIs.com review will help you identify your favorite font!