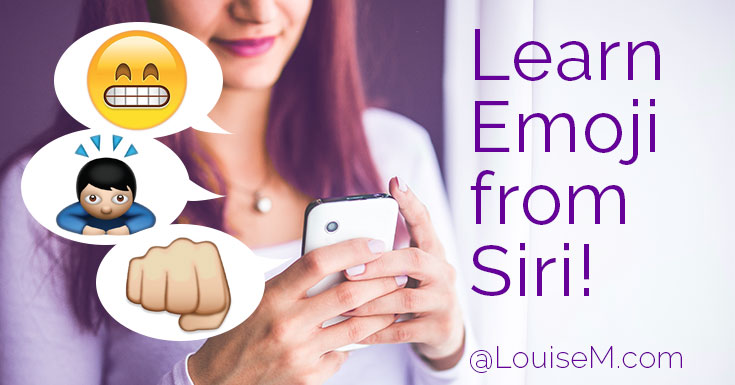 Need to learn emoji meanings?
If you have an iPhone, you're in luck! Siri will teach you. 😀
This tip comes from Anthony of Crush Social. He rocks emojis and Instagram strategy! Unfortunately I can no longer find him online, so I can't link to him.
But do check out his cool tip to learn emoji meanings! Still works, October 2017.
Emojis are crazy and amazing all at the same time. They are the global language!
But how many times have you been stuck trying to figure out what some of the emojis actually mean? Too many 🙁
Guess No More! Siri to the rescue. Here's the hack you can show off to all your iPhone friends.
Here's How to Set Up Siri to Teach Emoji Language
Go to your iPhone Settings –> General –> Accessibility –> Speech.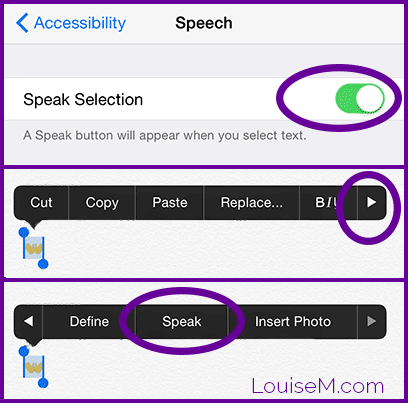 Slide the Speak Selection button to the right so it's green.
NOTE: This won't affect anything on your phone until you tell it to – so no worries!
When you want something spoken out loud…
Select the emoji you want described.
If you don't see Speak, tap the right arrow in the pop-up menu.
Tap Speak in the pop-up.
Listen to Siri tell you what the emoji is!
It's that easy.
Check out the ones that confuse you! I learned that the emoji I thought was a student studying for a test, or a flustered young man, was actually "Person Bowing Deeply."
Inappropriate emoji use avoided!
If you'd like to see the emojis in a list with descriptions in text format, you'll want to read, bookmark, and pin this list of emoji names.
Like this iPhone hack? Share with your friends! Pin or tweet so your friends can learn emoji meanings too!