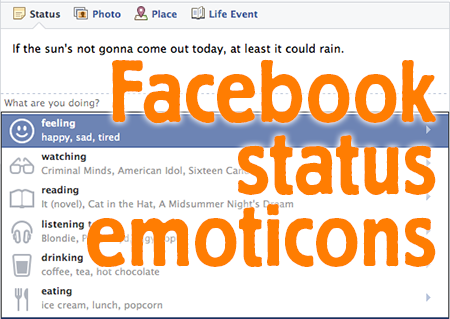 Do you have Facebook Emoticons in Status Updates yet?
I do, and am enjoying them!
As we've seen earlier, Facebook emoticons increase engagement – and Facebook is happy to provide anything that keeps its users engaged, and on the site longer!
But could the addition of Facebook emoticons to status updates be part of a fiendish Facebook plot?
[pinit]
Facebook Emoticons in Status Updates: How They Work
This new feature lets you select different kinds of emoticons to express what you're doing or feeling. There are about 40 "feeling" words, each with a pre-selected emoticon. If you type in your own "feeling" word, a menu pops up with 35 emoticons, one of which should suit your current state of mind!


You can also tell your friends what you're watching, reading, listening to, drinking, or eating.
I'm not yet sure where the default choices for each of these comes from, but they may be related to things you've previously posted. For instance, yesterday I mentioned on Facebook that I picked up a Chronicles of Narnia DVD for 99 cents, and now a Chronicles of Narnia book is appearing under reading. It wasn't there when I looked before.
Yes, Facebook is watching you!
Facebook Emoticons in Status Updates: A Fiendish Plot?
When you start to type in your own title, beverage, or food, Facebook will suggest Interest or Brand Pages that will be "tagged" (linked to) if you select one. If you're drinking coffee, you can tag "coffee," or you can get more specific and add Starbucks's Facebook Page to the update. The same goes for the books you're reading or music you're listening to. Below, I started typing in Dr. Seuss: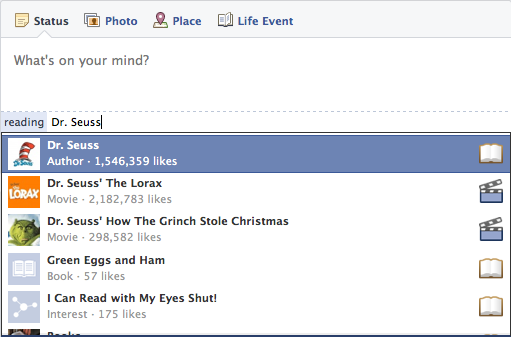 As one Facebook user has commented,
I always wanted to be able to tag branded products in my status updates.

Said no one ever.
TechCrunch warns that the details you include in the updates could show up elsewhere on Facebook. This feature could be used by Facebook to collect data for targeted advertising purposes.
Using the pre-formatted posts makes it easy for Facebook to extract data you've shared, to target ads to your activities, and even state of mind (Sad? Here's a happy movie you might like!).
What Do YOU Think of Facebook Emoticons in Status Updates?
Personally, I find the feeling emoticons fun. I doubt I'll use the others much, though I can see that avid fans will enjoy using these to tout their devotion to their favorite bands or beverages. Certainly, this is a good thing for brands that have an enthusiastic fan base!
As far as the ad targeting – this is already happening, so I'm not certain this will make it any worse.
I'd love to hear your thoughts – what do YOU think about Facebook emoticons in status updates?