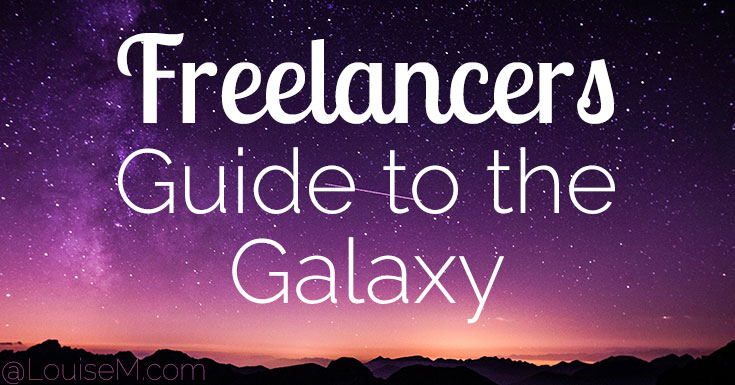 Need a freelancer guide?
The freelance universe these days seems fraught with peril. I'm often asked for tips to navigate it.
While I've been freelancing for decades, I don't feel I have advice relevant for the 21st century. Back in the day, work flowed in, clients paid well, and – we didn't even have to fear the black hole of social media! 😉
Here's a light-hearted guide to navigating the peaks and pits of freelancing. 
One thing I'll add: be prepared for highs and lows. If you're fortunate enough to have work flow in, it rarely flows evenly. I remember one week where I worked 80 hours – I'd say this was over 25 years ago and I made $5,000. Not bad for a week's work!
I also remember weeks where I worked 40 hours in my garden! Ah, life before Internet 😉
My tips for freelancers:
Save several months' of living expenses in the good times (or before quitting your job).
In slow times, work on self-promotion and schedule it out in advance.
Always be looking for new business and clients!
No resting on your laurels in this day and age – or planting and pruning them in your garden, as I used to! 😉
And speaking of finances – how do you keep your books? It's really important to track your expenses and income for tax purposes. So much is deductible when you freelance!
I've used an old version of QuickBooks for ages. When I moved to a shiny new iMac, I couldn't take it with me. Nor could I buy an updated version! Seems everything's moved to a subscription model. I'm keeping books on the old computer until years' end. Perhaps then I'll move to FreshBooks.
If you're ready to make the leap to a more efficient method of bookkeeping, check out FreshBooks invoicing page to get more information on their offerings! If you're like me, and you want to wait until years' end, you can try it free for 30 days.
The 9 Steps to Freelance Nirvana
Finding clients
Navigating peaks and valleys
Avoiding isolation
Steering clear of time-sucking black holes
Reserving time for work and time for play
Promoting your business
Keeping the accounts
Avoiding corporate temptation
Arriving at retirement Neverland
Check out the infographic for details!
Here's my story about becoming a freelance graphic designer.
And some thoughts from me and others on how to survive as a freelancer – or get out.
Got any tips to share? Please post a comment! Perhaps we could compile a freelancer guide PDF!