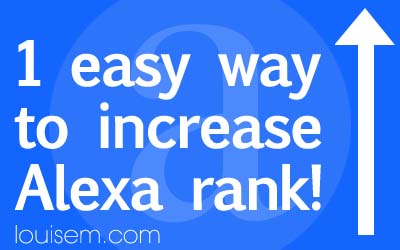 Looking for an easy way to increase Alexa rank?
Or want to improve your blog, your traffic, your leads – increasing Alexa rank along the way?
You're in luck – I have both of these tips for you. And – you should really use both! [pinit]
Here's the Easy Way to Increase Alexa Rank
Last week I made the disappointing discovery that one of my blogs had lost 6 million places in Alexa rank, so I became interested in how Alexa determines your rank. Turns out that it's based on your traffic, but Alexa is just estimating your traffic by extrapolating from data of visitors who are using the Alexa Toolbar.
You can help Alexa collect more accurate stats on the number of visitors to your site by installing the Alexa Site Widget. The writer and commenters in this blog post have verified that this has helped to substantially increase Alexa rank for their sites. I just installed the widget and will let you know if it helps my sites in a week or so. (You can see it way at the bottom of my sidebar).
 Did You Really Want the Hard Way to Increase Alexa Rank?
Yeah, I didn't think so. But I ran across an informative AND entertaining post by Kelly Diels over at ProBlogger. It's an enjoyable read, but the 10 second version is:
Get well-deserved traffic to your site by
posting unique, quality content
posting more often
guest posting on other sites
and your Alexa rank will rise naturally.
My success in raising Alexa rank for LouiseM.com was from SEO – so don't forget to research and use good keywords. When Facebook announced on February 29, 2012 that  Timeline was coming for Fan Pages, I jumped on the story. My Alexa rank rose from about 4 million to under 200,000 in a few months. (Lower is better, with 1 being the top site: Facebook).
Building a social media "tribe" to share your content is another tried-and-true way to get quality traffic. And quality traffic is what we're really after!
I have a favor to ask! If you like my website, would you write a review on Alexa? I don't know if it'll increase my Alexa rank, but I'd sure appreciate it. Thanks!