Have you tried Instagram Stories for your business?
With over 250 million daily users and 1 in 5 brand Stories receiving a direct reply, they're quickly becoming one of the best channels to build awareness, drive traffic, and make sales.
Instagram Stories are quick, simple, and inexpensive. This makes them an excellent tool for your small businesses to engage with followers and attract new leads.
A Story segment lasts just 15 seconds and remains viewable for just 24 hours, yet provides an opportunity to showcase your brand personality – and your products.
Right at the top of the Instagram app! Plus, Instagram is now placing reminders in the feed to check out Stories that will expire soon. You just can't beat that kind of FREE exposure!
How to create an Instagram Story
It's easy to start an Instagram Story: just tap the camera button on the top left of your screen. Add other content by swiping up from the bottom of the screen.
To maximize your Story's effectiveness, though, you'll want to incorporate the tips on this infographic from Headway Capital.
Geotags increase your reach by including you in the relevant Stories for that area.
Links have been shown to get up to 25% follow-through to your site or landing page.
Long videos can be cut into shorter segments with an app like CutStory.
"Takeovers" by employees or influencers generate high levels of engagement.
Polls collect feedback or simply start a conversation.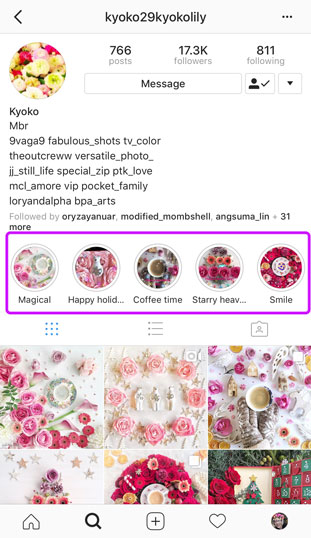 As of December 2017, you can more fully express your brand identity by grouping Stories you've shared into highlights and featuring them on your profile.
Stories Highlights appear below your bio. To create a highlight, tap the "New" circle at the far left. From there, you can choose any stories from your archive, select a cover for your highlight and give it a name.
Once you're done, your highlight will appear as a circle on your profile that plays as a stand-alone story when someone taps it.
Highlights stay on your profile until you remove them, and you can have as many highlights as you'd like. To edit or remove a highlight, just tap and hold that highlight on your profile.
Stories are featured on the Instagram home feed for 24 hours
While a Story segment will disappear from the feed in 24 hours, you can keep your presence alive by adding more segments.
How will you remember, with all you've got on your plate? It's easy with Tailwind! Just schedule as many segments as you like ahead of time – a week's worth would free your mind 🙂
Tailwind will send you a reminder when it's time to post. And don't forget to schedule an Instagram post for a few minutes later, alerting people to your Story. It's a can't-miss combo.
You can try Tailwind for Instagram free! If you decide to purchase a plan, I'll make a small referral fee, at no cost to you.
• • • Click here to try Tailwind for Instagram FREE• • •
Now, what to put in your Story? From planning a cohesive story to geotagging and adding a call to action, it's all on this small business guide to Instagram Stories!
Got more tips? Leave a comment!