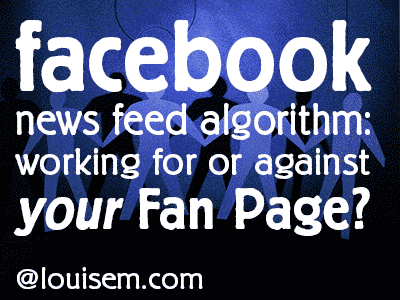 Facebook News Feed algorithm was updated yesterday.
The update is said to present users with more "high quality content," like news articles and current events. This means more links appearing in the News Feed, according to Facebook employees Varun Kacholia and Minwen Ji.
Bloggers love posting links to their websites on social media, to drive traffic back to their sites. But is this change really going to help the little guy – like you and me?
[pinit]
Facebook News Feed Algorithm Update: Is It Helping?
I've posted 2 links on Facebook since I heard rumors of this – one mine and one another blog. Both fell flat.
Now, with 1,200 fans, I can't get the engagement of someone with 100 or 10,000 times the fans. I can't say if the Facebook algorithm considers this, or if George Takei's links to crazy Amazon product reviews are going to soar while mine suffer.
I do know that Facebook has suggested that Page owners buy ads to improve reach. While this is a good idea, I'm not too fond of this quote: "We expect organic distribution of an individual Page's posts to gradually decline over time as we continually work to make sure people have a meaningful experience on the site."
Page posts that users have signed up to receive aren't meaningful to them?
One fan posted this on Mari Smith's Page post:
FB is restricting so heavily that far less than the 10-12% they claim will see it – do. I have a bit over 15,000 fans/members on my page. Some posts are shown to less than 100. It truly is becoming an avenue not to put your time and effort into and use only as a way to direct traffic elsewhere. 

They will be their own undoing. They've now made it so complex for page owners as well as general users to get the posts they do want to see. People are not willing to do "work" by changing settings for what they've already decided when they liked the page to begin with and with the very restrictive abilities of many using mobile devices, many of those options are not even available.

Discouraging to say the least. I have a fanpage called Suicide Shatters. I do what I do to help others, raise awareness around suicide and mental illness, both topics with much stigma. I do it because of my own personal loss and yet the posts I share, which are always relevant and informational, are not shown to most on my page. 

Copyright infringement is rampant on FB and most other social media sites as well. To see pages who constantly infringe grow by 200 – 300,000 fans in just one week when they are unethical and building their pages on the backs of others' original work is disgusting. Many original artists are frustrated and many are leaving FB because of it. 

I come on FB to help others, to share my gift of support and share my passion. FB is not allowing that to happen so time to figure out a better avenue.
Combat the Difficulty of Getting Page Posts Seen by Fans
My suggestions:
You can follow my Facebook personal profile here:
If you'd like to sign up to Get Notifications from my Page (I'm grateful for any interaction on my posts!), click here for my Facebook Fan Page, and hover the "Liked" button.
How's Your Page Faring?
Please share your thoughts and tips on the Facebook News Feed algorithm below!