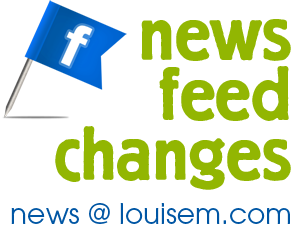 The Facebook News Feed changes have been unveiled!
More visual, with bigger images.
More choice, with a number of ways to view the news feed.
Could Facebook have made people happy with their latest changes? We'll see…
[pinit]
Facebook News Feed Changes: More Visual, More Choice
Goodbye clutter – Hello bright, beautiful stories! I kept hearing: bigger photos, less chrome. Here's the meat from the half-hour news conference:
Today we're announcing a new version of Facebook designed to reduce clutter and focus more on stories from the people you care about. You see all the stories you saw in your News Feed before, but with a fresh new look. We've completely rebuilt each story to be much more vibrant and colorful and highlight the content that your friends are sharing. Photos, news articles, maps and events all look brighter and more beautiful.

All Friends – a feed that shows you everything your friends are sharing
Photos – a feed with nothing but photos from your friends and the Pages you like
Music – a feed with posts about the music you listen to
Following – a feed with the latest news from the Pages you like and the people you follow.

With the new design, now Facebook has the same look and feel on mobile, talent and web. For example, the left-hand menu is accessible anywhere you go on Facebook. You also have a way to jump right to the top of News Feed whenever new stories come in.

We'll be rolling out the new design slowly over the coming weeks on web and mobile. If you'd like to get it early, visit www.facebook.com/newsfeed and add yourself to the waiting list. These design updates will be available on your iPhone and iPad in the coming weeks and to Android soon after. source
Best news for Facebook Fan Pages? The Following feed displays all posts from your followed Pages and public figures – news, businesses, sports – in chronological order. Yeah!
Will you opt in to see the NEW Facebook news feed ASAP? I did!
I'd love to hear what you think of the Facebook News Feed changes in the comments!