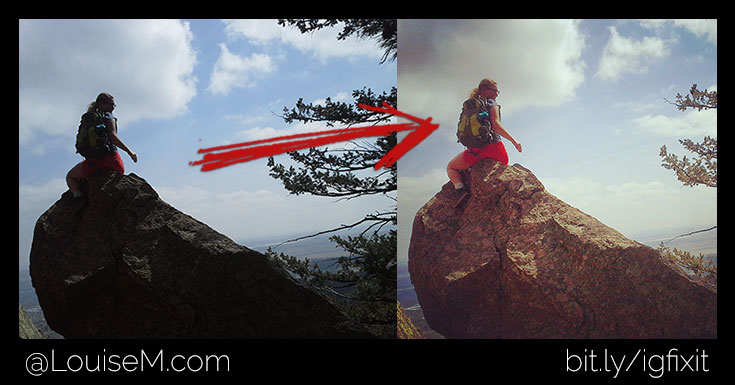 Wish you knew how to fix underexposed photos?
It's a common problem – often occurring when your subject is between the camera and the strongest light source.
Sometimes you just can't avoid it when shooting. When it's a cool photo though, you can easily save it – right in Instagram!
And by the way, if it's a photo you don't want to share on Instagram (either now, or ever), just set your phone to Airplane Mode first. Your retouched image will save to your camera roll for you to share however and whenever you prefer.

How to Fix Underexposed Photos in Instagram
I'll walk you through how I made the dramatic change in this cute photo of my daughter. You may vary the settings you use on some of the steps – but this gives you a good starting point. You can always go back and undo or adjust anything, up until you post (or save) the image.
If you wish to save your image at a higher resolution that Instagram's default size of 640 pixels square, be sure you have Save Original Photos turned ON in your settings.
Open photo in Instagram.
Adjust cropping: A great spot for your subject is at one of the grid cross points.
Add Rise filter: I've found this to be the ultimate for raising your exposure.
Add Lux: For MOST photos, it adds detail in both shadows and highlights. If you think it makes your photo look worse, skip it!
Add Warmth: Shadows are usually very "cool." Try adding Warmth +50.
Open Shadows: How much depends on how heavily shadowed your photo is. I cranked it!
Add Saturation: Your colors faded, so add some pop with Saturation. Even +10 will help!
Sharpen: I ALWAYS Sharpen my photos – usually at 100. See what looks best to you.
VOILA! It's that easy! Your photo has been rescued!
Next tutorial will teach you to save an underexposed photo in PicMonkey. Stay tuned!
Pin the infographic for an easy reminder of how to fix underexposed photos – in Instagram!