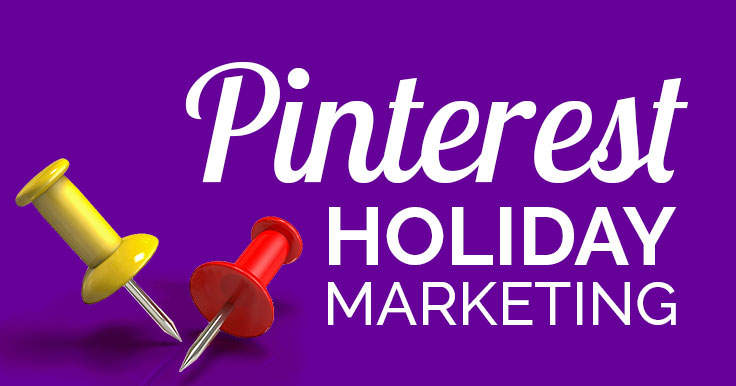 Planning your holiday marketing?
Don't forget Pinterest!
And when you think Pinterest, remember that Pinners are planners! They're ready to start thinking about Christmas – now!
Pinners start holiday planning in September – 4 weeks earlier than others.
Pinners also spend twice as much on the holidays as the general public! So this is definitely an audience you want to get to know.
If you're not certain how to proceed, I've got some great resources for you. 
Holiday Marketing Stats you should know!
This infographic with stats from 2016 was too good not to share 🙂
Article continues after the infographic.

67% of Pinners say Pinterest is important for planning holiday purchases.
45% of people on Pinterest start planning for holidays at least 60 days out (that's 21% higher than the general population).
1.1 billion holiday pins were saved in 2015.
69% of people do research online before visiting a store.
55% of Pinners use Pinterest to find or shop for products.
70% of incremental sales come from new customers.
Pinterest is 5x more efficient at driving in-store sales than any other platform.
Searches on Pinterest:
82 million searches for gifts.
158 million searches for holiday home decor.
271 million searches for holiday food and drink.
583 million searches for holiday style.
Pinterest Holiday Webinars
The holiday season gets busy on Pinterest, with people searching, saving and buying gifts for all their loved ones. Pinterest is the perfect platform to reach holiday shoppers.
Curious how to get your business in front of these eager customers? Download the Pinterest holiday report to learn more about how people are searching and planning for a big holiday.
Pinterest held three information-packed webinars to help you get your holiday strategy going. I've included links to the slide decks on their Dropbox so you can review at your leisure!
Holiday insights on Pinterest was on September 19, 2017.
Get the scoop on all of your favorite holidays, including Halloween, Thanksgiving, Christmas and New Year.
Click here to download the full slide deck on Dropbox.
To download the Christmas slides only, click here.
Holiday creative on Pinterest was on September 20, 2017.
Find out what creative stands out on Pinterest during the holidays.
To download the slide deck on Dropbox, click here.
Retail holiday sales strategy was on September 21, 2017.
Find out how retailers can pull sales forward by reaching early holiday planners.
To download the slide deck on Dropbox, click here.
Halloween on Pinterest
Every year, people search and save more than 200 million Halloween ideas on Pinterest. Their insights team dug through the data and narrowed it down to 101 trends in the top categories.
Take a walk through the interactive Pinterest Haunted House to see and save Halloween trends, one room at a time.
Or visit their blog to read about the top trends for this haunting season.
Get my FREE Pinterest Business Basics eCourse
Just getting started on Pinterest? Or struggling to see results?
Optimize! I'll take you from setting up your account correctly to making simple, pinnable images, in my FREE e-course.
Get ONE simple action step each day. Join now!
• • • CLICK to get your FREE Pinterest Basics e-course! • • •
What do you think about holiday marketing on Pinterest – will you give it a go?