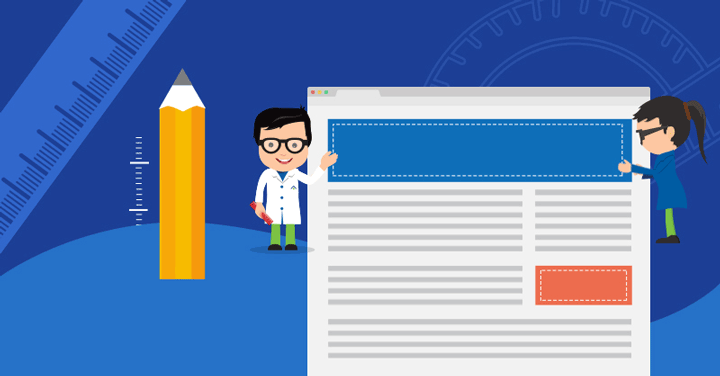 Considering Google display ads?
And wondering the ideal ad sizes?
The Google Display Network is arguably the largest one out there, reaching 90% of Internet users worldwide.
This makes Google Ads a perfect way to promote your business to a wider market.
You may have a brilliant idea for a Google Ad and an awesome tool to design it, but is that enough?
Sadly, no.
Don't get carried away with the novelty of the ads you plan to launch and forget the little things like their image quality, size, and format.
Google can reject your ad if you don't follow certain guidelines, and you could end up reworking or re-editing your display ads.
Why waste time and energy if you could learn everything about it even before you start to design your ad?
To make things easy, follow our cheatsheet of every possible format and dimensions.
If you don't like to read a long and boring rulebook, take a look at this infographic because it's made just for you!
Most popular Google ad sizes
Before you boggle your mind with the full gamut of ads available, take a lot at the top Google display ad sizes.
You may find just what you need here!
Medium Rectangle Ad: 300 x 250 pixels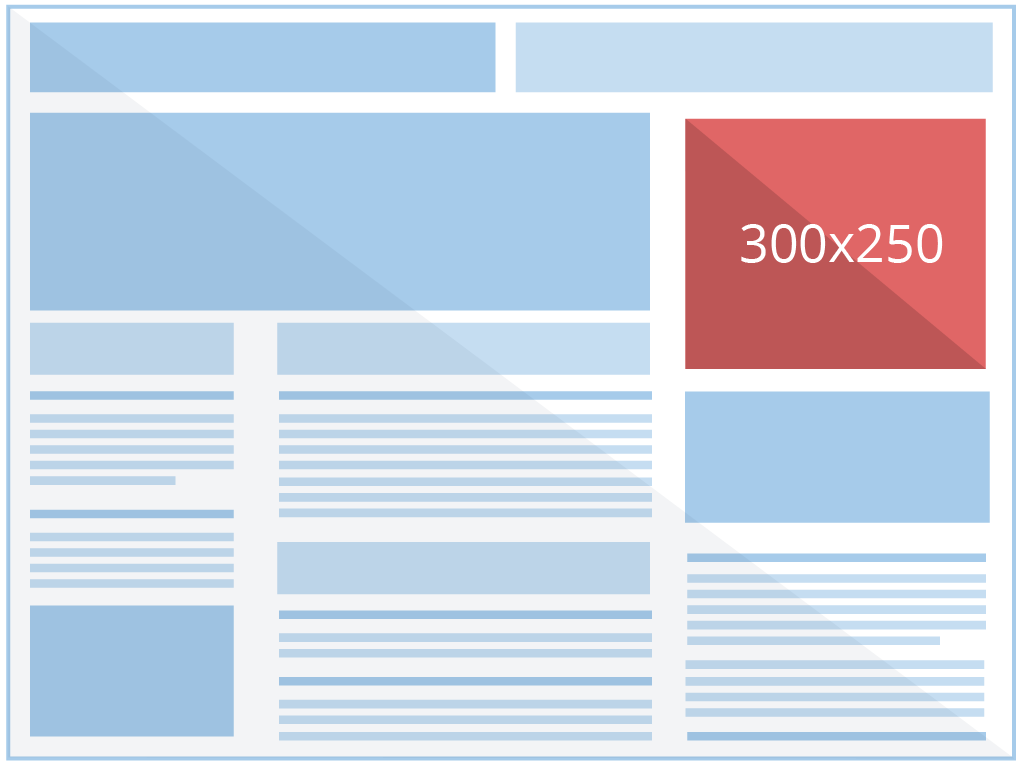 This one's popular for good reason. The Medium Rectangle ad can be used for both text and image ads.
It can display in the sidebar area on desktop, or in-content on mobile. Thus advertisers offer lots of inventory for this size.
This one works for animated, non-animated, and HTML5 ads.
Google reports that it performs well when embedded within text content or at the end of articles. It's also reported to have the best click-through rate for most websites, benefitting both the publisher and the advertiser.
Large Rectangle Ad: 336 x 280 pixels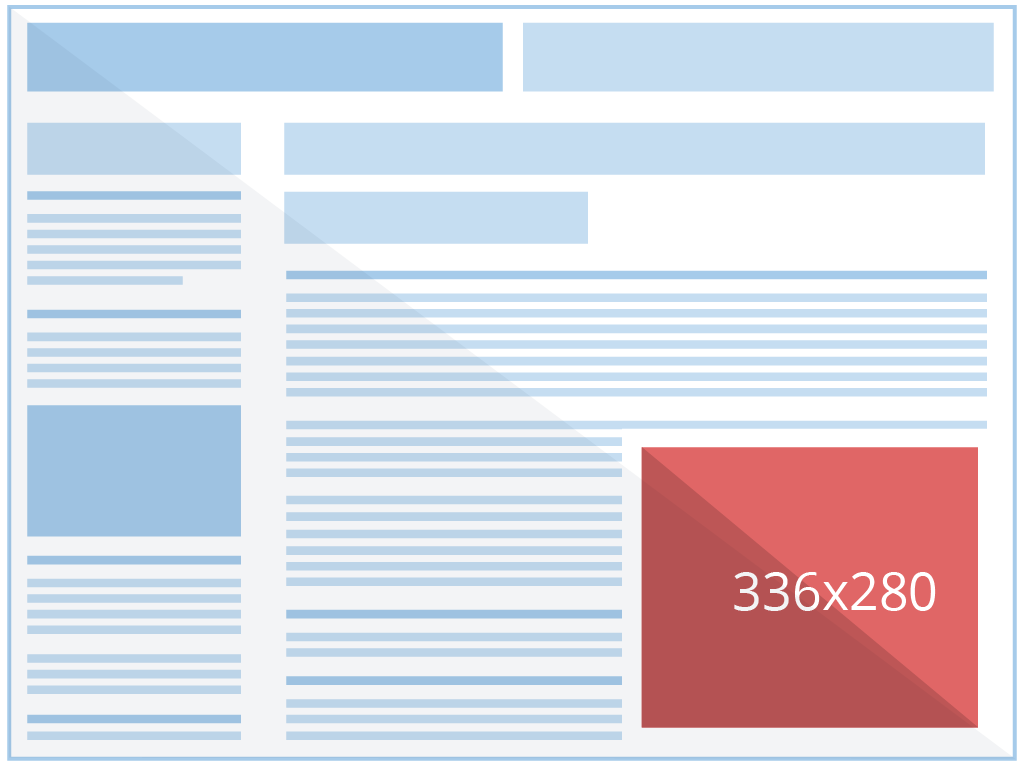 Here's another popular one that offers a little more real estate. It really stands out.
This one may be wider than some website's sidebars, but can also be placed in-content.
The large rectangle also works for both text and image ads, as well as animated, non-animated, and HTML5 ads.
Leaderboard Ad: 728 x 90 pixels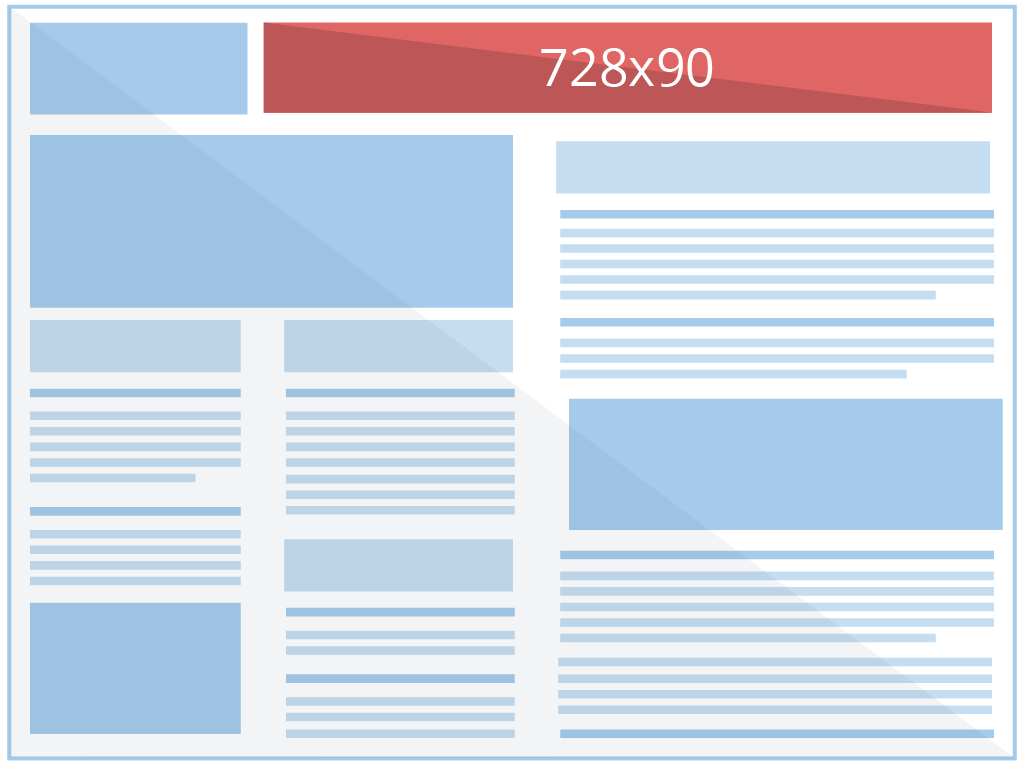 This banner ad is typically placed above the main content on websites, as well as on forum sites.
Due to its prominent position, it gets a lot of views and has a lot of inventory available.
Also available for text and display ads across animated, non-animated, and HTML5.
Are you starting to see a theme among these best display sizes? 😉
Half Page or Large Skyscraper Ad: 300 x 600 pixels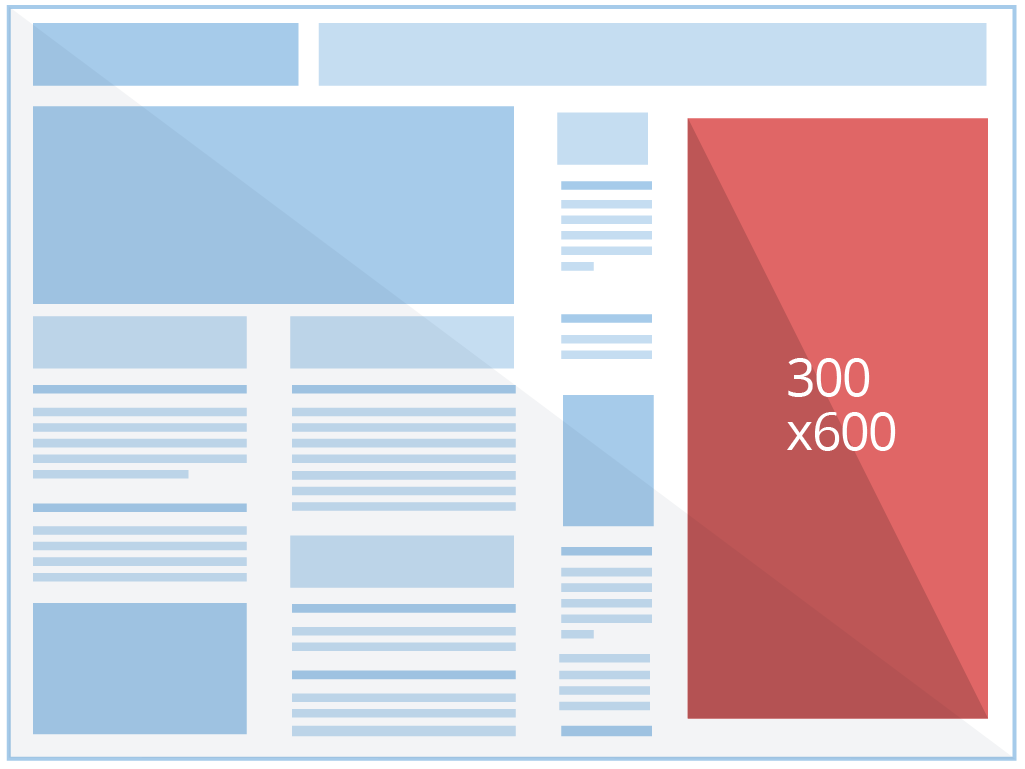 Google says that the 300×600 is one of the fastest growing sizes by impressions, which is indicative of a trend where publishers are offering more visually impactful ad sizes that are preferred by brand advertisers.
These marketers appreciate the large size and opportunity to engage viewers through the half page ad.
On my site, this style of ad scrolls in the sidebar with the reader and earns quite good income. If you're reading this on a computer browser, you may see one right now –>
The half page is available in all formats depicted on the infographic: animated, non-animated, and HTML5.
Large Mobile Banner: 320 x 100 pixels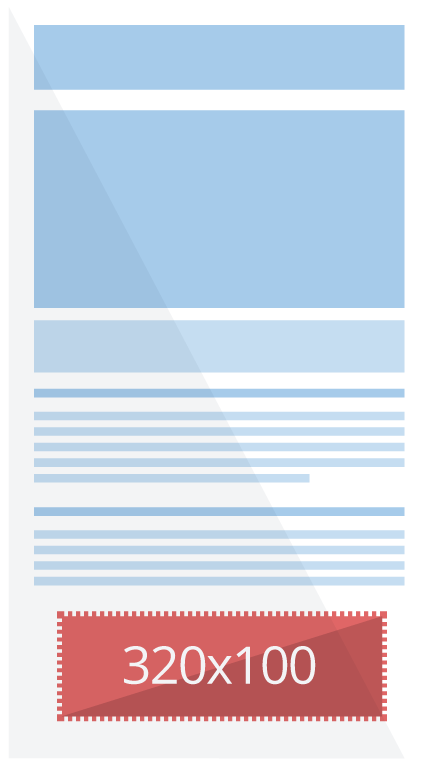 This one offers twice the height of the standard mobile leaderboard, which clocks in at 320×50.
It's most effective when placed just below the website's header, but I typically see it at the bottom.
The large mobile banner is similar to a leaderboard ad, but for mobile. It can also be used as a less intrusive version of the medium rectangle ad.
This one is available in animated, non-animated, and HTML5 as well, which is why it's one of the most popular ad sizes!
Google display ad sizes cheat sheet
Yes, there are more sizes!
Not all ad sizes are available in every format.
And not all can be the most popular – which doesn't mean they're not best for you!
On the infographic, you can see all the sizes at a glance. It'll help you understand the function of each dimension set and will give you a clear picture of their usage.
Everything from HTML5 ads to non-animated and animated image ads is included.
Understanding these dimensions will allow you to create display ads that are optimized for Google, saving you the trouble of a possible rework.
You'll also get a clear idea on what type of dimensions you should choose based on the content of your ad, as well as your desired placement on the webpage.
Which Google Ad Size Should I use?
As of May 2020, I count 18 different ad sizes. So which should you choose?
It's best to cover a range of sizes for three reasons:
Different sites choose to display different sizes, so you might miss out on sites where your ads don't fit.
Different size ads display on mobile and desktop, so you'll probably want to have those covered.
Lastly, Google may try to fit your ad into a size it wasn't designed for. The results may not be as impactful as you intended.
As you can see, it's best to design a range of ad sizes to get widest distribution.
Other Google Display Ad Rules
When your designer saves the approved versions of your ads, be sure that the file sizes are no bigger than 150 KB. Anything larger will be rejected by Google.
The final product must be saved in JPEG, SWF, PNG, or GIF formats. Google won't accept any other formats.
If your ad has a white background, it must have a border outline, so the size and shape of the ad is distinct from the webpage it's served on.
Now you're ready!
Be sure to check the Google display ad sizes infographic from Techwyse and Pin it for reference.