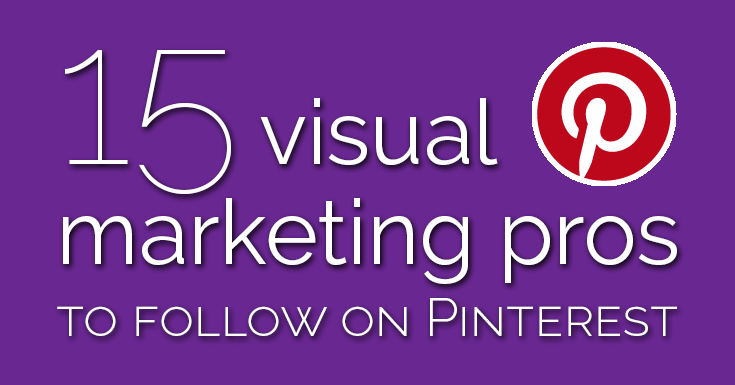 Pinterest feed fading?
Follow these visual marketing pros to add pizazz!
Get inspired by their expertise, and improve your own social media presence by learning from the best.
Whether it's their own content or curated, you know you're getting top visual marketing advice when the pros have added their stamp of approval.
So check out these experts, follow a few of their boards, and repin freely!

Note: I may earn a small commission if you make a purchase via links in this post. This costs you nothing, and helps keep my blog going – so thanks!
Rebekah Radice
Rebekah's my First Lady, as I've had the pleasure of meeting her, and she's just delightful. And her graphics are too!
They're popping with cheerful orange, almost as bright as Rebekah's dazzling smile.
Rebekah understands the power of branding. Her images are unmistakable.
Her boards are full of social media, branding, and blogging tips – and more. Check out her feed, and emulate!
Rebekah also has an amazing Udemy course The Smart Guide to Marketing Your Business on Social Media
Visit Rebekah Radice's profile on Pinterest.
Peg Fitzpatrick
This social media dynamo needs no introduction. She's coauthor of The Art of Social Media: Power Tips for Power Users.
Her graphics are clean and crisp, punctuated with a pink dot pronouncing "Peg." I think of it like a thumbprint! It's very distinctive.
Peg's boards are full of social media tips, colorful designs, and happy-thankful-uplifting goodness you could always use more of.
Follow Peg, and be inspired!
Visit Peg Fitzpatrick's profile on Pinterest.
Jeff Sieh
There are men on Pinterest?!?
There sure are, and if they're marketers, they should be listening to Jeff Sieh's Manly Pinterest Tips podcast.
Gals, don't let the men get all the goods. You should listen too! And don't forget to follow Jeff on Pinterest.
Jeff's graphics have a distinctive style that adds testosterone to Pinterest, one Pin at a time 🙂
Visit Jeff Sieh's profile on Pinterest.
Kim Garst
Kim's social media expertise is legendary. She really knows how to rock the engagement!
And how does she come up with those motivating and rib-tickling graphics? I'm spilling the beans on Kim's two secrets:
Kim has a graphic design background.
Kim uses the viral post feature on PostPlanner to snag the best ideas!
See what inspires this Forbes Top 10 Social Media Influencer by following her on Pinterest.
Visit Kim Garst's profile on Pinterest.
Donna Moritz
Donna is not only Socially Sorted – she's socially savvy! She's a whiz when it comes to untangling the "how and why" of visual marketing.
And if you're not a designer – Donna can show you that won't affect your social media success. She has simple tactics for non-designers to jump into this game and compete with the best of them.
Donna is a huge proponent of infographics, live video, and SlideShare.
Visit Donna Moritz (Socially Sorted)'s profile on Pinterest.
Rob Russo
Rob's a professional graphic designer who loves helping entrepreneurs build a bold brand fast.
He blogs about visual marketing and is a huge fan of avocado toast, guacamole, and… avocado anything. ? ? ?
Rob can help you DIY your graphics & build a bold brand — no creative bones required.
Visit Rob Russo's profile on Pinterest.
Alisa Meredith
Alisa is the content marketing manager at Tailwind who (rumor has it) has been accused of a Pinterest obsession.
Blogger, speaker, and author, she's a big believer in the power of visual marketing and is on a mission to help businesses find their creative side in order to appeal to customers in a whole new way.
Alisa is the top pro on Promoted Pins! Check her out on Pinterest.
Visit Alisa Meredith's profile on Pinterest.
Pauline Cabrera
Pauline helps bloggers and entrepreneurs get noticed online and make more money with effective marketing strategies.
Her talents include branding, social media, SEO, and email marketing. She's also a whiz with infographics, which she uses to great effect on Pinterest!
Visit Pauline's profile on Pinterest.
Visit Pauline Cabrera's profile on Pinterest.
Andrea Beltrami
Andrea is The Branded Solopreneur. Her brand shines through in everything she does.
And so does her sassy personality!
Dre's mission is to help solopreneurs, just like you and me, create a vision for their voice.
Need branding advice? Follow her on Pinterest!
Visit Andrea Beltrami's profile on Pinterest.
Dustin Stout
Dustin is a former actor turned speaker, award-winning social media blogger, and entrepreneur. He co-founded WarfarePlugins, makers of the Social Warfare WordPress plugin.
He wants to help you cut through the digital clutter and get your story the attention it deserves. Check him out on Pinterest!
Visit Dustin Stout's profile on Pinterest.
Louise Myers
Hey, that's me!
If you're not following me on Pinterest yet, there's no time like the present ?
Visit Louise Myers's profile on Pinterest.
Jenn Herman
This California beauty authors an award-winning blog on social media, with an emphasis on Instagram.
If you love unique clothes, shoes, nail art, and cookies, you'll love Jenn's Pinterest feed. Oh, and useful social media tips too!
Jenn's favorite visual platform is Instagram, where she really shines.
Visit Jenn Herman's profile on Pinterest.
Marianne Manthey
With the theme of "Build Your Own Lovely Blog," Marianne puts a special emphasis on beautifying websites.
She's the DIY Blog Design expert helping creative bloggers and solopreneurs create their own beautiful blog designs.
Could your blog be lovelier? Follow Marianne on Pinterest.
Visit Marianne Manthey's profile on Pinterest.
Dorien Morin
I dig Dorien because she rocks orange eyeglasses – similar to my purple glasses obsession. It's fun to have a visual trademark!
She also happens to have a mega quantity of helpful Pinterest boards on social media – at least 20 flavors.
She even has a board of orange glasses!
Visit Dorien Morin | Social Media Consultant's profile on Pinterest.
Katherine Kotaw
Katherine's superpower is storytelling. You'll find that her boards are all about it – visual, verbal, video, and social storytelling.
Check her out below ⬇️
Visit Katherine // KOTAW Content Marketing's profile on Pinterest.
Find these pros and more visual marketing experts in the Listly list below! You can even add any experts I missed. Vote up your favorites. Or embed this list on your own website, if you like!
Ready to create your own visual content? Compare the top easy design tools.
Or jump right in and use my favorite easy design tool, STENCIL, with a one-time 10% discount I negotiated just for you! Use the promo code LOUISEM.
• • • Click here to try Stencil for easy visual content • • •
Visual content is a must in 2018! I know you'll increase your online presence and gain business with the expert advice from these visual marketing pros!