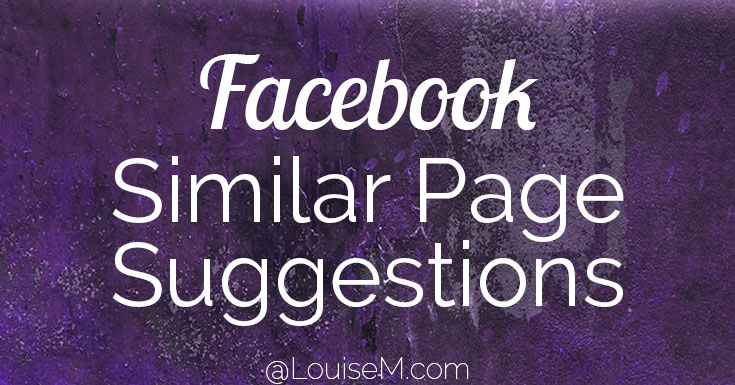 Want to disable similar page suggestions on your Facebook Page?
Updated March 2019! We will also cover how to deal with Suggested Pages in your personal Facebook news feed.
This will be addressed below the info for business Page admins below.
How do I turn similar Page suggestions on or off for my Facebook Fan Page?
When a new fan "Likes" your Page, they get a series of suggested pages they may also wish to "Like."
These recommendations aren't paid placements. Facebook bases suggestions on location, category, and other pages "Liked" by fans of your page.
Fans can hover over a suggested Page's thumbnail to "Like" it right away, or click on it to go check out the page. Or, they can click "See All" to be taken to the full "Like Your Favorite Pages" browser.
It's cool that the suggested pages are based on fans' interests, rather than what's most popular. But it is a distraction from spending more time on your page, which they just "Liked." Suggested pages might tempt them to click away quickly.
Participation in Page Suggestions is voluntary. But if you opt out of having suggestions shown to your new fans, then your page won't be suggested to new fans of other pages. It's a tradeoff.
I've been asked for this info by a reader who found the suggestions totally irrelevant to her page.
Others may not want their new fans being steered to competitors (see screenshot below). It's your call!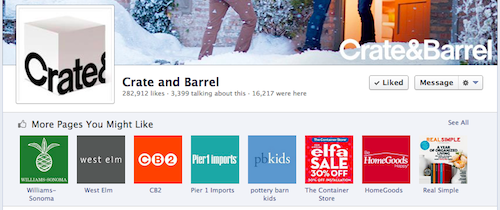 How to turn off Facebook Similar Page Suggestions [for business pages]
Login to Facebook on your personal account that's s admin of the Page.
From the top of your Page, click Settings.
From General, click Similar Page Suggestions.
Click to uncheck the box next to Include [Page name] when recommending similar Pages people might like on a Page timeline.
Click Save Changes. source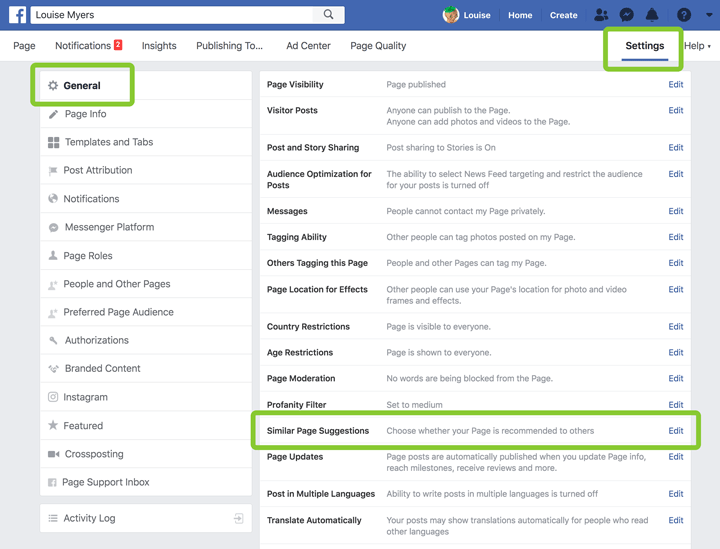 Still seeing "People Also Like" on your Facebook Page?
NOTE 4/26/2016: According to a reader's comment, this fix doesn't remove the "People Also Like" in the left sidebar. Since these instructions come directly from Facebook, I can only guess that this feature either no longer works, is temporarily disabled, or has a "Facebug."
This post was originally published August 2013 and updated April 2016 and March 2019. I believe the "People Also Like" section is no longer shown on the Page.
If you still see it, see if this works:
Hover the top bar of the section and click the Edit pencil.
Click Manage Sections.
Click the"People Also Like"  bar and drag it to the bottom of the list.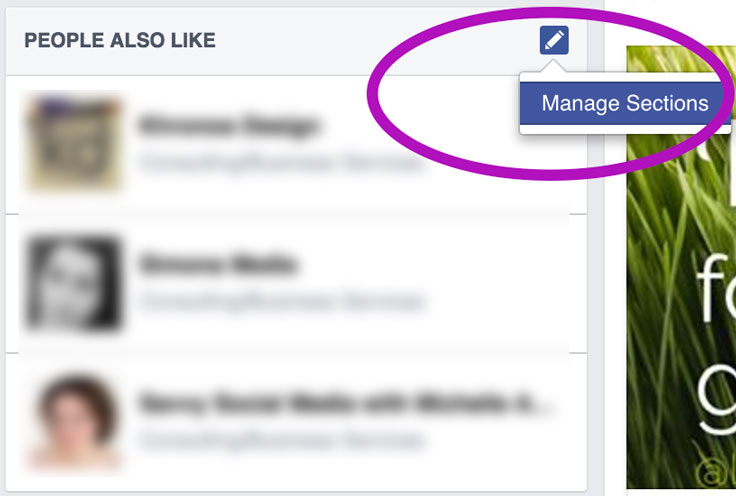 Now, at least it will be below all other sections – and probably never noticed.
Can I get rid of Facebook Suggested Pages? [for personal profiles]
As of March 2019, the short answer appears to be "No."
I found instructions online to disable Suggested Pages, but it appears this setting has been removed.
Just in case it returns at some point:
In the top bar, click the down arrow to the right of the help ? icon.
Click on Settings. I also tried News Feed Preferences…
Click on Privacy in the left sidebar. I also tried Apps and Websites. None brought up the needed setting, which is…
In the "Instant Personalization" section, uncheck the "Enable instant personalization on partner websites" check box.
As I noted above, I can no longer find this setting anywhere, so consider this…
How can I adjust Suggested Pages?
I believe Facebook is going to give us these regardless. As an online business, one of their goals is to keep us on their site as long as possible.
Perhaps we can help guide Facebook to at least show us relevant Pages.
They certainly haven't told us how to do that, but I would start in Your Ads Preferences and edit Your interests.
To do this, access Settings from the down arrow in the top bar.
Then click on Ads in the left sidebar.
Next you'll see the screen below, and can edit as you prefer.
If Facebook is smart, they will pay attention to your stated interests when suggesting Pages.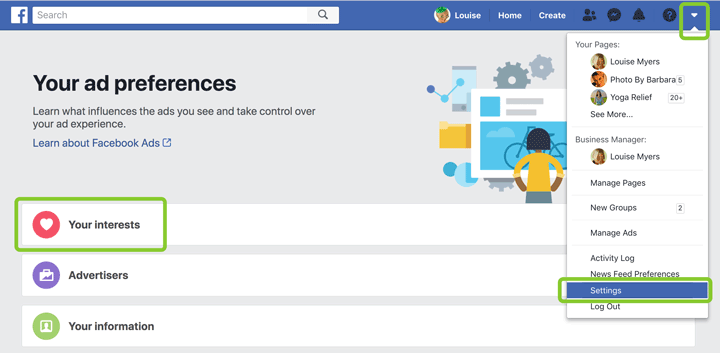 A reader also had these suggestions:
Currently it is not possible to get rid of the "suggested pages" but it is possible to direct the topics shown…

My personal feeling is that there are some hidden things on FB. They somehow find out how long a post on a timeline is actively on your screen, and based on that sort of preference a multiplier is generated. You don't have to like it, it's just the time you watch something.

If you think the "suggested pages" show something where e.g. the girlfriend gets jealous, then click on "show all" and scroll down… and like some pages with a certain preference. That changes the "direction"… e.g. a guy likes high heels, and somehow FB then only suggests pages with heels and then he thinks his GF should not see that.

To change that choose, 10 or 15 pages with something completely different but with the same different topic. e.g. cars… for sure the next 10 or 20 suggestions are about car pages only. I believe (but I don't know yet) that needs some likes here and there to keep showing car pages…
Try one or both of these, and let me know if the Suggested Pages become more suited to your interests.
Facebook Similar Page Suggestions & Suggested Pages: Conclusion
I  hope you found these tips helpful! If you have any other tips, tricks, or updates, please leave a comment to help others out.
So what do you think? Facebook similar page suggestions – yay or nay?